MRC's Anger At Jackson Nomination Slowly Winds Down With Senate Vote
Topic: Media Research Center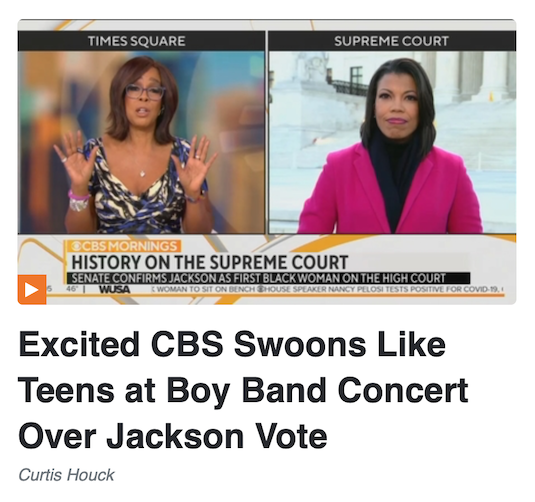 It has been a long road for the Media Research Center to act as a right-wing narrative machine over the Supreme Court nomination of Ketanji Brown Jackson, from ranting she would be a radical even before anyone was nominated to emphasizing her first name to otherize her to slavishly hyping false right-wing attacks on her. Having failed in doing so -- enough Republican senators refused to buy into the hate and announced they would vote for her confirmation -- the MRC was reduced to whining that non-right-wing outlets accurately noted the historic nature of her nomination while still complaining that Republicans' harsh, factually deficient questioning of Jackson was being criticized -- even though a Quinnipiac poll found that only 27 percent of Americans approved of how Republians treated Jackson.
Kevin Tober complained that MSNBC guest "Elie Mystal doubled down on his claims that the criticism Supreme Court nominee Judge Ketanji Brown Jackson received from Republicans was designed to get her killed. He even suggested Republicans oppose her nomination because she's black." He concuded by hypocritically huffing, "This kind of talk isn't just deranged, it is dangerous and should be called out by all sane people who value civil political discourse."
Clay Waters actually suggested that people should stop complaining about what Republicans did to Jackson because she'll be approved anyway -- even as he nursed grievances about the treatment of Robert Bork and Clarence Thomas more than 30 years ago:
After his repulsive front-page piece March 25 excoriating Republicans on the Senate Judiciary Committee for their supposedly racist treatment of Biden's Supreme Court nominee Ketanji Brown Jackson, New York Times reporter Carl Hulse announced some Republicans would vote yes in the upcoming confirmation vote on Tuesday's front page: "Cracks Appear in G.O.P.'s Opposition to Jackson."

Even as Jackson stands on the precipice of victory, Hulse is still bitterly attacking committee Republicans for daring to question her record.

[...]

Hulse hypocritically longed for the good old days when Congress reliably rubber-stamped a president's Supreme Court nominees. (Does he not remember the treatment of the Republican-nominated Robert Bork, Clarence Thomas, and Brett Kavanaugh?)
Alex Christy tried to soft-pedal things by claiming that Jackson merely faced "tough" and "sharp" questions from Republicans while getting upset that they were (accurately) described as rigbht-wing culture war issues: "Apparently previous Supreme Court nominees have never had to deal with culture war questions. Only when Republicans do not get out of the way of "history" are such questions considered going too far."
Later, when NBC's Chuck Todd pointed out that the GOP attacks were driven by the "echo chamber conservative media," Christy uniroinically retorted, "Irony is dead at MSNBC." Of course, that's exactly what someone stuck in the right-wing media echo chamber would say.
Then, on the day of the Senate's vote on Jackson, there came the MRC whining about something historical being accurately reported as such and the non-right-wing media's refusal to hate Jackson like the MRC clearly does:
Tober lost it when CNN pointed out that some Republican senators couldn't be bothered to dress like a senator to cast their vote:
Even after Judge Ketanji Brown Jackson has been confirmed the leftist media cannot stop whining that she was treated unfairly by Republican Senators. They are even playing the race card in their attacks on the GOP, with CNN's Lauran Coates suggesting that some Senators not wearing neckties to the vote was disrespectful to the first African American woman to be appointed to the Supreme Court.

[...]

Coates didn't mention which Senator or Senators committed the unforgivable sin of not wearing a tie. Regardless, this is a petty complaint even for CNN.
Tim Graham, meanwhile, was still stuck on his Kavanaugh grievance kick in his April 8 column:
The shamelessness of liberal politicians and journalists is displayed by their unique outrage at the treatment of Supreme Court nominee Ketanji Brown Jackson, as if everyone forgot the smearing of Brett Kavanaugh with unsubstantiated sexual allegations, including teenaged gang rape.
Graham used his podcast the same day to whine that non-right-wing media "complained that Republicans were somehow rude to walk out of the Senate chamber once the vote was over, like everyone was supposed to surround Judge Jackson like she was the hero at the end of Top Gun."
Brad Wilmouth continued the MRC's anger at Republicans being criticized by complaining that "CNN analyst Errol Louis suggested that Republicans are opposed to and bitter about the acquisition of civil rights for African Americans as he reacted to Republican resistance to Judge Ketanji Brown Jackson's appointment to the Supreme Court," then "suggested that Judge Jackson's Republican critics represent a backlash to the Civil Rights Movement and oppose "progress" like the appointment of Judge Jackson." Wilmouth did not rebut any of Louis' claims.
Which kind of sums up the MRC's entire strategy against Jackson -- make a lot of noise, keep the narratives in play, and deny they have been discredited. That's not "media research," that's a partisan political organization.
Posted by Terry K. at 10:18 PM EDT