MRC Sports Blogger Pretends There's No White Supremacism Problem In MMA
Topic: Media Research Center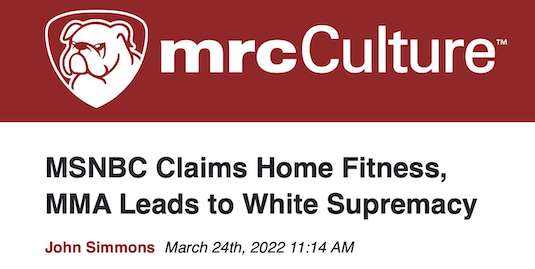 Media Research Center sports blogger John Simmons complained in a March 24 post:
If you look hard enough for a problem, you'll find it. MSNBC published an op-ed by Cynthia Miller-Idriss that attempted to condemn home fitness as a potential breeding ground for white supremacists.

Citing a mere handful of mixed martial arts training groups in Canada and Europe that have been flagged for neo-Nazi rhetoric, Miler-Idriss is worried that the growing trend of home fitness in the United States will lead to a rise in white supremacy-minded MMA gyms within our own borders.

[...]

Pushing through pain, heroism, solidarity, and brotherhood are values and attributes you learn to appreciate if you participate in any sport. There is nothing unique or inherently special about physical fitness training providing these things, and certainly nothing that even hints at white supremacy. Maybe these people just want to stay fit and learn some valuable life lessons along the way.
Actually, MMA has been a breeding ground for racists for years -- the Southern Poverty Law Center wrote about it back in 2008, and it didn't have to go to Europe or Canada to find it, and others have found white nationalism and racism in the MMA scene in America as well. Indeed, the day after Simmons' post, MMA news site Bloody Elbow reported that a collection of neo-Nazi MMA & fitness fight clubs called Active Club are spreading white supremacist and anti-Semitic propaganda across the U.S.
Instead admitting this is an actual problem, Simmons attacked the writer for having "an economic interest in finding right-wing boogiemen in new and interesting places," then pretened
MMA is not a hotbed for fostering white supremacists. For those that care, lots of black, Hispanic, and African fighters have achieved and sustained incredible amounts of success in MMA. Perhaps the only reason why people think white supremacists thrive there is because a great many people within the sport - like UFC figure and based podcaster Joe Rogan - who supported Donald Trump when he was president. But being a Trump supporter does not make you a white supremacist (although the left has an interest in claiming there's no difference between the two.)

So if you're thinking about getting into physical fitness or even MMA at a more serious level, go enjoy yourself. Just don't let the Nazis get you.
Simmons didn't mention that, as a paid MRC blogger, he has an economic interest in discrediting anyone who doesn't adhere to right-wing narratives -- even if they're telling the truth. And maybe citing Rogan wasn't the best example of reasonableness in MMA given that the MRC had just spent weeks defending him from the fact he loves to spread COVID misinformation.
Posted by Terry K. at 10:21 PM EDT