MRC's War on NewsGuard Keeps On Flailing
Topic: Media Research Center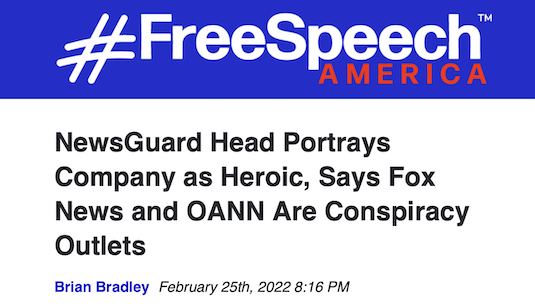 The Media Research Center's war on website-ratings firm NewsGuard has been floundering, and that sad track record hasn't improved. Brian Bradley complained about the head of NewsGuard saying factually accurate things in a Feb. 25 post:
NewsGuard CEO Steven Brill this week painted his company as a white knight that can save impressionable dupes from repeating another Jan. 6 "insurrection," and said Fox News and OANN traffic in conspiracy theories.

Brill tried to represent his company as an unbiased ratings company, but inadvertently made clear his company has a liberal agenda. He even defended calling the Jan. 6 riots an "insurrection."

"If you look at the reports that were written by people who participated in the insurrection of January 6, what you see, by and large, is that most of those people were people who were ordinary American citizens," Brill said on C-SPAN Wednesday. "A fireman from Staten Island; there was a construction worker in Ohio who just read stuff online and started going down rabbit holes, and ended up with extreme beliefs that they didn't start with."

[...]

One caller to the live C-SPAN show asked Brill why he referred to the Jan. 6 riot as an "insurrection."

"I saw hundreds of people overrunning the Capitol, breaking windows, attacking police officers, and all for the purpose of blocking the confirmation of the election results," Brill said. "I think it's fair to say that characterizing that as an insurrection is not unreasonable."
But Bradley made no effort to counter Brill's claims -- which tells us that he knows Brill is correct on both counts. Instead, Bradley rehashed its previous dubious attacks on NewsGuard, as if repeating will somehow make them less lame.
Bradley also complained that Brill said the way to deal with misinformation is "not the government interfering, it's giving those people more information about what they're reading before they go down those rabbit holes," retorting in response: "But NewsGuard benefits from government calls for censorship, because the current culture of information-policing helps to justify NewsGuard's existence." Addressing misinformation is not "censorship," no matter how loudly the MRC screams that talking point. It only reinforces the fact that the MRC is defending misinformation and trying to discredit any fact-checker who calls out that misinformation.
Catherine Salgado leaned into the MRC's unfortunate tradition of treating right-wing extremists as authoritative in a March 2 post:
"'Fact checking' is just a euphemism for the Ministry of Truth. It is not about 'facts,'" journalist Kyle Becker tweeted about biased NewsGuard.

Becker News CEO Kyle Becker pointed out that the rating site NewsGuard partners with the World Health Organization (WHO) and the U.S. government. The WHO, Microsoft, and the U.S. State and Defense departments are among NewsGuard's partners.

"This front group is spearheading an unconstitutional attack on freedom of speech and the press to undermine critics of the U.S. government," Becker insisted. He cited NewsGuard's Coronavirus Misinformation Tracking Center page to illustrate his point.

Regarding the COVID-19 "misinformation" page, Becker noted: "I… didn't see anything there I had reported; but I did question 'full authorization' of Pfizer … This legally does not add up." The only FDA-approved COVID-19 vaccines in the United States are Pfizer's Comirnaty and Moderna's SPIKEVAX. These vaccines are not available to the U.S. general public, and the actual available Pfizer and Moderna vaccines are under Emergency Use Authorization only.

"I did not see a single 'fact check' for false statements made by policymakers over Covid, such as vaccines 'stop the spread,' or anything about there being no heart inflammation side effects, etc.," Becker tweeted. "It's all directed against Big Government's and Big Pharma's critics. As expected." NewsGuard's COVID-19 "misinformation" page mixes unproven statements with statements supported by solid evidence in its list of "myths." NewsGuard's COVID-19 "myth" classifications seemingly defend several organs of U.S. authority.
Translation: Becker is mad that his COVID conspiracy theories are being ignored. And Media Bias/Fact Check lists the spreading of COVID conspiracy theories as among the reasons why it has rated Becker News withi a low credibility rating. Kyle Becker himself lost his job at the right-wing Independent Journal Review for a false story claiming Barack Obama interfered in a judicial ruling blocking parts of Trump's travel ban.
So, yeah, not the kind of person you want to tout advancing your talking points -- unless you're the MRC. Nevertheless, Salgado went on to uncritically quote becker: "There is a process for correcting misinformation called 'corrections' and arguing policy on the editorial pages. It is not slandering those whose opinion activists & politicians disagree with." Has Becker ever corrected the record on any false information he put out to demonstrate how he corrects misinformation? Salgado was not interested in finding the answer to that question.
Posted by Terry K. at 2:05 PM EDT