WND Spreads Russian Propaganda Over Ukraine Biolabs
Topic: WorldNetDaily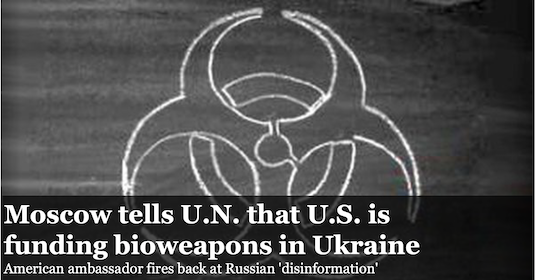 WorldNetDaily is a longtime fan of Russia's Vladimir Putin, so it's probably not a surprise that it would help him spread disinformation and propaganda to boost his war prospects and bash the U.S. Laura Hollis started the ball rolling in her March 3 column, beginning with a complaint that the U.S. has said mean things about Putin:
Putin, on the other hand, claims not only that parts (if not all) of Ukraine belong to Russia; he has intimated that the United States has been funding the development of possible biowarfare agents at laboratories in Ukraine, and that these pathogens could be used as weapons against Russia.

Until recently, most of us would have tended to believe the statements of our own government over the inflammatory accusations of a former Soviet strongman. But two-plus years of the COVID-19 pandemic has proven that our own government lies to us continuously and repeatedly.

In fact, the similarities between the "Ukraine biolabs" story and the theory that SARS-CoV-2 (the virus that causes COVID-19) emerged from the Wuhan Institute of Virology are remarkable.

[...]

A Washington Post article from 2005 opens with this statement: "The United States and Ukraine agreed yesterday to work jointly to prevent the spread of biological weapons, signing a pact that clears the way for Ukraine's government to receive U.S. aid to improve security at facilities where dangerous microbes are kept." The two U.S. senators spearheading that initiative were Richard Lugar, a Republican from Indiana, and Barack Obama, then a Democratic senator from Illinois.

So, "dangerous microbes" are at these Ukrainian laboratories, and the United States government has been providing funding. For what, exactly? To "improve security."

This hardly inspires confidence.

[...]

Predictably, any suspicions about the work conducted in Ukrainian laboratories and funded by the U.S. government are now being dismissed as "disinformation." Foreign Policy published an article yesterday insisting that the "Ukrainian lab bioweapons" claims are just "conspiracy theories" being advanced by (of course) the Russian and Chinese governments and (wait for it) QAnon supporters who are spreading misinformation on social media as part of the "dogma for the right wing of the Republican Party."

Sound familiar?

So, what's really going on in the Ukrainian laboratories? Who do you believe?
Well, certainly not Hollis or WND. As the Washington Post's Glenn Kessler pointed out, "The Russian claims about Ukrainian labs bear the earmarks of the Soviet Union's long-running campaign of false allegations that the United States used biological weapons," which resumed in earnest a couple decades ago and have been repeatedly debunked -- which rdidn't stop ight-wing media from embracing the disinformation upon Russia's war on Ukraine.
A March 9 article by Art Moore furthered Russia's disinformation effort:
The United States continues to dismiss as "Russian propaganda" the claim that Ukraine is developing biological weapons.

However, the U.S. State Department's top Ukraine official made a startling admission to a Senate committee in response to Republican Sen. Marco Rubio's question, "Does Ukraine have chemical or biological weapons?"

Undersecretary of State Victoria Nuland did not deny or confirm that Ukraine has chemical or biological weapons. She apparently surprised the senator and the panel by acknowledging the European nation does have "biological research facilities" that are a source of concern amid the Russian invasion.
But Kessler noted that right-wing outlets were parroting a Russian Foreign Ministry spokeswoman who insisted that Nuland's comment was proof of the United States' "illegal and criminal activity on Ukrainian soil." Moore ewaited until the end of his article to report rebuttals to Russian claims about the biolabs.
Moore followed up with a March 12 article that lavished attention on how "Russian ambassador Vasily Nevenzya claimed the U.S. Department of Defense funded and supervised a network of at least 30 biological weapons research laboratories in Ukraine." Unusual for WND, Mooregave space to U.S. ambassador to the U.N. Linda Thomas-Greenfield to rebut the claims as the disinformation they are -- though he again mentioned how Nuland "gave a guarded answer in which she neither denied or confirmed" that Ukraine has bioweapons. Moore then called on one of his favorite COVID misinformers, Robert Malone, to claim that the U.S. partnership with Ukraine over the labs is providing Russia with "some semblance of political cover for military actions."
In between, however, WND published a March 10 column by Ilana Mercer that totally embraced Russian biolab disinformation and justified Russia's war on Ukraine:
The finding of American-installed WMD (Weapons of Mass Destruction) laboratories located in Ukraine, near the Russian border, is certainly a reminder of the extent, the depth and the gravity of the American State's lies about this conflict and its genesis. Put it this way: If Russia had American privileges, namely the right to invade sovereign countries while retaining its virtue, these biowarfare facilities – copped to by Victoria Nuland, one of the American architects of the February 2014 coup in Ukraine – would have served as casus belli (provocation) for war.

I abhor what is, on its face, a Russian war of aggression. However, knowing the history of the conflict leaves no room for doubt: The Russian Bear was poked, and poked and then some.
An anonymously written March 15 article was devoted to pro-Russia ex-politician Tulsi Gabbard throwing a fit over being called out by, of all people, Mitt Romney for spreading the biolab disinformation:
Just the News reported Gabbard had explained on social media her concerns about the "25-plus, U.S.-funded" locations.

Those, if breached, she warned, "would release & spread deadly pathogens to US/world."

Romney launched his attack on social media, claiming, "Tulsi Gabbard is parroting false Russian propaganda. Her treasonous lies may well cost lives."

[...]

She said, to Romney, "MittRomney, you have called me a 'treasonous liar' for stating the fact that "there are 25+ US-funded biolabs in Ukraine which if breached would release & spread deadly pathogens to US/world and therefore must be secured in order to prevent new pandemics."

"Please provide evidence…" she charged.

"If you cannot, you should do the honorable thing: apologize and resign from the Senate."
The anonymous WND writer made no mention of the numerous debunkins of the biolab claims or that it originated with Russian propagandists.
Shari Goodman embraced the disinformation in a March 17 column:
Additionally, while the Biden administration at first denied the existence of biological weapon labs in Ukraine, Undersecretary of State Victoria Nuland later admitted under oath in a congressional hearing that there were in fact 20 to 30 bio labs in and around Ukraine. We are to believe that these labs with dangerous pathogens were there for scientific study in a highly unstable country that just happens to share a border with a nuclear arch enemy of ours.
Meanwhile, Craige McMillan ranted in an April 8 column:
Back to our original concerns about Resident Biden's continued health, and the exposure of his son Hunter's financial relationships with Ukraine and the biolabs the U.S. built there to conduct experiments and research that would have been illegal in this nation, and most other nations. China (think Wuhan), the United States and Ukraine seem to have been not too concerned about the kinds of experiments going on in biolabs. These facilities seem to have been cathedrals for those who worship "science" at any price, even the destruction of humanity and the rest of God's creation.
It's not a good look for WND to be so actively spreading Russian propaganda.
Posted by Terry K. at 12:59 AM EDT
Updated: Wednesday, April 20, 2022 6:01 PM EDT