WND's Root Wants You To Think Trump Will Save Us All
Topic: WorldNetDaily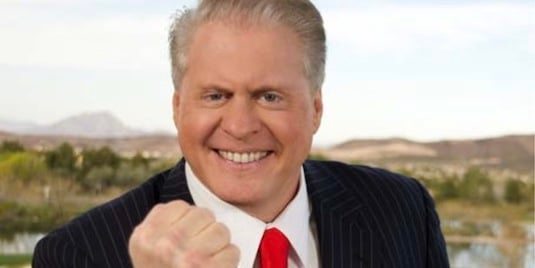 Wayne Allyn Root is a pathetic suck-up to Donald Trump, and he continues to be in his WorldNetDaily column.
Root started his March 18 column by recounting the purported hellscape America has become under President Biden -- including a prediction of how "our nation collapses into 'Mad Max' territory," then declared that "an election that I believe was rigged has changed everything":
Think of America with former President Donald Trump in charge. We had perhaps the greatest and most prosperous economy in history; the highest increase in middle-class incomes ever; the lowest unemployment ever – including the lowest black and Latino unemployment ever; inflation and interest rates at historic lows; a perfect supply chain with a plethora of everything; and peace all over the world. But some Americans didn't like Trump's tweets.

What would you give to have Trump back right about now?

Everything is at risk now. America is a disaster now. All because we might have allowed Democrats to rig a presidential election with millions of mail-in ballots; no voter ID; little or no signature matching; plus an insane idea called "ballot harvesting" that used to be illegal in all 50 states; ballot drops in the middle of the night; ballots counted for days after the election until the desired result was achieved; and every Republican witness kicked out of the room while the votes were being counted in key battleground states.

No evidence of a rigged election there, right?
When much of that is demonstrably false, then no, Wayne.
Root used his March 25 column to repeat right-wing narratives against Supreme Court nomineed Ketanji Brown Jackson about allegedly being "soft on pedophilia and child porn cases," going on to rant: "Jackson was chosen only based on the color of her skin. To pick someone based only on being black and female is disgraceful, blatantly racist, insulting and disrespectful to every qualified American of any race or gender. Yet it appears Jackson will be confirmed for the highest court in the land. He then proclaimed that "Donald J. Trump is back to lead the battle, bigger and bolder than ever before," cioting polls that show him doing well despite his not having done anything for the past year and a half but spread lies about how the election was stolen from him. He then served up his "personal testimony" about Trump:
Now to my personal testimony.

My wife, Cindy, and I just returned from our honeymoon at Mar-a-Lago, Donald Trump's estate and private club in Palm Beach, Florida. This amazing trophy property may be the most valuable residential property in America.

saw Trump each night for dinner. I spent time up close and personal with the man. And I can tell you several things that should scare the heck out of liberals ...

Trump looked healthy, strong and confident.

Trump was carefree; he was actually spinning records during dinner. He has eclectic taste ranging from opera to rock to rap to pop tunes. I have no doubt he could make millions per night as "DJ PREZ" at Las Vegas nightclubs!

I also watched as Trump, the former leader of the free world, personally gave out the awards to the winners of the men's, ladies' and seniors' golf tournaments at his Trump International Golf Club. By the way, the senior tournament winner was ... Donald J. Trump! How's that for carefree?
Given that Trump has a well-earned reputation for cheating at golf, "carefree" might not be the proper word here. Nevertheless, Root concluded:
Trump is very much back in the game. He's got his mojo back. He looks very much like President Nos. 45 and 47.
I have no doubt Trump is the winner in 2024. But that's only if we make it to 2024.
As I said to Trump, "I love and appreciate you. I believe you were the winner of the 2020 election. After the disaster of Biden, I believe you'll win the 2024 election by a large margin. But the real question is, can America survive another three years?"
That's the most important question in the history of America.
Root asserted in his April 8 column that "Biden and Democrats have produced a toxic combination of stupidity, insanity and evil," then presented Trump as a force of goodness and light who must try to win Black and Latino votes by holding his rallies in urban areas:
President Trump, while there are many things I love about you, one stands out: You don't see people by the color of their skin, but you instead see them only as fellow Americans. You proved that as president when the policies you pursued and actions you took to "Make America Great Again" were clearly for the benefit of ALL Americans, and not just the privileged elite. You were great for working class Americans, middle class Americans and most importantly, black and Latino Americans. While Democrats were calling you "racist," your policies created the lowest unemployment in history for blacks and Latinos.

With that said, the most important task now is to ensure that not only are you reelected in 2024, but that you are reelected with overwhelming political support in Congress. I believe you are uniquely positioned, in the history of America, to do that.

And the time to start is now!

Mr. President, I know you love rallies in stadiums with 20,000 to 80,000 screaming, adoring fans. And that's great. We all love your rallies. But the fact is that you've already got the votes of virtually every conservative in America, of almost every Christian, of an overwhelming majority of working class and middle-class voters and a huge majority of white voters. They're all coming out for the GOP House and Senate in November ... and for you again in 2024.

[...]

What is this tour called? You already named it: "The Trump 'What Have You Got to Lose?' Tour." Yes, I want you to tour the USA for the next three years appealing to black, Latino and minority voters! Fill stadiums with black and brown supporters. You've already got all the rest. Adding just a few million minority votes will win countless House and Senate seats, lead to a Trump-GOP landslide in 2024 and cement your legacy as the greatest president in history.

And it will drive Democrats and the mainstream media into fits of rage and insanity. Liberal heads will explode. That's a pretty fun bonus.

Best of all, once you're reelected in 2024, you'll have a Trump-friendly GOP House and Senate ready to get to work passing everything we've ever dreamed of – especially a national voter ID law and a ban on ballot harvesting.

President Trump, it's time to bet on black ... and brown. This is how we change America, take America back and make America great again.
Instead, Trump was planning to rally for a Nebraska gubernatorial candfidate who, like hjim, has been accused of sexual harassment. Not quite the power play Root had in mind.
Posted by Terry K. at 10:15 AM EDT
Updated: Sunday, May 1, 2022 6:52 PM EDT