WND Keeps Bogus COVID Story That Original Source Deleted
Topic: WorldNetDaily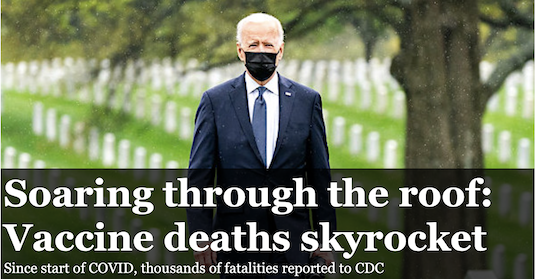 We've repeatedly busted WorldNetDaily and its columnists for depicting reports of vaccine side effects to the government's VAERS database as fact-based, verifiable and indisputable when no report has been verified and the VAERS database itself clearly states that "the inclusion of events in VAERS data does not imply causality." Still, WND apparently believes such fearmongering it too good to fact-check as long as it makes people click on its work. Thus, we have an anonymously written Sept. 13 article peddling the same bogus story:
The U.S. government database that keeps track of deaths from vaccine side effects has exploded by 10-fold since the advent of COVID-19, and the experimental vaccines that have been developed in response.

The Beltway Report revealed there are about 1,400 deaths reported to the system each year, among the thousands of reports of adverse events from vaccines.

The report explained the Vaccine Adverse Event Report System gets more than 60,000 reports each year, including 1,400 deaths that are documented on average.

But since COVID was unleashed on the world, "there have been 14,701 deaths reported," the report said.

"Many of those have come from within the last month and a half with around 3,300 deaths. That's about 70 per day!" the report said.
The anonymous WND writer's source here is a website called the Beltway Report, which Media Bias/Fact Check identifies as a questionable source "due to extreme right wing bias, promotion of propaganda and the use of poor sources who consistently fail fact checks."
Also of note is that the story's link to the Beltway Report story redirects to the Beltway Report front page. That's because the story has been deleted. The original story was published on Sept. 13, the day of WND's regurgitation of it, written under the name of "Jack Crane," a bland enough name with a bland enough bio to be little else but a pseudonym. But according to the Internet Archive, it had been deleted by Sept. 22, and it has disappeared from "Crane's" story archive. No explanation could be found on the Beltway Report as to whe it was deleted.
Could it be that one of the most unreliable websites out there decided that a story was so egregiously bogus that it was shamed into deleting it? And why doesn't WND -- which is similarly unreliable -- feel the same way?
Posted by Terry K. at 4:04 PM EDT