WND's Root Ramps Up The COVID Misinformation and Lies
Topic: WorldNetDaily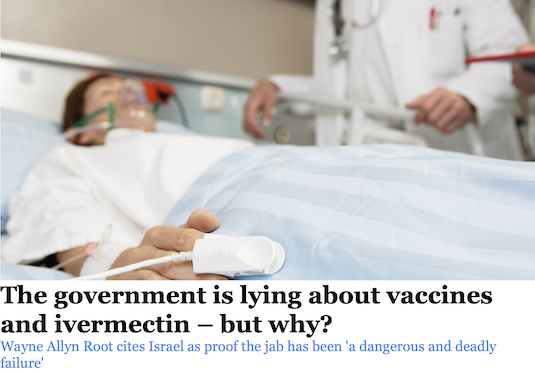 Serial COVID misinformer Wayne Allyn Root strikes again in his Sept. 6 WorldNetDaily column, beginning with unironically insisting that everyone else is lying but him:
It's been quite a week. I've been in the media business for decades and I've never before witnessed such lies, exaggeration and outright fraud. All with the intent to force everyone to be vaccinated. The question is why?

Let's start with the vaccine itself. The results in Israel prove what a sham, charade and fraud this all is. The U.S. government and Centers for Disease Control and Prevention argue that the vaccine is our only chance to survive. And that people are hospitalized and dying with COVID-19 because they are unvaccinated.

Both arguments are pure fraud.

[...]

Worst of all, the media have blacked out the developing disaster in Israel. Israel is the most vaccinated country in the world. They all got the Pfizer vaccine. At first, deaths and hospitalizations went to almost zero. Israel declared victory over COVID-19.

But everything changed. Today a massive COVID-19 outbreak has engulfed vaccinated Israel. Hospitals are full. People are dying. At this moment, Israel, the most vaccinated nation in the world, has more COVID-19 infections per capita than any country in the world.

At this moment, 0.2% of the entire population of Israel is catching COVID-19 each day.

This past week was the worst week for COVID-19 in Israel EVER. Israel is setting records for vaccinated people in the hospital. Deaths are skyrocketing.
Root offers no source for his claim that "0.2% of the entire population of Israel is catching COVID-19 each day" -- we could find no evidence to back it up -- which is a major tell that he's probably lying. but actual data from Israel tell a far different story:
But early data from the Health Ministry aired by Channel 12 news Sunday evening appears to show that those who have received a third vaccine dose are highly protected against the disease. According to the data, just 0.2% of the first 1.1 million Israelis who got their booster dose have been diagnosed with COVID-19 after at least seven days passed since the shot.

In absolute terms, the number of virus carriers who received their third dose is 2,790. Of them, just 187 (0.01%) were hospitalized and 88 (0.008%) developed serious symptoms. Fewer than 15 of them have died, with the report offering no exact number.
Root went on to selectively rant abaout the reason why:
The vaccine isn't just failing, it's a spectacular fail. It wore off. It no longer works. And just as my holistic doctor friends predicted, it makes the next wave far worse. These doctors say vaccinated people are far more contagious; they carry heavier viral loads and are far more susceptible to getting severe illness than someone with "natural immunity."

This experiment with an "experimental, emergency-use-only" vaccine is a great big failure. A dangerous and deadly failure.
Actually there are numerous vaccines that require a regular booster shot, and we don't recall Root ever calling them a "great big failure." Root also conveniently ignores the fact that the Delta variant is much more transmissible than the original COVID-19 virus -- and that vaccination does, in fact, tend to make on less susceptible to catching COVID and from being severely affected by if if one does catch it.
But Root has fear to peddle, so he resorted to an old bogeyman:
Separate from all that, the VAERS vaccine reporting system reports the vaccine itself is causing tremendous rates of death and crippling injuries. So, vaccinated Americans are dying and becoming severely sick from the vaccine, in addition to dying and becoming severely sick from COVID-19 after getting the vaccine.

And none of this is featured in the news. It's a total media blackout.
That's because Root is lying about VAERS -- again. As we pointed out the last time he spread this lie, reports of adverse effects to VAERS are not verified and are not designed to be comprehensive, and the VAERS database itself clearly states that "the inclusion of events in VAERS data does not imply causality."
Root served uyp ome more rant: "Worse yet, the same government, CDC and media are trying desperately to denigrate and slander the drug that is most successful in treating COVID-19. It's called ivermectin. In my next column, I'll show you conclusive proof from around the world that ivermectin is miraculously effective versus COVID-19." Root won't tell you that many of those studies he want to cite are far from authoritative and have shady origins, which is why few legitimate medical authorities recommend ivermectin.
Posted by Terry K. at 12:06 AM EDT
Updated: Monday, October 11, 2021 1:35 AM EDT