The Refugee Racket At CNS
CNSNews.com has spent years freaking about the number of Muslim refugees admitted into the U.S., particularly under President Obama -- but largely censored the fact that the total number of Christian refugees has always been higher.
By Terry Krepel
Posted 4/23/2020
---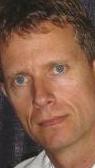 Patrick Goodenough
CNSNews.com reporter Patrick Goodenough wrote in a September 2019 article:
During much of the Obama administration, Christians outnumbered Muslims – although not by large margins – among the far larger refugee admission numbers then prevailing.

In fiscal year 2016, when a total of 84,994 refugees were resettled – the biggest annual intake since 2000 – the balance shifted slightly in the other direction, with Muslims making up 45.7 percent of the total and Christians 44.5 percent. The following year Christians again slightly outnumbered Muslims.

Under President Trump, however, the gap has widened significantly. During the first eleven months of fiscal years 2013-2019, the Christian/Muslim ratio are among admitted refugees was:

FY 2013: 6.2 percent more Christians than Muslims
FY 2014: 1.6 percent more Christians than Muslims
FY 2015: 4.2 percent more Christians than Muslims
FY 2016: 1.7 percent more Muslims than Christians
FY 2017: 3.4 percent more Christians than Muslims
FY 2018: 54.7 percent more Christians than Muslims

Much of Goodenough's previous reporting on the subject, however, conveyed the opposite idea -- that many more Muslim refugees were coming to the U.S. than Christians, particularly under Obama.
CNS has long been obsessed with the religion of refugees coming into the U.S. In the last couple years of the Obama administration, CNS regularly pushed the idea that Christian refugees from Syria should be brought into the U.S. at a higher rate than -- if not exclusive to -- Muslim refugees from Syria, or at the very least at a rate that reflected their share of the country's population.
Goodenough, wrote several body count-esque articles in November and December 2015 about refugees from the Syrian civil war:
Goodenough's reporting heavily implied (but offered no proof) that the U.S. government was somehow preventing Christian refugees from entering the U.S.
Getting much less play at CNS, however, was its own reporting demonstrating that isn't the case. Goodenough himself reported on Dec. 2 that Christian refugees from Syria rely on Christian churches and agencies instead of the United Nations, which the U.S. uses to bring in refugees:
Campaigners working with Syrian Christians say many of those who have left the country avoid U.N. High Commissioner for Refugees (UNHCR) refugee camps due to safety fears, and tend to seek shelter instead with churches, Christian charities or with relatives in surrounding countries.

Christians who have fled Syria may therefore be unintentionally discriminated against by Western refugee programs – like the one in the U.S. – which rely largely on the UNHCR for initial referrals of applicants.
Goodenough's body-count reporting since that article, however, has failed to acknowledge his own work detailing why there are not more Christian refugees from Syria in the U.S.
A Dec. 18. 2015, CNS article by Melanie Hunter quoted -- but did not dispute -- Anne Richard, assistant secretary of State for Population, Refugees and Migration, pointing out that the number of Christians fleeing Syria is relatively low because, in Hunter's words, "some of the Christians are not fleeing Syria because they support Syrian President Bashar al-Assad and feel safer with him there."
Hunter also noted (reluctantly, we're guessing) that Richard also said the U.S. will try to bring in any refugee being persecuted for their religion, no matter what that religion is, and that the State Department would not change the refugee program to "bring more of one particular religion than another."
Of course, the desire to "bring more of one particular religion than another" is what Goodenough, Hunter and CNS are implicitly demanding the U.S. do, because they apparently believe Christians are more human than Muslims.
Bias breakdown
Instead, that didn't happen. Here is the breakdown of 24 articles written by Goodenough in 2016 and early 2017 broken down by what key info was reported or omitted and include the biased headline on each article.
No mention of inaccurate numbers, no mention of Muslim persecution:
Mentions inaccurate numbers, no mention of Muslim persecution:
Mentions Muslim persecution, no mention of inaccurate numbers:
Mentions inaccurate numbers and Muslim persecution:
Obviously, every single article Goodenough wrote on the subject should have been in the final category, in which both the inaccurate numbers and Muslim persecution are mentioned, yet only two of the 24 articles are.
What every single article did do, however -- as the headlines clearly demonstrate -- is promote the unsubstantiated idea that the Obama administration was deliberately blocking Christian Syrian refugees from entering the U.S. Surely even Goodenough knew that's not true.
Even if Goodenough deserved credit in two instances for including key info, he still didn't tell the full story. Let's take a closer look at that May 10 article, in which he played up the data that of 451 Syrian refugees arriving in the U.S. in the previous month, "426 were Sunni Muslims and one was a Christian."
Several paragraphs later, Goodenough obliquely wrote that Syrian refugees were "escaping from the Allawite Assad regime and its Shi'ite backers, the Islamic State of Iraq and Syria (ISIS/ISIL) or other Sunni Islamist groups among the opposition, or more generally from the violence and deprivation. They include Sunnis, Shi'a, Christians, Allawites, Yazidis, Zoroastrians, Baha'i, atheists and others."
But that obscured the high number of Sunni Muslims who were seeking refugee status. A report from the U.S. Commission on International Religious Freedom stated that Syria's ruling Assad regime committed crimes against humanity against Sunnis and others, and the BBC reported that "Christian opposition activists have accused the government of stoking sectarian tensions, including by using Alawite-led security forces and Alawite militiamen to target Sunni civilians." While Sunni Muslims make up the majority of Syrians -- and, hence, the majority of refugees -- the government of Bashar al-Assad is Alawite.
Why didn't Goodenough make that clear? Presumably because he was more interested in portraying Christians as the real victims and was content to lump all Muslims together as some sort of sinister infiltration.
Goodenough waited a few more paragraphs after that to tell the truth that "many Christians who leave Syria do not register with the U.N. refugee agency UNHCR, for fear of their safety in U.N. refugee camps." In other words, it's not Obama's fault that more Christians are not going UNHCR, no matter how much Goodenough tries to suggest otherwise.
Surely CNS editor in chief Terry Jeffrey knew that too. Instead, he pushed the insinuation that Obama was blocking Christian refugees in an April 2016 column:
"Today, Christianity is the most persecuted religion in the world."

Sen. Tom Cotton of Arkansas said that on the Senate floor March 17 after he explained what had happened six months before to a Syrian man and his 12-year-old son.

[...]

Then, on the same day Cotton gave his speech, Kerry met a congressionally imposed deadline by declaring that the Islamic State, which he called "Daesh," was committing genocide against Syrian Christians and other minorities.

Yet, even as they face genocide at the hands of the Islamic State, very few Syrian Christians are being admitted as refugees to the United States.

As Patrick Goodenough has reported in a series of stories for CNSNews.com, their number has not been in proportion to their representation in the Syrian population.

[...]

Cotton has offered the "Religious Persecution Relief Act" to help fix this problem. It would permit up to 10,000 Christians and members of other religious minorities in Syria to be admitted to the United States as refugees each year for the next five years. These refugees could apply through U.S.-backed resettlement centers and would not need to go through the U.N. High Commissioner for Refugees. But they would go through the same security vetting as other refugees from Syria.

The House of Representatives voted unanimously last month to declare that the Islamic State is committing genocide against Christians and other religious minorities in Syria and Iraq. Secretary of State John Kerry had no choice but to concur.

Will they now find no way to allow Middle Eastern Christians fleeing that genocide to find refuge in our land?
Jeffrey is effectively suggesting that the Obama administration is actively blocking Christian refugees from Syria -- something he offers no evidence for, because he knows (or should know) that it's not true -- which he would know had he fully read his own reporter's work.
Jeffrey also suggested that the Syrian Muslims admitted as refugees are not facing religious persecution, complaining: "Since Oct. 1, 2014 (the beginning of fiscal 2015), the United States has admitted 3,312 refugees from Syria. Just 38 were Christians. But 3,147 were Sunnis. That equals about 1.1 percent Christian and 95 percent Sunni. The Syrian population, according to the CIA World Factbook, is 10 percent Christian and 74 percent Sunni."
But Jeffrey didn't mention the fact that Sunni Muslims are victims of persecution, and not just shown by CNS' own reporting. The scary-Muslim narrative had to be perpetuated.
New president, new policies, new cheerleading
By 2017, there was a new president catering to CNS' pro-Christian, anti-Muslim biases. Meaning that under the Trump administration, Goodenough had the situation he and CNS liked.
It would take a little time, though. Jeffrey was quick to push anti-Muslim talking points in a February 2017 article:
Although the CIA World Factbook says Christians make up 10 percent of the population of Syria and both houses of Congress have unanimously passed resolutions declaring that the Islamic State is committing genocide against Christians there, the Syrian refugees admitted to the United States have been approximately 99% Muslim and 0.9% Christian, according to data published by the U.S. State Department.

And this week, Sen. Tim Kaine, the former Democratic vice presidential candidate, accused President Donald Trump of trying to change the U.S. refugee policy to make it biased in favor of Christians.
Once again, Jeffrey failed to acknowledge his own reporter's work pointing out that Christian Syrian refugees tended not to be reflected in the U.N. numbers the State Department uses.
Goodenough groused in a May 2017 article that "With President Trump's immigration executive orders still being held up by federal courts, the number of refugees admitted into the United States from around the world increased by 60.2 percent in April, with 3,316 arrivals compared to 2,070 in March." He further complained: "Since the start of the Trump administration, a total of 1,447 Syrian refugees have been admitted into the United States. Of them, 98.4 percent were Muslims, 1.3 percent Christians and 0.2 percent Yazidis."
The following month, Goodenough similarly complained that "A total of 3,957 refugees were admitted into the United States in May, a 19.3 percent increase over April's figures and a 91.1 percent jump from March's low point of 2,070 admissions."
But as Trump's anti-refugee policies began to take effect, Goodenough was in a better mood, as a September 2017 article showed:
Nine hundred and thirteen refugees were admitted to the United States during August, the first time the monthly intake has dropped below one thousand in 15 years, and the smallest number of monthly admissions since October 2002.

August's arrivals followed a pattern evident since the start of the Trump administration – a declining proportion of Muslims in comparison to Christians and adherents of other faiths.

[...]

The refugee admission process can take 18-24 months, so refugees admitted since President Trump took office would almost all have lodged their applications before then.

Even so, the shift in religious affiliation among those admitted since January 21 has been marked, when compared to the same period one year earlier.
A year later, Goodenough was even happier. He gushed in a September 2018 article -- after the first full fiscal year under President Trump's refugee priorities -- that "The proportion of Christians to Muslims among refugees from around the world admitted to the United States has changed significantly in FY 2018, with Christians comprising seven in ten new arrivals, and Muslims fewer than two in ten," making sure to add, "President Trump came into office vowing to prioritize Christian refugees."
Goodenough couldn't skew the discussion by making it all about Syrian refugees, since the number admitted had plummeted from hundreds per month in 2016 to just 60 in FY 2018, so his focus shifted to the overall numbers -- which, again, were almost always biased toward Christians.
Goodenough further stated in a November 2018 article:
The first month of the new fiscal year saw 1,834 refugees admitted to the United States, more than three-quarters of them Christians, as agencies involved in resettlement began operating under the lowest refugee admission cap set by an administration since the Refugee Act was enacted in 1980.

Despite the 30,000 ceiling set for fiscal year 2019 – down from 45,000 in FY 2018 and 85,000 two years earlier – more refugees were admitted during October than during the same month last year (1,248), although significantly fewer than the numbers admitted in October 2016 (9,945) and October 2015 (5,348).

Of the 1,834 newcomers, 1,425 (77.7 percent) were Christians of various denominations, and 362 (19.7 percent) were Muslims (including Sunnis, Shi'ites and Ahmadis.) Ahmadi beliefs are deemed heretical by many mainstream Muslim clerics and outlawed in the criminal code of Pakistan – the country of origin of the 15 Ahmadi refugees admitted in October.

Rounding out the October refugee admissions were 47 non-Christian and non-Muslim refugees, including 17 Buddhists, five animists, four Hindus, three Jews, and several others who gave their religious affiliation as "other" or "none," according to State Department Refugee Processing Center data.
Goodenough did not explain why he thought the number of Christian refugees increased while the number of Muslims declined, though you'd think that the anti-Muslim leanings of the Trump administration would have played a big role in that.
That happiness continued in a March 4 article by Goodenough:
Five months into the fiscal year, the Trump administration has admitted a total of 9,305 refugees into the United States, an admission rate well below the average needed to meet the 30,000 ceiling for FY 2019 which it set last fall.

According to State Department Refugee Processing Center data, monthly admissions since the start of the current fiscal year were 1,834 in October, 2,150 in November, 1,722 in December, 1,455 in January and 2,144 in February – in each case below the 2,500 monthly average that would add up to the 30,000 ceiling.

[...]

Of the 9,305 refugees resettled in the first five months of FY 2019, 7,684 (82.5 percent) self-identified as Christians, and 1,306 (14 percent) as Muslims. One year earlier, 62.9 percent of the new arrivals over that five-month period were Christians, and 15.7 percent were Muslims.

By contrast, during the equivalent periods in FY 2016 and FY 2017, the proportions were more balanced: Muslims comprised 42.9 and 47.3 percent respectively, and Christians comprised 46.3 and 43.4 percent respectively.
Even though the religious breakdown of the refugees wasn't address until the fifth paragraph, CNS made it the headline claim.
Goodenough can be a good reporter when he wants to be, and he did admit that the number of refugees admitted so far aren't on track to be even close to the Trump's administration's lowered ceiling of 30,000. But he was still huffing about larger numbers of Muslims than Christians from Syria getting refugee status under Obama, even though "Christians, Yazidis, and other non-Muslims were deliberately targeted by ISIS jihadists in what the Obama administration determined in 2016 amounted to a policy of genocide." and despite admitting that "many Christians avoided U.N. refugee camps for rear of their safety." Goodenough still couldn't quite admit that Muslims were being persecuted during the Syrian civil war as well; while "74 percent of the Syrian population was Sunni Muslim" at the start of the civil war, as Goodenough states, the Assad regime that rules Syria is Alawite and has targeted Sunni civilians.
Instead, Goodenough was content to suggest sinister motives in Obama's admitting more Muslim refugees. That's not honest reporting.
Related articles on ConWebWatch:
Goodenough wrote in June: "Two-thirds of the way through the fiscal year, the Trump administration is on track to keep refugee admissions for FY 2019 below the record-low ceiling of 30,000 which it set last fall, even as the monthly admission figures slowly pick up. From October 1 last year until the end of May, a total of 18,051 refugees have been resettled in the United States, and almost eight in ten self-identify as Christians, according to State Department Refugee Processing Center data." He added: "The religious breakdown of refugees arriving in the U.S. continues to be heavily skewed in favor of Christians, a noticeable trend under the Trump administration. ... The religious breakdown among the accepted refugees has shifted markedly since the Obama administration, when for most years the proportion of Christian refugees resettled was only marginally higher than the number of Muslims."

(Later in June, Goodenough highlighted how "A 21-year-old Syrian refugee inspired by ISIS is due to appear in federal court in Pittsburgh Friday on charges relating to a plot to blow up a church in the city, apparently selected as a target because it has Nigerian congregants.")

That trend continued. Goodenough wrote in a Sept. 6 article -- the same one in which he effectively conceded that he had misled about the number of Christian vs. Muslim refugees:
Eleven months into the fiscal year, almost five times more Christians than Muslims have been admitted into the U.S. as refugees, in sharp contrast to the situation under the Obama administration.

Christians are by far the most persecuted group worldwide. According to Open Doors USA, 245 million Christians around the world, or one in nine, are persecuted for their faith.

[...]

Of the 28,052 refugees admitted to the U.S. since FY 2019 began on October 1 last year, 22,281 (79.4 percent) self-identified as Christians and 4,574 (16.3 percent) as Muslims.
Goodenough went on to tout Trump's proposal for "reducing last year's record-low refugee admission ceiling by a further 40 percent" in a Sept. 27 article. On Oct. 15, he touted more Trump remarks:
President Trump said at the weekend that his administration has, in contrast to its predecessor, made it easier for Syrian Christians to come to the United States.

The president, speaking at the Values Voter Summit in Washington on Saturday, did not say whether he was referring to refugees specifically, although the totality of the remarks suggested that he was.

"If you were a Christian in Syria – which was a rough place to be – you had almost no chance, during the last administration, of coming into the United States," he said.

"It was, they say, the hardest thing to do to come into the United States. Number one most difficult place in the world to come in was if you were a Christian in Syria."

"If you were a Muslim in Syria, it was extremely easy to come into the United States," Trump added.
It wasn't until the eighth paragraph of his article -- after uncritically quoting Trump -- that Goodenough gently and tentatively pointed out that Trump's assertion was misleading at best, though he never used those words (it isn't like CNS to point out Trump's falsehoods so blatantly, after all), writing that "Syrians of all faiths and ethnicities have suffered during the long and convoluted civil war that broke out in early 2011."
Goodenough didn't note, however, what he surely already knew: that there is no evidence to back up Trump's claim that Christian refugees from Syria had "almost no chance" of getting into the U.S. Instead, he touted how under Trump "the proportion of self-identified Christians among the refugees admitted into the U.S. has grown markedly, and the proportion of self-identified Muslims has duly dropped."
On Nov. 4, Goodenough highlighted how "Not one refugee has arrived in the United States since fiscal year 2020 began 35 days ago, a State Department spokesperson confirmed on Monday, adding that the last time there had been an "extended pause" in admissions was in November 2001; Goodenough included spin from Secretary of State Mike Pompeo that the U.S. responds to refugees in other ways, as well as criticism of the low cap.
For good measure, CNS also published a column by the increasingly extremist Michelle Malkin ranting that the U.S has taken in "enough" refugees, blaming the influx on a "tiny cabal of government contractors, mostly religious groups cloaking their profit-seeking in compassion and Scripture" that purportedly "perpetuates the refugee resettlement racket."
A Dec. 2 article by Patrick Goodenough highlighted how the paltry 1,488 refugees allowed in November, "were the lowest for the month since 2001, when in the aftermath of the 9/11 terror attacks on America just four refugees were resettled in the U.S.," and that most of them were Christians:
A total of 1,143 of the refugees admitted in November (77 percent) self-identified as Christians, with larger contingents including 254 Christians (no denomination specified) from Burma, 153 Pentecostalists from DRC, 102 Seventh-Day Adventists from DRC, 74 Catholics from DRC, and 62 Baptists from Moldova.

Two hundred and ninety-nine of the November arrivals (20 percent) were Muslims, including 55 Shi'ites from Afghanistan, and 32 Sunnis from Syria.

Other refugees included 13 Buddhists from Burma, five Yazidis from Iraq, one Hindu from Sri Lanka, and one Zoroastrian from Iran. Twenty-one refugees, mostly from Afghanistan, El Salvador and Guatemala, self-identified as having "no religion."
That's a weirdly obsessive breakdown unless you know that Goodenough and CNS have spent years freaked out about Muslim refugees.
The latest from