CNS Fearmongers About Afghan Refugees
Topic: CNSNews.com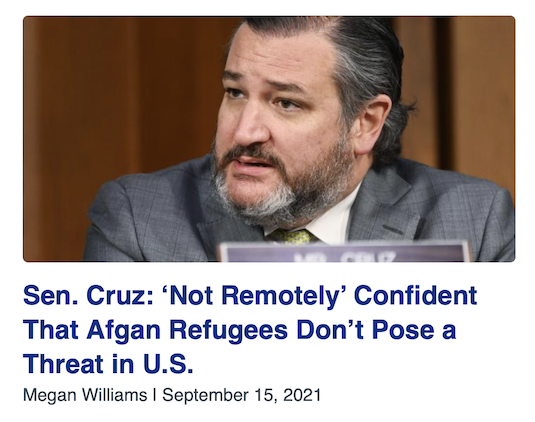 CNSNews.com has never been terribly friendly to the idea of refugees coming to the U.S., especially if those refugees aren't Christian. With the prospect of thousands of Afghan refugees coming to the U.S. after the U.S. withdrawal from there, CNS is sounding the alarm bells again.
An Aug. 17 syndicated column by Michelle Malkin kicked off the fearmongering, complaining that "Open Borders Inc. advocates" have been helping Afghan refugees settle in the U.S. for years, where they are purportedly "straining schools, hospitals, and affordable housing." She went on to sneer: "How do we prevent the refugee resettlement racket from pressuring American politicians to keep importing endless numbers of people from countries that hate our guts?"
The same day, James Carstensen penned an article hyping how the European Union "must prevent a migration crisis at home and focus on supporting Afghanistan's neighbors to take in those fleeing Taliban control," going on to complain that "European leaders had been concerned about the possibility the situation in Afghanistan could lead to another wave of migration toward Europe, as occurred in 2015-16 when over a million migrants, mostly from Syria and Iraq, entered Europe amid the peak of the Syrian civil war."
On Aug. 24, Patrick Goodenough -- who has driven much of the anti-refugee sentiment at CNS -- seemed bothered that "An independent statutory religious freedom watchdog called on the Biden administration Monday to broaden the priority designation for Afghan refugee admissions to explicitly cover religious minorities 'at extreme risk of persecution by the Taliban.'" He tried to focus on Christians though there are relatively few left in the country, but he did admit:
Many non-Muslim Afghans fled during the civil war or after the Taliban seized control of most of Afghanistan in the 1990s, and 99.7 percent of the population today is estimated to be Muslim.

Most are Sunnis, although 10-15 percent are Shi'a, including Ismailis. During the Taliban's previous rule, members of the Shi'a Hazara minority were labeled heretics and persecuted.

There are also small, low-profile pockets of Hindus, Sikhs, Baha'is, Buddhists, Ahmadiyya, Zoroastrians, and Christians.
The same day, Melanie Arter wrote that "White House Press Secretary Jen Psaki said Tuesday that the United States has 'a stringent vetting process' when it comes to welcoming refugees from Afghanistan, although she said she could not speak directly to a report that at least one Afghan who was evacuated from the region had suspected ties to ISIS."
Goodenough repeated his fretting over the possible impact of Afghan refugees on the EU in an Aug. 31 article, highlighting that "The European Union has resolved to protect its borders and increase security to prevent a recurrence of 2015's mass migration crisis and address fears of a resurgence in terrorism following the Taliban's takeover of Afghanistan."
From there, it was intern-pestering time: CNS fall intern Megan Williams was sent out to ask senators the bias, fearmongering question: "Are you confident the Biden administration has sufficiently identified and vetted all the Afghans it has brought to the U.S. and that none will pose a threat here?" The answer were predictably partisan, which was the point:
Only one of those four -- Blumenthal -- was a Democrat, making the overall response even more skewed and partisan, which perhaps was also the point.
Editor Terry Jeffrey served as stenographer for a Republican congressman in a Sept. 15 article, touting how "Rep. Chris Smith (R.-N.J.) said while questioning Secretary of State Antony Blinken in the House Foreign Affairs Committee on Monday that 'reliable information' was not available to 'conduct a meaningful background check' on 'some, perhaps many' of the Afghan evacuees who were granted parole to come into the United States." (UPDATE: Jeffrey made his interview with Smith the basis for his Sept. 22 column under the fearmongering headline "Is Biden Bringing Terrorists From Afghanistan to America?")
CNS deceptively suggested it was taking a stab at offering balanced coverage of the issue with a Sept. 21 article by Susan Jones under the headline "DHS Secretary: 'We Do Have a Robust Screening and Vetting Process' for Afghan Evacuees" -- but it featured only Republican questioning of DHS Secretary Alejandro Mayorkas about the refugee issue. Jones made sure to tout that one GOP senator "expressed frustration that of the 60,000 evacuees brought to this country so far, about 6,500 (11 percent ) are American citizens; about 3,500 (just under 6 percent) are lawful permanent residents; and about 3,000 (5.5 percent) are people with visas, including SIVs [special immigrant visas]."
Jones turned up the fearmongering again in a Sept. 23 article:
Spokesman John Kirby says the Defense Department, including Secretary Lloyd Austin, is "certainly aware" of problems, including sexual harassment and assault, at various military bases where tens of thousands of Afghan evacuees are staying until they are vetted (if they can be fully vetted).

The Washington Times reported on Wednesday that two Afghan men have been indicted on assault and sexual assault charges at Fort McCoy in Wisconsin.
Jeffrey returned on Sept. 27 with another GOP complaint from the same congressman whose fearmongering he had promoted a couple weeks earlier:
Rep. Chris Smith (R.-N.J.), a senior member of the House Foreign Affairs Committee, has been raising questions about the vetting of Afghan evacuees brought into the United States.

Thousands of these evacuees have been housed at Joint Base McGuire-Dix-Lakehurst (JB-MDL) in Smith's home state of New Jersey. On Sept. 2, Smith along with other members of the New Jersey congressional delegation and Democratic New Jersey Gov. Phil Murphy visited that base.

In a Sept. 20 interview with CNSNews.com, Smith discussed his concerns about the handling of the evacuees who had been brought to JB-MDL and to other facilities in the United States.

"I saw the military doing a magnificent job to make people feel at home, to make sure they had accommodations," Smith told CNSNews.com. "But I was extraordinarily worried and continue to be about the vetting process before they get there.
CNS has made no similar effort to interview a Democratic member of Congress about the issue, even though he noted that at least one Democrat was a member of the visiting party.
Jones followed up by fretting in an Oct. 1 article:
Around 53,000 Afghan evacuees are currently living on eight military bases in the United States as part of the Biden Administration's Operation Allies Welcome, General Glen VanHerck, the Commander of US Northern Command, told a Pentagon briefing on Thursday.

Another 14,000 Afghans will be arriving soon, once the evacuation flights resume in various foreign countries. Those flights were suspended several weeks ago because of a measles outbreak among the evacuees.
Jones made sure to plug her employer's own fearmongering: "But as CNSNews.com has reported, some lawmakers are very concerned about the ability of U.S. agencies to properly vet Afghans about whom we know nothing."
Posted by Terry K. at 1:56 AM EDT
Updated: Friday, October 22, 2021 12:21 AM EDT