CNS Weirdly Obsessed With Pelosi's Calls To Prayer
Topic: CNSNews.com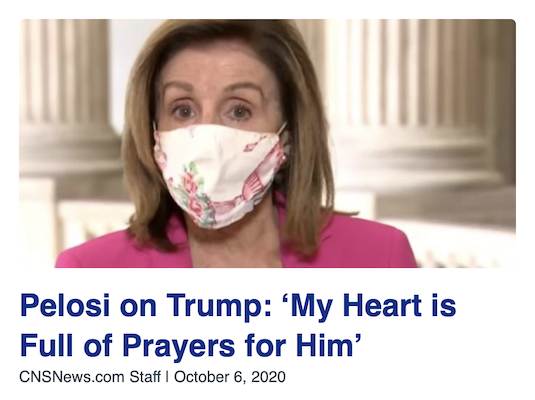 CNSNews.com is a bit obsessed with House Speaker Nancy Pelosi. When it's not trying to portray her as frail and senile, it loves to detail her calls to prayer.
In 2018, CNS published a mocking column from John Horvat II sneering at her call to pray for Dreamers, huffing that Pelosi "calls herself Catholic" and accusing her of having "politicized" her call to prayer. Last October, Susan Jones mocked her again under the headline "Pelosi, After Provoking Trump, Urges Prayers for His 'Health'," blaming her and Democrats for "deliberately provok[ing]" Trump (and , of course, not Trump for being so lacking in self-control that he allowed himself to be provoked).
After touting in February how Trump lashed out at Pelosi for allegedly "say[ing] I pray for you when they know that that's not so," CNS has spent the following several months being fascinated by Pelosi's various calls to prayer:
It's unclear what CNS wants its readers to take away from its fixation on Pelosi and prayer. Its uber-Catholic editors like Terry Jeffrey and Michael W. Chapman have never respected the way Pelosi conducts her Catholic faith -- it conducted a failed hit job on her over how she had "an epiphany on Easter" -- so they obviously don't believe her calls to prayer are sincere. So why promote them at all, except as a sort of backhanded acknowledgment that even the hated Pelosi believes in prayer?
That would certainly conflict with the prevailing frail-and-senile narrative at CNS, though. So it's a mystery.
Posted by Terry K. at 12:31 AM EDT