Fake News: CNS Tries To Manaufacture Political Motivation For Mask Guidance Change
Topic: CNSNews.com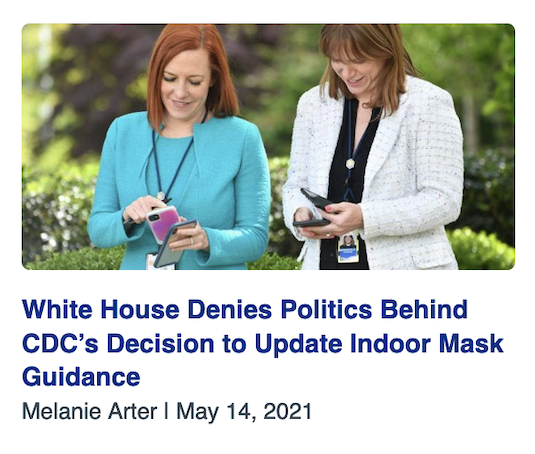 Because its right-wing ideology makes it assume nefarious motives with everything the Biden administration does -- something it never did during the Trump administration -- CNSNews.com tried to manufacture a fake narrative about the Biden administration's abrupt reversal on mask policies last month, insisting that it was an attempt to distract from otherwise negative news in the country.
Susan Jones explicitly stated it in a May 14 article:
Joe Biden called Thursday a "great day" for fully vaccinated Americans who no longer need to wear a mask indoors or outdoors. The unvaccinated must still wear a mask, under the sudden new guidance from the federal Centers for Disease Control and Prevention.

Not only did Thursday's announcement distract from the multiple crises facing the White House (war in the Middle East, a gasoline supply disruption, rising inflation, a falling stock market, an overwhelmed southern border where babies are dropped alone in the desert) -- it also serves as incentive to boost vaccinations.
Jones offered no evidence to support her little conspiracy theory, which was even more explicitly pushed in the article's original headline, as revealed by the article's URL and another website that reposted it: "Poof! Suddenly, On a Mostly Bad-News Day, CDC Lifts Mask Mandate for the Vaccinated (Incentive to Get Shots, Says Fauci)." The headline was changed to the much more bland (and factually accurate) hed "CDC Lifts Mask Mandate for the Vaccinated; Fauci Says It May be an Incentive for People to Get Shots."
Melanie Arter pushed the unsubstantiated narrative later that day, though she did give Press Secretary Jen Psaki space to explain to hostile Fox News reporter Peter Doocy that wasn't the case:
The White House denied on Friday that politics was behind the Centers for Disease Control and Prevention's (CDC) decision to update its guidance on mask-wearing indoors for political reasons.

Fox News White House Correspondent Peter Doocy asked White House Press Secretary Jen Psaki what the big medical or scientific breakthrough was for the CDC to update its guidance on Thursday.

"I know that Dr. Walensky did an extensive number of interviews yesterday to answer exactly that question, but as we've talked in here quite a bit about, the CDC – not just Dr. Walensky, but her entire team of health and medical experts - are constantly reviewing the data to ensure that they can provide accurate and up-to-date guidance to the American people, so based on three factors as she talked about yesterday," Psaki said.

"Vaccines work in the real world. We've seen a lot of studies done on that, including internally in the federal government. Vaccines stand up to the variants, which at various times has been a concern about the need to continue to mask even as you—after you're vaccinated, and vaccinated people are less likely to transmit the virus. That's how they came to the decision, and that's what she conveyed yesterday when she announced the decision," the press secretary said.
As an actual news operation reported, the the abruupt change set off "antagonists" of Biden -- like, you know, CNS -- and reported that their conspiracy theory wasn't true:
The abrupt timing of Walensky's decision also smacked of politics to Biden's antagonists, who noted that the president benefited from the announcement during a difficult week when many Americans queued up in gas lines, tensions in Israel flared and markets roiled amid inflation fears.

The White House vigorously denied any interference in the decision. Instead, administration officials said, part of the communications stumble arose from the White House's hands-off policy toward the CDC as it seeks to restore public trust in the agency after it faced unprecedented political interference under the Trump administration.

"As they have done throughout the Biden administration, the CDC operates and makes decisions based on the science and data, free from political influence," White House spokesman Chris Meagher said in a statement. "That is what they did in this case and that is what we believe they should continue to do."

This account of the administration's surprise mask reversal is based on interviews with more than 15 senior administration officials, outside advisers and health experts, some of whom requested anonymity to candidly discuss internal policy deliberations.
Needless to say, CNS hasn't told the actual truth about the policy change to its readers, nor has it admitted its conspiracy theory was false.
Posted by Terry K. at 1:07 AM EDT
Updated: Thursday, June 17, 2021 1:09 AM EDT