Reverse Mask-Shaming At CNS
Topic: CNSNews.com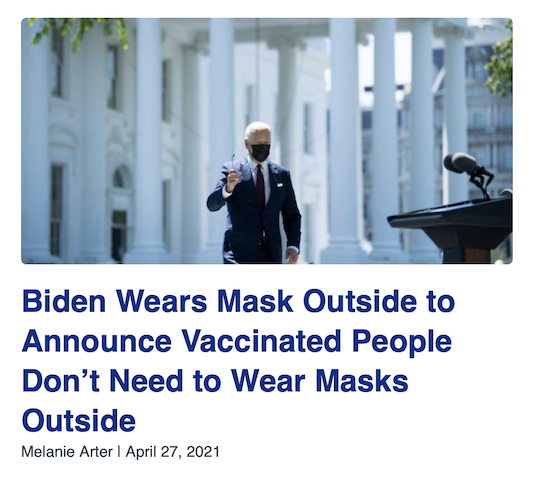 CNSNews.com has deeply drunk the right-wing Kool-aid on opposing mask mandates and masks in general, and it's not afraid to play a bizarre form of reverse mask-shaming on President Biden and others in his administration -- as we've noted, CNS enjoys taking shots at Biden for even briefly not following their own mask mandates, even though CNS opposes wearing masks -- for example, it has touted Republican Sen. Rand Paul insisting that mask questions are being driven by "emotionalism," and his strange declaration that "If you want more people to get vaccinated, Joe Biden should go on national TV, take his mask off and burn it" (no mention of the fact that Paul refuses to get vaccinated).
Let's look at a few more examples of that reverse mask-shaming. Melanie Arter served up an attempted gotcha in an April 27 article:
President Joe Biden, who is fully vaccinated against the coronavirus, wore a mask Tuesday while walking outside by himself to the podium to announce new CDC guidelines that vaccinated people can go without masks outdoors as long as they are not in big crowds.

According to updated guidance from the Centers for Disease Control and Prevention, if you are fully vaccinated, "You can gather or conduct activities outdoors without wearing a mask except in certain crowded settings and venues."
Arter deliberately waited until the final two paragraphs of her 14-paragraph to disclose the reason why Biden did that: so he could send a message by "watching me take it off and not put it back on until I get inside." That's dishonest journalism.
Patrick Goodenough tried his hand at mask-shaming in a May 3 article:
Asked why a fully-vaccinated President Biden still wears a mask outdoors despite amended CDC coronavirus precaution guidelines, a senior White House adviser said on Sunday she finds herself doing so too, out of "habit."

"It's interesting that you raise this," Anita Dunn told CNN's Jake Tapper. "I myself found that I was still wearing my mask outdoors this week, because it has become such a matter of habit."
Goodenough then referenced how "During a visit to Duluth, Georgia on Thursday, Biden – in an outdoor setting – briefly misplaced his mask, leaving the state's two masked Democratic senators waiting behind him on the drive-in rally stage as he and First Lady Jill Biden, also masked, looked for it" -- which CNS had previously made an issue of.
The next day, it was Susan Jones' turn:
President Joe Biden, a stickler for mask-wearing, was not masked last week, nor was his wife Jill, when they posed for a cozy, indoor photograph with (maskless) former President Jimmy Carter, 96, and his wife Rosalynn, 93.

Other photos show the Bidens wearing their masks as they walked out of the Carters' home in Plains, Georgia.
Next up was Craig Bannister, in a May 5 article:
Vice President Kamala Harris kissed her husband goodbye before she boarded Air Force Two on Tuesday – both wearing coronavirus masks, even though both have been fully vaccinated.

Harris was departing from Andrews Air Force Base in Maryland as she and Second Gentleman Doug Emhoff kept their masks on their faces as they engaged in an on-camera kiss.

Harris and her husband received their first COVID-19 vaccination shots in December, with the vice president using the event as a photo-op. Then, in January, both received their second doses during a press event reported by People magazine[.]
Arter returned to attack Biden anew in a May 13 article:
CNN "New Day" host John Berman asked White House senior advisor for COVID response Andy Slavitt on Monday why President Joe Biden and congressional leaders he met with them at the White House on Wednesday all wore masks despite all being fully vaccinated.

[...]

"Well, look, I think people who have been vaccinated are starting to get a little bit impatient with what can I do? Can I go indoors? Can I take masks off, et cetera? And I think the CDC is getting there step by step. So right now you can do pretty much everything outdoors without a mask, everything indoors if you're around vaccinated people without a mask," Slavitt said.

"So why were they all wearing masks?" Berman asked.

"I'm not sure the president is the average person. I personally think there's a lot of protections around the president. Why does he need lots of Secret Service agents?" Slavitt said.
That's how hard CNS has to work to continuously crank out negative anti-Biden content -- by turning masks into a political issue.
Posted by Terry K. at 1:41 AM EDT
Updated: Tuesday, June 1, 2021 11:47 AM EDT