Are You Serious? CNS' Coverage On Mask Mandates Is Partisan And Silly
Topic: CNSNews.com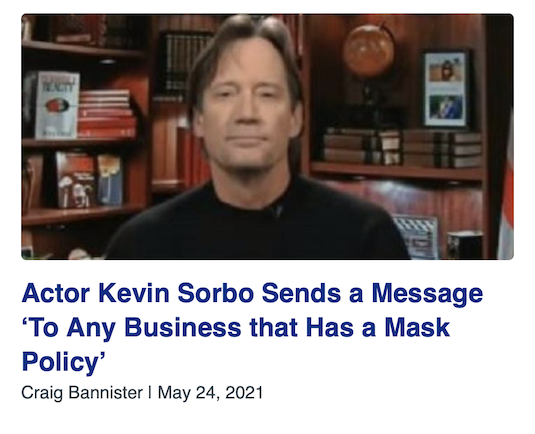 Over the past couple months, CNSNews.com has engaged in reverse mask-shaming and tried to force political motives on federal mask guidance, so it clearly has no interest in treating the issue seriously.
As it is apparently mandated to do by its Media Research center parent, CNS automatically takes the side of Republicans and conservatives, as seen in a May 12 article by Susan Jones hyping how "Several Senate Republicans chided the federal Centers for Disease Control and Prevention on Tuesday for what Sen. Susan Collins called "conflicting, confusing guidance" from CDC, especially as it relates to schools, summer camps, and mask mandates." The next day, Melanie Arter served up more reverse mask-shaming under the headline "CNN Asks WH Aide Why Biden Wore Mask Indoors Meeting with Fully Vaccinated Congressional Leaders."
Arter returned on May 14 to transcribe a mask attack from Fox News:
Fox News contributor Dr. Nicole Saphier pointed out Thursday that President Joe Biden's ultimatum on mask wearing if you're not vaccinated leaves out people who have already had COVID and have natural immunity as well as children.

Saphier told Fox News's "Hannity" that Biden's tweet directing people to "get vaccinated or wear a mask until you do" was "dangerous."
Arter did not allow anyone to respond to Saphier. Later that day, Arter scrounged up a "former acting CDC Director" to attack mask guidance.
In a May 17 article, Jones was still on her kick of manufacturing a political motive for changes in mask guidance, huffing that "Dr. Rochelle Walensky, director of the federal Centers for Disease Control and Prevention, went on all the Sunday talk shows to explain her agency's sudden and confusing about-face on face masks," adding that "She told "Fox News Sunday" that political pressure had nothing to do with the sudden change in CDC masking guidelines." the next day, Jones complained that New Jersey wasn't ready to lift mask mandates just yet.
Arter served up another political attack in a May 18 article: "Adm. Brett Giroir, former coronavirus testing czar for the Trump administration, told Fox News on Tuesday that the Centers for Disease Control and Prevention (CDC) dropped the ball when it came to messaging about mask guidance and coordinating with the White House." On May 19, Craig Bannister promoted a right-wing gotcha attempt in which "Sen. John Kennedy (R-LA) asked Walensky to 'in one minute, summarize for me what the recommendations are today from your agency about wearing masks,'" conceding that "the CDC director obliged."
On May 20, Jones gave space to Republican House members whining that Nancy Pelosi won't lift mask mandates on the House floor until all House members are vaccinated:
So far this week, several Republicans -- Reps. Brian Mast of Florida, Mariannette Miller-Meeks of Iowa, Beth Van Duyne of Texas, and Ralph Norman of South Carolina -- have been fined $500 for refusing to wear masks despite an initial warning to do so.

They face fines of $2,500 the next time. Several other Republicans have received first-time warnings for not wearing masks.

Rep. Ralph Norman told "Fox & Friends" he's "just tired of it," and "I'm going to do it again."

"I'm not putting another mask on," he told "Fox & Friends" on Thursday.
Jones did not allow Pelosi or any other Democratic House member respond to Norman or his fellow GOP mask complainers.
Also on May 20, managing editor Michael W. Chapman gushed at how "Iowa Gov. Kim Reynolds, a Republican, signed a bill into law that prohibits the public schools from imposing mask mandates on their students. Chapman devoted six paragraphs of his seven-paragraph article quoting Reynolds and two Republican state legislators touting the legislation; the final paragraph quoted a "Democrat [sic] State Rep." criticizing it. Not exactly fair and balanced, eh, Mike?
Speaking of balance, Jones finally served up a little in a May 21 article quoting Pelosi defending her House mask mandate, saying that "unvaccinated lawmakers are selfish, and she suggested they eventually may be required to vote from the House gallery instead of the House floor."
And on May 24, Bannister demonstrated the unseriousness of CNS' agenda-driven mask coverage by devoting an article to the opinions of a washed-up right-wing actor:
Conservative actor and former "Hercules" star Kevin Sorbo has a message for the businesses that are still requiring customers to wear masks in order to patronize their businesses.

On Sunday, Sorbo posted a tweet reminding business owners that the anti-mask customers they're turning away today, despite the Centers of Disease Control (CDC) loosening its rules, are the ones who weren't afraid to shop at their establishments - and helped keep them in business - when others were shunning them:

"To any business that has a mask policy:

"The maskless shoppers you turn away were the ones willing to support you when no one else would."
Nothing says "legitimate opinion" quite like a guy who hasn't done much since that "hercules" role a few decades ago.
Posted by Terry K. at 12:57 AM EDT
Updated: Thursday, June 24, 2021 4:04 PM EDT