Odds And Ends: MRC Can't Stop Deflecting Over Capitol Riot
Topic: Media Research Center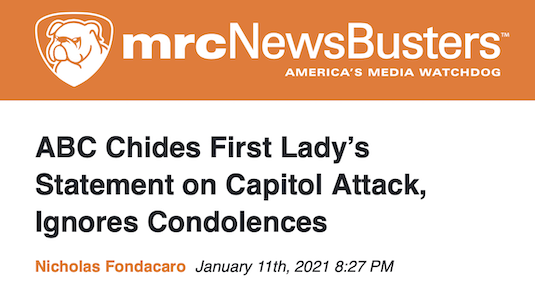 There are a few odds and ends we skipped over regarding the Media Research Center's defensiveness over the Jan. 6 Capitol riot. Let's go over them, shall we?
In a Jan. 8 post, Alex Christy complained that CNN wasn't giving enough credit to Trump administration officials who resigned over the riot:
For years, CNN has exploited former Trump officials as they dumped on the old boss, from Anthony Scaramucci to Omarosa. But CNN thinks anyone resigning the wake of the Capitol Hill riot has no principles at all, and are just trying to "cleanse their reputation" It's too late to help CNN.

On Thursday's CNN Newsroom, Anderson Cooper noted among those resigning was deputy national security advisor Matt Pottinger and chief of staff to the first lady Stephanie Grisham Regarding Grisham, Cooper took one last parting shot at the woman whose tenure began by getting involved in "an all out brawl" with North Korean security on behalf of the press, "Stephanie Grisham, the first lady's chief of staff who used to be the spokesperson of the White House and was one of the top liars while she held that position."

[...]

After tarring of anyone who worked in the White House for the last four years as a lying hack, Cooper and [John] Harwood couldn't give any credit to anyone resigning after the riots.
On Jan. 11, Nicholas Fondacaro continued the MRC's defense of Melania Trump, this time over the statement she issued afterwards. When ABC News pointed out that she turned attention to herself by grousing about "salacious gossip, unwarranted personal attacks, and false misleading accusations on me,'" Fondacaro huffed that "An important part of the statement that ABC and Bruce intentionally omitted from their reporting, was how the First Lady said she'll carry with her the stories of those who had died at the Capitol."
Scott Whitlock ramped up the victimhood in a Jan. 13 post grumbling about late-night hosts were unfairly blaming all conservatives for a conservative-instigated riot:
The far-left Democratic activists posing as late night hosts on Monday night used last week's violent assault on democracy as an excuse to smear all conservatives and Republicans as "sociopathic" and to mock Mike Pence, who was nearly murdered by the band of demagogic thugs.

They also dismissed any free speech concerns conservatives with Twitter and Amazon as nothing more than a bunch of "racists" on Twitter.
Christy returned to huff: "Americans of all races and political persuasions want those who rioted at the Capitol on Wednesday to be brought to justice, so it was disheartening, but not necessarily surprising when former Republican senator from Maine and Clinton Secretary of Defense William Cohen poured gasoline on the fire on Monday's Andrea Mitchell Reports by spreading the blame to 'white people' and their 'white rage.'"
Meanwhile, Gabriel Hays was having his own special meltdown:
Vice's latest anti-life piece is proof that last week's Capitol riot is a one-smear-fits-all bad PR event being used by the left to condemn all of its political enemies.

This time the hipster, soyboy lefty outlet is associating the entire anti-abortion movement with with the few identifiable anti-abortion activists who stormed the Capitol building on January 6. They want to convince readers that pro-lifers are in league with a "white supremacist" insurrection.

But again, we had to hear from the left all Summer, that violent BLM/Antifa protesters did not represent the millions of peaceful protesters who stood for racial justice.
After agreeing with that "hipster, soyboy lefty outlet" on the fact that one of the rioters had previously firebombed an abortion clinic, Hays wailed: "So because criminals who happen to be pro-life were at the rally, that means the whole pro-life movement is a collection of similar dregs of society? That's stupid. The left sure loves its guilt by association game, BUT only when dealing with conservatives. Otherwise, according to them you should never judge a group by its worst actors."
Of course, Hays failed to mention that judging a group by its worst actors is exactly what his employer has done regarding Black Lives Matter -- or that violence and murder has been a non-insignificant component of the anti-abortion movement.
Posted by Terry K. at 9:32 PM EST