MRC Tries To Portray Hawley As A Victim Over His Book Getting Canceled
Topic: Media Research Center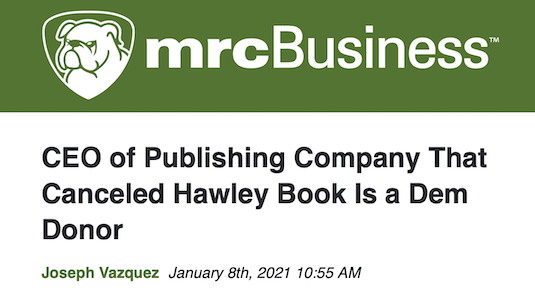 If the Media Research Center can find a way to portray conservatives as victims, no matter how unjustified, it will. Joseph Vazquez eagerly played the victim card in a Jan. 8 post:
Rule of thumb: Always be skeptical of a company that tries to act woke, especially when CNN blowhard Brian Stelteris pushing it.

Publishing company Simon & Schuster tried to do just that by canceling publication of Missouri Republican Sen. Josh Hawley's upcoming book "The Tyranny of Big Tech." The firm arbitrarily pinned blame on him for the Capitol Hill riot. The company wrote in a statement on Twitter: "[W]e take seriously our larger public responsibility as citizens, and cannot support Senator Hawley after his role in what became a dangerous threat to our democracy and freedom."

But, there may be political reasons why the company decided not to publish. Federal Election Commission (FEC) records revealed that Simon & Schuster CEO Jonathan Karp donated exclusively to Democrats this electoral cycle. Karp donated $350 to former Democratic presidential candidate and leftist Beto O'Rourke in 2019, while he was President and Publisher of Simon & Schuster Adult Publishing. So, a Democrat donor is head of the company that canceled a Republican senator's book. No conflict there, right?

Stelter touted the news on Twitter, writing: "This just in: @SimonSchuster 'has decided to cancel publication of Senator Josh Hawley's forthcoming book, THE TYRANNY OF BIG TECH.'" Stelter proceeded to parrot some of the highlights from the Simon & Schuster statement, but he didn't mention anything about the company's CEO being a Democrat donor.

Vazquez is simply making stuff up. Does he really believe that Karp canceled Hawley's book because he once donated $350 to a Democrat in Texas (and another $100 to liberal donation aggregator ActBlue)? If Karp is so partisan, how does Vazquez account for Hawley's book initially ghetting approved for publication under Karp's watch? How dumb do he and his employer think we are?
Vazquez also lied when he claimed Hawley as "arbitrarily" being blamed for his role in inciting the Capitol riot. There is plenty of evidence to support his incitement role, such as his push to overturn the election and to continue to do so even after the riot.
Vazquez's post is less reality-based examination and more politically driven speculation. But then, the MRC cares much more about the narrative than it does the truth.
P.S.: Hawley's book was quickly snapped up by right-wing publisher Regnery, so Vazquez need not fret about whether Hawley will be unable to cash in on his newfound notoriety.
Posted by Terry K. at 10:45 AM EST