MRC Again Touts Shady Reporter Because He's Attacking Biden
Topic: Media Research Center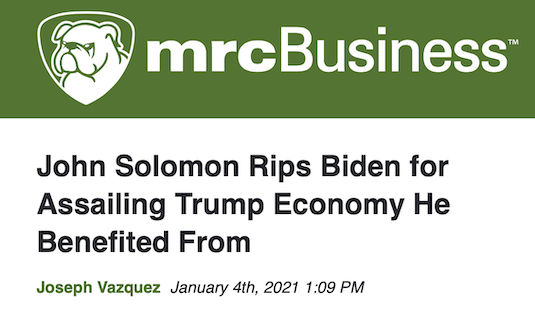 The Media Research Center has a thing for right-wing reporter John Solomon. In November, the MRC's Joseph Vazquez touted his claim that "a mountain of evidence has been amassed in private lawsuits alleging there was, in fact, significant and widespread voting misconduct," even though one reporter who looked into Solomon's claims found him to be "profoundly misleading" and that the claims typically leave out information that discredits them. Of course, Solomon's reputation as a biased, shoddy reporter precedes him, but Vazquez also failed to mention that Solomon's overall work is suspect because of his shady dealings with Russian and Ukranian sources to launch thinly sourced smear campaigns against critics of President Trump.
Nevertheless, Vazquez gave Solomon another platform to launch a political attack in a Jan. 4 post:
Just the News Editor in Chief John Solomon didn't let former Vice President Joe Biden get away with attacking the Trump economy, especially since several members of Team Biden have made millions from it.

As Solomon put it, new financial disclosure reports with the Office of Government Ethics revealed that Biden "and his closest advisers personally fared extremely well during the Trump years, with some raking in millions each."

Specifically, Biden himself "saw an historic rise in income and net worth, scoring at least $16.7 millions in income since Trump took office in 2017, or about three times what he and his wife Jill had made in the prior 20 years combined." But that wasn't all. Solomon also wrote that "[t]he former vice president also picked up a nifty second house, a beach estate in Rehoboth, Del., worth more than $2 million."
Except that Biden's increase in income had little to do with "the Trump economy" -- they were driven by the fact that he used to be vice president. According to a Forbes article to which Vazquez linked, Biden made that moneythrough a book deal made with him and his wife, Jill, speaking engagements and a college professorship -- all things former presidents and vice presidents typically do.
Still, Vazquez felt the need to sneer, "So much for that 'Joe from Scranton' imagery that the media had peddled on Biden's behalf throughout the election cycle." It's a dishonest and hypocritical attack from Solomon that Vazquez is amplifying to manufacture a class war against Biden, never mind that his president for the past four years, Donald Trump, was all about flaunting his supposed wealth.
And, of course, Vazquez didn't bring up Solomon's history of shoddy reporting.
Posted by Terry K. at 5:34 PM EST