Right-Wing Activist MRC Defended Was Arrested In Capitol Riot
Topic: Media Research Center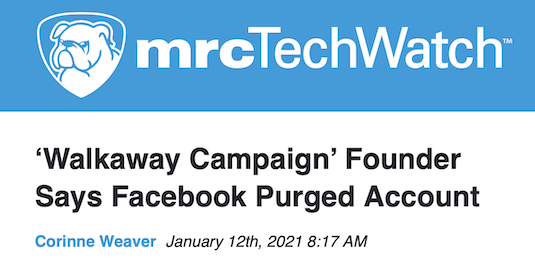 In a Jan. 8 Media Research Center post sounding alarms ahat "The Blaze journalist Elijah Schaffer, who has put his own physical safety at risk to report on riots throughout 2020 has been shockingly deplatformed for unknown reasons," Alexander Hall also wrote," Activist Brandon Straka's WalkAway foundation was also reportedly purged from Facebook. Schaffer commented in response: 'The Purge is not only here, it's going to get worse. We've been predicting this for a while now. Get ready.'"
Four days later, the MRC's Corinne Weaver gave Straka the full victim treatment:
Facebook purged the WalkAway Campaign, a conservative movement, in the overall censorship fiasco that started with the complete shutdown of President Donald Trump from all tech platforms, according to the campaign's founder.

Brandon Straka, the founder of the WalkAway campaign, tweeted on Jan. 8, "FACEBOOK has removed the #WalkAway Campaign and has BANNED ME and EVERY MEMBER of my team!!! Over half a million people in #WalkAway with hundreds of thousands of testimonial videos and stories is GONE." The tweet included two screenshots: one purportedly from Facebook informing Straka that "Your account was disabled," and one email purportedly from Facebook that stated, "Pages that are hateful, threatening, or obscene are not allowed."

The platform explained, "A Facebook Page is a distinct presence used solely for business or promotional purposes." The company warned Straka, "Continued misuse of Facebook's features could result in the permanent loss of your account."
Well, that victimhood may have been a bit premature. NBC News reports that Straka was arrested last week for his alleged role in the right-wing Capitol riot, on charges of impeding law enforcement officers during civil disorder, knowingly entering restricted grounds and engaging in disorderly conduct with intent to disturb a hearing before Congress:
Straka, 44, who describes himself as a "former liberal," was a scheduled speaker at a Jan. 5 "Stop the Steal" rally at Freedom Plaza in Washington, D.C. The FBI received multiple tips about his presence at the deadly siege the next day, according to a federal affidavit, including a tip from a woman who claimed to be a relative of Straka's.

Special Agent Jeremy Desor detailed a series of tweets and videos Straka made during and after the attack. They have since been deleted.

In one tweet, he called on "patriots at the Capitol" to "hold the line!" according to the affidavit.

The affidavit says a video posted to YouTube by a witness shows Straka at the Capitol doors saying: "We're going in. They're saying we're going in. We're going in."

At one point, the crowd was challenged by a Capitol Police officer with a shield. Straka told them, "Take it away from him," according to the affidavit.

The clip ends with Straka at the top of the stairs, the document says.
Unsurprisingly, neither the MRC's NewsBusters operation nor its "news" division, CNSNews.com, have told their readers that a man the MRC defended just a few short weeks about has been arrested-- just like it has refused to tell its readers that another person it has portrayed as a victim, Marjorie Taylor Greene, is a far-right QAnon conspiracy theorist and hater.
Posted by Terry K. at 7:39 PM EST