WND Is Sad That Confederate General's Statue Was Removed From Capitol
Topic: WorldNetDaily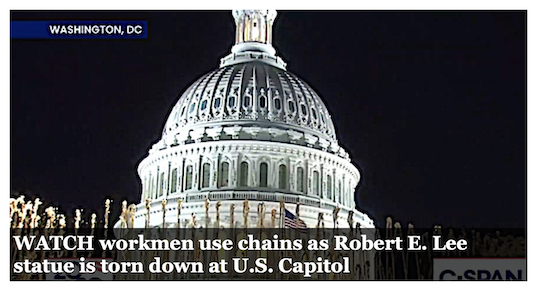 WorldNetDaily's Bob Unruh was very sad about a Confederate statue being "canceled" in a Dec. 22 article:
Gen. Robert E. Lee, a descendant of signers of the Declaration of Independence, a graduate of the United States Military Academy and a hero of the war with Mexico who married a great-granddaughter of Martha Washington, has been canceled at the U.S. Capitol.

The statue had stood adjacent to George Washington for 111 years but now will be moved to the Virginia Museum of History and Culture.

It was Virginia Democratic Gov. Ralph Northam, who once appeared in blackface and advocated for infanticide, who created a team to remove the statue, one of two the state is allowed to have in the Capitol building.

Replacing Lee will be a statute of Barbara Rose Johns.
Note that there's no mention so far of the thing Lee is best known for: leader of the Confederate army, which fought against the United States in the Civil War. Nor does Unruh explain who Barbara Johns is (a civil rights leader who, as a high school student, helped create an anti-segregation lawsuit that was consolidated into the Brown v. Board of Education that ruled segregated public schools to be unconstitutional).
Also note that the headline is wrong: The statue was not "torn down," it was removed and relocated.
It wasn't until the seventh paragraph of his article that Unruh got around to mentioning the defining fact of not only Lee's life but the removal of Lee's statue:
The removal of the statue is part of a movement accelerated by the protests in the wake of the death of George Floyd calling for a reassessment of major figures in American history.

In Lee's case, it was his decision, after years of serving with honor for American forces, to lead the Confederate forces..

At the end of the Civil War, Lee was granted parole to return to his home, as President Lincoln had wished.
That's an incredibly simplistic -- and inaccurate -- reading of what happened to Lee. While Lee submitted an amnesty oath to President Andrew Johnson in June 1865, he was not granted parole at that time; Lee's rights of citizenship were not restored until 1975, more than a century after his death in 1870. Further, Lee could not return to his home in Virginia because it had been turned into a burial ground for Union soldiers, known today as Arlington National Cemetery.
WND has long been sad about the removal of Confederate monuments.
Posted by Terry K. at 12:10 AM EST