MRC Still Treating QAnon-Loving Rep. Greene As A Victim, Censoring Her Extreme Views
Topic: Media Research Center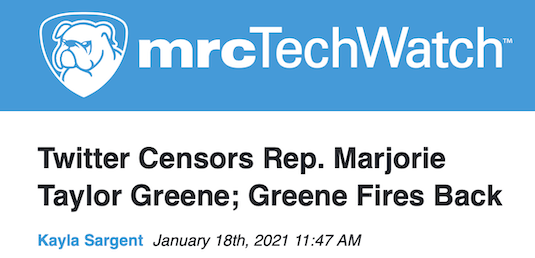 Back in September, the Media Research Center portrayed Marjorie Taylor Greene, then a candidate for a House seat in Georgia, as another victim in its conservative victimization narrative who was "censored" by social media -- but it made sure to censor her well-documented history of racism, anti-Semitism and QAnon affiliations. Now that she's won the seat, the MRC is still manufacturing victimhood for her while continuing to hide her extremism.
In a Jan. 18 post, Kayla Sargent groused:
Twitter censored another member of the U.S. government, but she quickly fired back, calling out Twitter's hypocrisy.

Twitter suspended Rep. Marjorie Taylor Greene (R-GA) for twelve hours Sunday evening, citing "'multiple violations' of the company's civic integrity policy," according to The New York Times.

The suspension reportedly came after Greene tweeted: "The 1/5 disaster in Georgia lays solely in the hands of state leadership who failed voters in our state. @GaSecofState and @GabrielSterling were begged by Republicans to fix our elections. They did nothing. They are to blame, not me, not @realDonaldTrump, not @CollinsforGA," according to the Washington Examiner. The tweet included a label that said, "This claim of election fraud is disputed, and this Tweet can't be replied to, Retweeted, or liked due to a risk of violence."
As before, Sargent censored all mention of Greene's QAnon affiliation or her extremism.
In a Jan. 22 post, Alec Schemmel went after a representative of one of the MRC's favorite targets, the never-Trump Lincoln Project, for describing "Marjorie Taylor 'Cuckoo QAnon' Greene" as an example of Republican "whiny bitch victimhood," then complained that MSNBC host Joy Reid "questioned how Greene, someone who has rallied against Big Tech censorship, could be considered a victim when she was 'literally on the House floor saying she's being silenced while she's on the House floor, also on TV.'" Schemmel didn't admit that Greene really is a QAnon fan, and he certainly didn't rebut the Lincoln Project guy pointing the GOP's "whiny bitch victimhood," since that is the core of the MRC's anti-social media strategy.
On Jan. 27, Kristine Marsh complained:
Ever since January 6, the media has been pushing hard the notion that domestic terrorists and QAnon conspiracy theorists are directly and only associated with the millions of Americans who call themselves Republicans and/or voted for former President Trump. Now, some in the media are taking this ludicrous smear even further by declaring that if you call yourself a Republican, you are supporting far right extremism.

On Wednesday's The View, co-hosts Joy Behar and Sunny Hostin were disgusted by 45 Republican senators backing Sen. Rand Paul in calling the Senate impeachment trial of now private citizen Donald Trump, unconstitutional. Joy Behar seethed they were cowards who were "scared to lose their jobs," while the GOP was now the party who supports "seditionists and insurrectionists."

Sunny Hostin went even further than Behar, claiming that the Republican party was now the "QAnon" "Far-right extremist" party, along with a whole slew of other repellant smears.
Hostin referenced Greene when she said of Republicans, "This is the party of QAnon," but Marsh left that buried in the transcript (and misspelled Greene's name).
Posted by Terry K. at 8:55 PM EST