WND Is Sad Confederate Monuments Are Being Taken Down
Topic: WorldNetDaily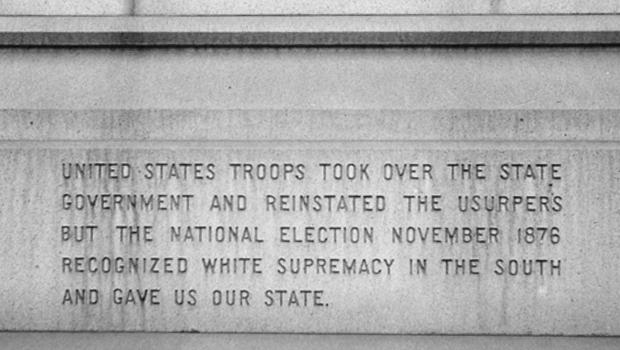 In a May 13 article, an anonymous WorldNetDaily writer is upset that Confederate statues are being taken down in New Orleans:
Under cover of darkness and with construction crews wearing masks, they drove Old Dixie down in New Orleans.

A statue of Confederate States of America President Jefferson Davis was removed from its podium early Thursday morning, one of four Confederate memorials Democratic Mayor Mitch Landrieu has vowed to banish from the city in the name of "diversity, inclusion and tolerance" in the crime-ridden Louisiana city.

Though the removal of the statue was greeted with a cheer, The Lost Cause was not without its supporters, many of whom waved Confederate battle flags and called for the mayor to be imprisoned.
The anonymous writer then calls on dubious historian David Barton, who calimed that "the Democrats cheering the statues being taken down would be shocked if they knew the history of their own party":
"The city plans to pull down four statues, those of Jefferson Davis, PGT Beauregard, the Crescent City White League and Robert E. Lee," he noted. "I hope they tell the folks in New Orleans that all of these monuments honor Democrats, and that the Confederacy was led solely by Southern leaders of the Democrat Party. In a Democrat city like New Orleans, I can't understand why Democrat leaders want old venerated Democrat heroes taken down!"
Not only does Barton fail to get the name of the Democratic Party correct -- which tells us he's been listening to too much Rush Limbaugh -- he apparently fails to realize that the Democratic Party of 150 years ago is not the Democratic Party of today, which tells us he cares nothing about actual history.
He's followed by Scott Greer, author of the WND-published book with the vaguely race-baiting title "No Campus for White Men," who goes for ridiculous generaliztion and absurd extrapolation:
"It's an attempt to wipe out any pride Southerners should have in their heritage," said Greer. "It's the same kind of process we see on college campuses, where anything white people did in the past tends to be demonized. The left is driven by a desire to interpret all of history through the eyes of 21st century progressive dogma. In their eyes, everything about the American past is bad and shameful and must be driven into the dirt."

[...]

"Soon we'll have to take down Susan B. Anthony statues because even though she fought for women's suffrage, she was openly pro-life; and, in today's women's movement, no one can be a true woman unless she supports Planned Parenthood and abortion. And of course Harriet Tubman statues will be taken down, for even though she was a leading conductor on the Underground Railroad bringing slaves to freedom, she was also a huge advocate for the right to keep and bear arms. For modern civil rights advocates, guns are anathema, and no true civil rights advocate can be for guns!

"We no longer look at heroes as people or as complex individuals; rather we now judge them solely by one issue, whatever that issue happens to be at the time. We are creating a culture where we believe we have a right not to be offended or even have our misconceptions challenged; and we're willing to use coercion to keep 'me' from being offended, even if that offends 'you.' What offends us now is so routinely redefined that probably no statue now will survive more than a generation before it becomes offensive to someone who will demand its removal."
Actually, the opposite is true: Society has moved toward judging heroes as real people and not one-dimensional caricatures. While Lee and Beauregard were undoubtedly complex individuals, their statues did not honor that complexity; they honored their roles in a war in which they were on the side of perpetuating slavery -- a one-dimensional caricature.
Greer doesn't explain why Southerners should have "pride" in a "heritage" that is based on losing a war and perpetuating racial discrimination, something it can be argued that the Confederate statues were celebrating and something the Battle of Liberty Place monument -- marking an 1874 insurrection in which the Crescent City White League attacked a racially mixed New Orleans police force and actually carrying an inscription stating that following the insurrection, the 1876 election "recognized white supremacy in the South and gave us our state" -- most definitely did.
Posted by Terry K. at 10:09 PM EDT
Updated: Monday, May 22, 2017 10:13 PM EDT