WND: Won't Someone Think of the Poor Confederate Memorials?
Topic: WorldNetDaily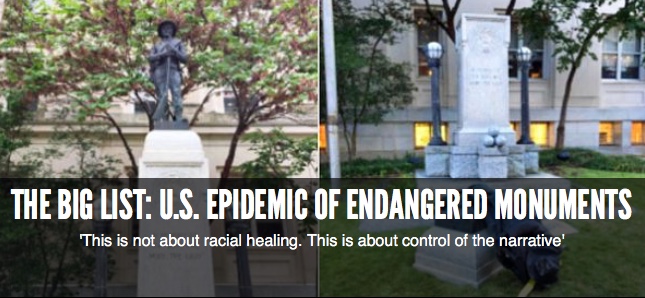 In addition to hot takes, conspiracy theories and stolen glory, WorldNetDaily has been embraced another reaction to the events at Charlottesville, Va.: defending the Confederacy and its memorials.
WND let discredited adulterer Dinesh D'Souza rant in an anonymously written article:
"Let's start with the fact this whole thing was kicked off because of an attempt to take down a monument to Robert E. Lee," D'Souza told WND. "Here's the irony: Robert E. Lee was the most decorated soldier in the U.S. Army. He was a man of unimpeachable integrity. Lincoln offered him command of the Union Army, but Lee refused only because his loyalty was to Virginia. Lee opposed both secession and slavery.

"And yet to the historically illiterate left, a man who opposed both slavery and secession has come to symbolize both slavery and secession."
Yeah, when you turn down the opportunity to fight for America to lead the Army fighting for slavery and secession, that tends to happen. It's not "historically illiterate" to point that inconvenient fact out.
Jerry Newcombe similarly defended Lee:
Gen. Lee is an ironic lightning rod for such violence. He was such a statesman that had he been born a few miles north, that is, north of the boundary of Virginia, he likely would have gone on to become a winning general for the Union, and possibly on from there to the presidency.

[...]

Gen. Lee didn't fight to preserve slavery. He freed slaves, at great personal cost, he had inherited by marriage. He hated the "peculiar institution." He also was in favor of the preservation of the union and opposed to secession. But when asked by President Lincoln to lead the troops to squash the burgeoning rebellion, he asked, "How can I draw my sword upon Virginia, my native state?"

States' rights was the ostensible reason men like Lee and Jackson fought for the Confederacy, but clearly the catalyst cause was slavery. This reality is clearly a mark against Lee, Jackson and others who fought for the South. But we should also remember them for who they actually were, rather than as two-dimensional cutouts in a simplistic morality play of obvious good versus obvious evil.

If we start to tear down all statues of Lee, Jackson and Jefferson Davis, the president of the Confederacy, why stop there? What about the nine presidents of the United States who owned slaves? Washington was the only one of those who freed his slaves.
Well, removing prominently placed statues of people who fought against the United States seems like a reasonable stopping point.
Speaking of monuments, an Aug. 15 article serves up a "big list of the nation's endangered Confederate monuments and symbols" and approvingly quoted right-wing radio host likeningtaking down Confeerate statues to "the Talilban, pulling down Christian historical sites." The more accurate analogy would be to newly liberated Eastern Europeans tearing down statues of Lenin.
And because WND must make everything about scary, swarthy Muslims, an Aug. 15 article by Art Moore complains that the Council on American-Islamic Relations is "providing a template resolution to be introduced by public bodies such as state legislatures, city councils and school districts" asking for Confederate monuments to be removed.
In an Aug. 18 article, Alicia Powe complained not only that Nancy Pelosi is asking that Confederate-related statues be removed from the Capitol rotunda, but also that she waited so long to do so:
Over the last 100 years, Democrats have controlled Congress almost twice as long as Republicans and there have been 35 years during which they controlled both houses and the presidency. But only in 2017 did the Confederate statues in the Capitol become an issue for them.

Some suggest it's a way to help eradicate the strong Democrat [sic] connection with the Confederacy – something about which Americans are oblivious. Not only did Republicans lead the charge against slavery, they also were targeted for death and intimidation by the Ku Klux Klan, which represented the military wing of the Democratic Party.

But today, Democrat [sic] lawmakers are accusing President Trump of being proponent of white supremacy, even though he has repeatedly condemned the white supremacists and neo-Nazis who rallied in Charlottesville, Virginia.
Powe didn't mention the inconvenient fact that the post-Civil War Democratic Party is not the Democratic Party of today, and that it is conservatives like her and her fellow WND employees who are now rushing to the defense of the Confederacy.
Posted by Terry K. at 12:51 AM EDT
Updated: Monday, August 21, 2017 12:56 AM EDT