NewsBusters Blogger Tries To Deny Conservatives' Link To Anti-Vaccine Activism
Topic: NewsBusters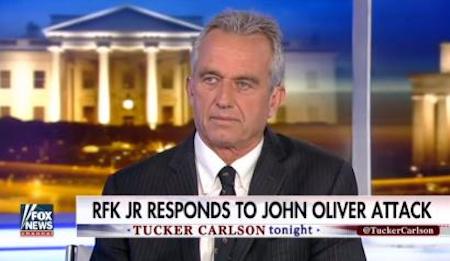 Clay Waters whines in a June 15 NewsBusters post:
Friday's New York Times showed the paper again trying to falsely link the publicly harmful anti-vaccination movement to political conservatism. Reporters Julie Bosman, Patricia Mazzei, and Dan Levin drew the strands together for "Celebrities, Conservatives and Immigrants in Disparate Groups of Skeptics."

It's not the first time the paper has tried to falsely smear "conservatives" as the main thrust of anti-vaccine action, even though the most recent polling on the matter suggests it's more of a left-wing cause. In fact, two "red states" often mocked as backward, Mississippi and West Virginia, are nationwide leaders in getting their children vaccinated.

Amazingly for a story whose headline blasts "conservatives" for being anti-vaccine, the first sentence features the anti-vaccine conspiracist Robert F. Kennedy Jr., of the famous uber-liberal Democrat political family.

[...]

Robert F. Kennedy, who falsely believes that vaccines cause autism, was not even identified as part of the liberal Kennedy clan, though he is the son of the late Democratic Attorney General (in the administration of his brother John) and a Democratic U.S. Senator.
At no point does Waters prove that RFK Jr. is a "liberal," despite playing guilt-by-association, as it were, by invoking the politics of his family -- in fact, the Kennedy family has distanced itself from him on the issue of vaccines -- nor does Waters link him to any anti-vaccine movement on the left. To the contrary: When RFK Jr.'s anti-vaccine activism first became known, it was right-wing outlets like WorldNetDaily and Newsmax -- not liberal outlets -- that gave him an uncritical platform. Indeed, Waters unironically illustrates his piece with a screenshot of RFK Jr. on ... Fox News in 2017, where Tucker Carlson fed him softball questions and did not challenge his anti-vaxxer beliefs.
Waters' evidence that anti-vaccine activism is "more of a left-wing cause" is a 2014
article
on the right-wing Real Clear Science website sorting states with the highest vaccine exemption rates by the margin by which a presidential candidate won in 2012 -- which, of course, is an imprecise measure because it says nothing about the individual political views of those seeking exemptions. After all, while New York is considered a liberal state, this year's measles outbreak
occurred
mostly among unvaccinated people in an ultra-Orthodox enclave in New York City not known for liberal politics.
And, of course, Waters also forgets that the publisher of his blog posts was anti-vaxxer at one point, fearmongering that HPV vaccines like Gardasil had "dangerous" side effects and even encouraged children to have sex.
Posted by Terry K. at 10:01 AM EDT