MRC Attacks Anyone Who Dares Criticize Trump's July 4 Speech
Topic: Media Research Center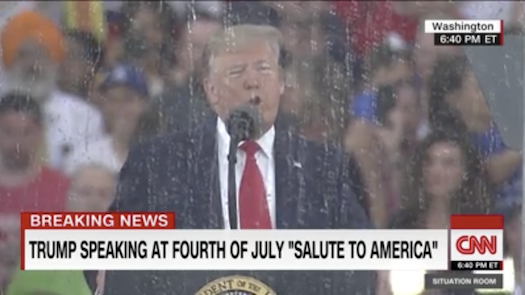 At the Media Research Center, President Trump is He Who Must Not Be Criticized. And when it came to his self-aggrandizing July 4 speech and military display in front of the Lincoln Memorial, the MRC decreed that it was downright unpatriotic to criticize Trump for it.
Nicholas Fondacaro set up the basic narrative:
President Trump has organized a special Fourth of July event to take place on the National Mall which he dubbed "a salute to America," and the liberal broadcast networks were not pleased with it. Combined, ABC's World News Tonight, CBS Evening News, and NBC Nightly News insisted Trump is set to divide the country, make it all about himself, and veterans are angry about it.

ABC came off as seemingly afraid of our troops when fill-in anchor and White House correspondent Cecilia Vega suggested there was " growing backlash" to the "parade, a concert, and a show of military force taking place in the nation's capital."

[...]

Because the VIP list reportedly included Republican donors (as if President Obama didn't invite his donors and celebrity friends to such events), [ABC correspondent Hallie] Jackson elevated "critics" who were "concerned the President's high jacking the holiday, putting politics over patriotism, and forcing taxpayers to foot the bill. One Democrat deriding it as a 'vanity' project."
Alex Christy huffed that "CNN carnival barker and American Urban Radio Networks correspondent April Ryan came up with a new objection: the purpose of the parade is so that Trump can look like a dictator." (Wait, we thought Jim Acosta was the "carnival barker.") Christy then added; "One should be allowed to criticize the idea of having tanks roll down the streets of D.C. for a parade or holiday without being called unpatriotic, but the media always take things to eleven which turns criticism into hysteria and genuine concerns into scaremongering." Of course, the whole point of the MRC's exercise is to paint any criticism of Trump over this as unpatriotic.
Curtis Houck -- arguably the MRC's resident carnival barker, what with his Acosta Derangement Syndrome -- served up another hyperbolic take:
Wish that President Trump would not have inserted himself into Washington, D.C.'s Fourth of July celebrations, allowing A Capitol Fourth to remain on its own? Fine. But to declare the President's plans "un-American" and a sign he wants to make America like North Korea or the former Soviet Union? That's nonsense, folks.

And as evidenced by those hot takes on Tuesday's Hardball with MSNBC host Chris Matthews and his three panelists, we have yet another example of what Trump Derangement Syndrome can do to your well-being.
Emma Fantuzzo complained that "Three days before the Fourth of July, Chris Hayes and the liberal media took it upon themselves to inform the American public that the President's planned Fourth of July celebration has ulterior, unpatriotic motives. " After Hayes pointed out the VIP section taht would be filled in part by his political supporters, Fantuzzo sneered, "Perhaps Hayes is upset because he won't be among the VIPs." Hayes guest Charles Pierce (the guy the MRC still falsely accuses of praising Ted Kennedy) pointed out that Trump's stunt was "extraordinarily cheap and tacky and grifty," but she was oddly more bothered that Pierce "was wearing a Hawaiian shirt on national television." Fantuzzo concluded by playing the patriotism card: "Well it's a good thing MSNBC is doing their part in spreading constant negativity and a lack of patriotism, that's sure to win over the American people."
Randy Hall groused that "MSNBC and the networks will not carry [Trump's] Fourth of July address to the nation," then cheered that Fox News "will cover the entire event during a two-hour edition of that evening's Special Report With Bret Baier that will begin at 6 p.m." While Hall identified the networks not running Trump's speech live as "liberal," he applied no ideological label to the right-wing, Trump-loving Fox News.Hall also included some misinformation from the right-wing Daily Mail, uncritically repeating a claim that instead of Trump's speech, ""NBC will have on NBC Nightly News With Lester Holt and Extra during the time slot, and CBS will run its nightly newscast and Inside Edition." In fact, both "Extra" and "Inside Edition" are syndicated programs, not network shows; the Daily Mail apparently treated a CBS and NBC affiliate's lineup as applying to the entire network, and Hall never caught the error.
Ryan Foley weighed in with a defense of the president: "It seems like the media always want to attribute the worst possible motives to President Trump; rather than entertaining the idea that he might simply want to celebrate America." Foley did not further explain why anyone should take Trump's motives at face value.
After the speech, Houck went hyperbolic again, portraying even the mildest criticism of Trump as utterly unhinged:
Well, that was something. Over the course of about 28 minutes of airtime (including commercials) following the President's Fourth of July event A Salute to America, CNN's The Situation Room put on one of the most disgraceful displays of liberal media bias, Trump hatred, and slights at America you'll ever see.

Attacking the President like bitter preschoolers, a cast of CNN personalities bashed the Trump speech as a "rudimentary" "eighth grade history" report ripping off of Schoolhouse Rock and Wikipedia to create a work of "jingoism and militaristic virtue."
Houck is sounding not unlike a bitter preschooler himself.
Drennen complained that one reporter "snidely" pointed out an embarrassing error by Trump bizarrely referring to the military "taking over airports" during the Revolutionary War. Drennen didn't admit that if Obama had made such an error, the MRC would never stop snidely obsessing over it.
Bill D'Agostino completed the MRC's anti-media hatefest by summarizing various media figures' "numerous false predictions" about the speech, while inadvertently damning the speech itself with the faint praise of it being "largely patriotic" and "unobjectionable."
Posted by Terry K. at 9:08 PM EDT