MRC Bashes Critic For Criticizing Comedian's Unfunny Transgender Jokes
Topic: Media Research Center
We've noted how the Media Research Center berlieves that the LGBT community is a preferred target for comedy, as exemplified by its defense of Steven Crowder's homophobic attacks on gay journalist Carlos Maza as being OK because it comes from a "comedian." Now the MRC has defended more bad LGBT-mocking humor.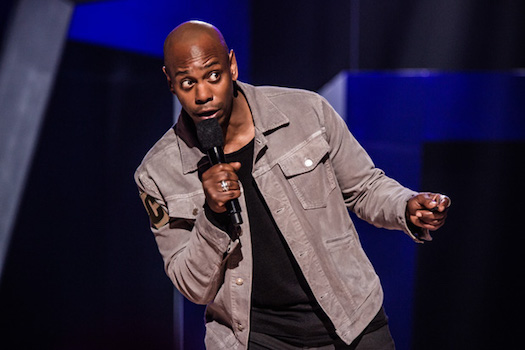 In a July 11 post, Clay Waters bashed New York Times critic Jason Zinoman for criticizing comedian Dave Chappelle for maikng "lukewarm jokes" about transgenders, claiming that Chappelle committed the offense of "telling jokes about people that Zinoman doesn't think he should be telling jokes about." Waters chortled later in thepost that "Zinoman was getting his own 'comedy roast' on Twitter for being such a censorious scold and advising comedian Chappelle what he can and cannot joke about."
Needless to say, the MRC loves to tell people who they can and cannot joke about. Indeed, the very next day, MRC leaders Tim Graham and Brent Bozell attacked a cartoon for making jokes about President Trump:
CBS-owned Showtime has created a Trump-blasting animated series called "Our Cartoon President," reminiscent of that George W. Bush-bashing "Lil' Bush" series that Comedy Central made while Bush was in office. Can you imagine Showtime having aired a president-mocking cartoon while Bill Clinton or Barack Obama were in office? How about one about President Hillary? They wouldn't dare.

Showtime thinks it's funny to claim that conservatives say they are "oppressed" and need a "safe space." The network says its "cutting-edge comedy presents the truish adventures of Trump ... and his family."

"Truish." That word gives you a clue. It's like the truth. The executive producer is CBS late-night star Stephen Colbert, so the "truish" part is fascinating.

[...]

"Truthiness" perfectly defines this nasty cartoon, made by a nasty man who announced on national television that this president's mouth is a holster for Russian President Vladimir Putin's penis. He presents Trump and conservatives as the worst kind of loathsome idiots, because that's the truth he wants to exist. It's "his truth," as the left so illogically tries to explain these things. It's just another dose of ongoing therapy for liberals who feel oppressed because Trump is president.
Of course, Waters never explained why jokes about transgenders are inherently and perpetually funny and immune from criticism.
Waters would never dare to call his bosses out for complaining that "Our Cartoon President" was "telling jokes about people that" Graham and Bozell don't "think he should be telling jokes about," though they're acting exactly the same as the Times critic he attacks. We assume he values his paycheck too much.
Posted by Terry K. at 7:16 PM EDT
Updated: Sunday, July 28, 2019 9:17 PM EDT