Norah O'Donnell Derangement Syndrome At The MRC
Topic: Media Research Center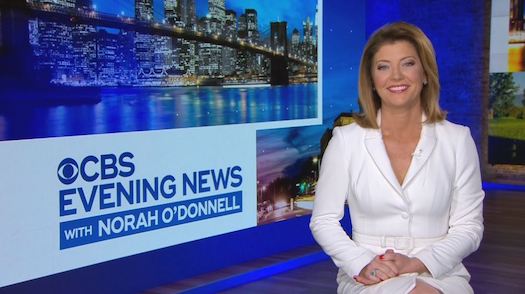 We knew the Media Research Center suffered from Acosta Derangement Syndrome, but we weren't aware that O'Donnell Derangement Syndrome was a thing until Norah O'Donnell debuted as the new anchor for the CBS Evening News.
On the day of her debut, Geoffrey Dickens ranted about she purportedly decided to act "liberal" in order to get the job:
Norah O'Donnell has risen through the ranks of TV jobs from MSNBC correspondent to CBS This Morning co-host. On Monday she begins her stint in the CBS Evening News anchor chair previously occupied by the likes of Walter Cronkite, Dan Rather and Katie Couric. And much like those liberal bias legends before her, O'Donnell realized one of the best ways to climb the ladder was to lean left in her reporting and hosting duties.
Dickens then provided examples of O'Donnell allegedly "adoring Democrats and liberals and attacking Republicans and conservatives, one of which was described as "Slapping a Republican for Failing to Follow Liberal Playbook." Of course, Dickens is slapping a journalist for failing to follow the conservative playbook.
So theMRC minions were clearly looking for something -- anything -- to be offended by in O'Donnell's debut so it could fill out its narrative against her. And boy, were they.
Under a sneering "We TOLD You So" headline, Curtis Houck declared that Dickens' post "struck gold" because "the debut episode of O'Donnell's CBS Evening News made it apparent that the newscast will return to being virulently anti-Trump, waging war against the President after his 'racist' 'tweets.'" But all Houck could actually identify was O'Donnell letting the targets of Trump's tweets (why did Houck put scare quotes around "tweets"?) to respond.
Houck also found O'Donnell guilty of reporting the news in an order he didn't like: More odiously, O'Donnell sandwiched between coverage of Trump's tweets and more pro-illegal immigration coverage a news brief about the latest life sentence for the white supremacist convicted in the Charlottesville murder of Heather Heyer, as if to link him to Trump and the GOP."
Houck ended his post with more deranged sneering, responding to O'Donnell's closing declaration that journalism should fight against "ignorance, intolerance, and indifference" with unironic smugness: "Look out, Scott Pelley. Because you might have some competition at CBS in the smug department." Houck simply linked to the MRC archive on Pelley and identified nothing whatsoever from him that could be described as "smug."
Houck ranted even more after the next day's program:
After Monday's debut of the CBS Evening News with Norah O'Donnell established that it would be an unquestionable home for liberal bias, night two cemented that as O'Donnell and her team provided more liberal bias, whether it be the President's "racist tweets," letting a Democratic donor interview "The Squad," or blaming an upcoming heat wave to climate change.

O'Donnell teased their coverage from the Kennedy Space Center on the 50th anniversary of Apollo 11's launch before stating that "we're going to begin with that breaking news here on Earth" about the House "resolution to condemn" Trump's "racist tweets" even though it wasn't a full-blown censure.
(Houck put "racist tweets" in scare quotes because it's the right-wing narrative never to admit that Trump's tweets were racist.)
Houck then expressed faux concern for the "great journalism" at CBS purportedly being hurt by letting Gayle King interview people:
Showing how not only biased but ethically challenged some at CBS are (thus hurting many there who do great journalism), the newscast then aired an except ofn CBS This Morning co-host Gayle King's "exclusive" interview with Congresswomen Alexandria Ocasio-Cortez (D-NY), Ilhan Omar (D-MN), Ayanna Pressley (D-MA), and Rashida Tlaib (D-MI).
For some reason, the higher-ups thought letting a Democratic donor, Corey Booker friend, and Obama family friend in King would work. Based on the released excerpt, King lived up to her partisan streak by lobbing softballs[.]
Houck also put words in O'Donnell's mouth claiming that she "blamed" a heat wave on climate change -- followed by a quote in which she accurately said that it's something "scientists link to climate change." He then lectured: "Now, this writer doesn't have a degree in climatology or meteorology, but climate looks at matters over periods of time while the weather concerns things happening in now or near future. Sure, one can discuss climate change, but a singular weather pattern being emblematic isn't ideal." Houck seems to have forgotten that his employer loves to portray the existence of cold weather as evidence that global warming isn't real.
The following day, Houck snarkily claimed that O'Donnell served up "a rare reprieve with substantive, snark-free coverage of the illegal immigration crisis at the border (compared to what we usually see) and another example of how, even in the liberal media, broken clocks can occasionally be right.
In antoher post, Houck cheered that O'Donnell reported on the "legal victory" for Trump in the form of the closing of an investigation into Trump's hush-money payments to a porn star, but offered up more snark by climing that the program "offered a tinge of disappointment there were no new charges."
The outrage baton was then handed to Scott Whitlock, who attacked O'Donnell's appearance on Stephen Colbert's late-night CBS, huffing that O'Donnell's declaration that journalism is what "makes democracies work" was an example of she "continued to announce just how pleased she is with herself and fellow journalists." He linked to Dickens' post again as evidence that O'Donnell "has a long history of liberal bias."
Houck concluded O'Donnell's debut week with more ranting that her show "has showcased a CNN-like penchant for liberal bias and punditry masquerading as reporting." He didn't explain why CBS is forbidden from doing that while his employer's own "news" division does so with impunity.
Houck then groused that the program had done a "covert" interview with "someone with far-left, hate-Trump mindset already predisposed to oppose him." Meanwhile, Houck and his MRC colleagues have firmly established themselves as people with far-right, hate-O'Donnell mindsets who were already predisposed to oppose her.
Which, of course, makes this kind of prefabricated, agenda-driven and outrage-obsessed "media research" difficult to take seriously.
Posted by Terry K. at 4:13 PM EDT