MRC Mad At Jon Stewart For Insulting McConnell
Topic: Media Research Center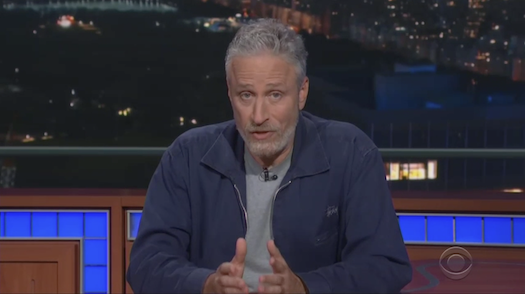 The Media Research Center can't refrain from attacking a perceived enemy even when that person is acting on behalf of a good cause. Aiden Jackson complains in a June 18 post:
Everyone appreciates when a meddling celebrity with little understanding of governmental operations tells members of Congress how to do their jobs, sarcasm intended. This rings especially true when the member of Congress they are criticizing is a Republican. Nevertheless, Jon Stewart continued his endless attacks on Mitch McConnell during a guest appearance on The Late Show with Stephen Colbert Monday night.

Although pursuing a noble goal of securing compensation for the first responders of the 9/11 terrorist attack, it seems it is Stewart who is making the situation as politically charged as possible for no apparent reason by attacking Senate Majority Leader Mitch McConnell. In responding to a video of McConnell calling Stewart "bent out of shape," Stewart bemoaned:

No! No! No! No, Mitch McConnell, I'm not bent out of shape… Basically, we're saying, 'You love the 9/11 community when they serve your political purposes, but when they are in urgent need, you slow walk, you dither, you use it as a political pawn to get other things you want, and you don't get the job done completely.

To suggest a person only cares about the victims of a terrorist attack when it suits their needs politically is a typically vicious claim coming from a liberal comedian. Especially when there is evidence to the contrary, neither McConnell nor any other sitting member of Congress has presented a barrier to passing the Never Forget Our Heroes Act.

[...]

The fact of the matter is, the Never Forget Our Heroes Act was never in danger of losing funding. Especially considering it has been renewed many times over in the past.
Jackson is simply parroting what McConnell himself has said -- which, of course, ignores the point Stewart was making: If the funding is so uncontroversial, there's no reason to wait until the last minute to approve it. If the funding "has been renewed many times over in the past," there's no reason to wait for it to get approved again. And there is some urgency, given that the fund is starting to run short of funds.
Stewart eventually got results -- McConnell will reportedly meet with 9/11 responder survivors, and he said a vote on the issue is upcoming. It's unlikely, of course, that Jackson will ever give Stewart for that because he's more angry that a Republican politician was insulted in the public square.
Posted by Terry K. at 3:20 PM EDT