MRC Goes Into Full Deflection Mode on Trump-Epstein Ties
Topic: Media Research Center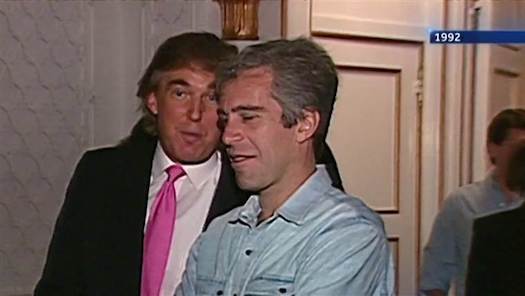 The Media Research Center and its NewsBusters division (looking at you, Mark Finkelstein) have a problem acknowledging that Donald Trump has a connection to accused pedophile Jeffrey Epstein, which typically manifests itself in labored attempts to complain that Bill Clinton had dealings with Epstein too (ignoring the inconvenient fact that Trump is the current president while Clinton hasn't been president for nearly 20 years now). With Epstein's latest arrest on charges of sex trafficking and with exposure of Trump labor secretary Alexander Acosta's role in working out a sweet plea deal for Epstein when he was a federal prosecutor, the MRC was compelled to deflect and defend anew.
A July 8 post by Kristine Marsh set the page, huffing that one ABC news show failed to report on "Epstein's highly controversial connection to former President Bill Clinton" or that Epstein was "a major Democrat [sic] donor," referencing a Fox News report (of course) claiming that "Clinton was a frequent flier on Epstein's private jet full of underage girls." Marsh further complained that other news reports "tried to connect Epstein to Trump" and one of those reports "didn't mention that after Epstein had been convicted of assaulting an underage girl, Trump had barred him from Mar-a-Lago." Marsh didn't address the issue of why Trump allowed Epstein into Mar-a-Lago in the first place.
Scott Whitlock followed up the next day:
ABC finally broke its silence, finally mentioning Bill Clinton's connection to registered sex offender Jeffrey Epstein, a man now accused of new charges of sex trafficking. But the combined mentions on Monday night and Tuesday morning only amounted to 38 seconds. In comparison, the total amount of Epstein coverage since Sunday has been 21 minutes and 3 seconds.
Whitlock failed to acknowledge Trump's links to Epstein, though he did reference the Acosta controversy.
Marsh got all huffy again in another deflection-filled post, complaining that "The View" co-host Joy Behar "tried desperately to connect the longtime Democrat donor to President Trump" though "Epstein was a major donor to the Clinton Foundation and President Bill Clinton reportedly took over two dozen trips with the sexual predator on his private jet nicknamed the 'Lolita Express'."
Ryan Foley, meanwhile, simply engaged in stenography, touting how Fox News' Sean Hannity was "scorching the media's attempt to make President Trump such an outsized force in coverage of the Jeffrey Epstein case," making sure to repeat the talking point that Trump "banned him from Mar-a-Lago years ago."
Emma Fantuzzo groused that MSNBC host Lawrence O'Donnell and guest Tim O'Brien made over-the-top claims and speculations into the relationship between recently indicted Jeffery Epstein and President Donald Trump," further complaining that a "17-year-old quote" from Trump calling Epstein a "terrific guy" and complementing his taste in younger women "was supposedly evidence that Epstein still stands in the President's good graces, despite accounts that Trump banned Epstein from Mar-a-Lago years ago for inappropriate behavior." She added, per the MRC's narrative: "Incredibly, the only mention of Bill Clinton was in his defense, citing the statement written by Clinton that he hadn't known about Epstein's crimes."
Alex Christy complained about "insistence on Wednesday's Deadline: White House comparing President Trump to alleged serial child sex abuser and trafficker Jeffrey Epstein," while Gabriel Hays gave a big "YAWN" to "lefty" John Lithgow "read[ing] an excerpt from his poetry on Trump's relationship with now-resigned Department of Labour Secretary Alexander Acosta, a man Lithgow believes covered for sex trafficker, billionaire Jeffrey Epstein," sneering "Clearly Lithgow wants us to know he's a Renaissance man … Please clap?"
Bill D'Agostino whined:
On Sunday, CNN's Brian Stelter and Phil Mattingly warped the recent sentencing of child abuser and Democratic mega-donor Jeffrey Epstein into a story about (who else?) Donald Trump. Following the resignation of Labor Secretary Alex Acosta — who had come under scrutiny for a shockingly favorable plea deal he had previously granted Epstein as a federal prosecutor — both Stelter and Mattingly brandished Acosta's resignation as the latest example of instability and high turnover within the White House.

[...]

Given how heavily news networks like CNN have focused on Acosta and the Trump administration throughout this scandal, it's worth asking how much of the media's renewed interest in Epstein was driven by a desire to paint the saga as the latest black mark on the President's record.
So in denial is the MRC over Trump and Epstein that when a video surfaced of the two together at a 1992 party, Gregory Price insisted there was no news value whatsoever:
If there is one thing that is sure to end the presidency of Donald Trump, it is a video of him at a party in 1992 surrounded by NFL cheerleaders and having a conversation with Jeffrey Epstein long before anyone knew he was guilty of sex trafficking. On Wednesday, NBC News went through its archives to find a segment from Faith Daniels' NBC talk show that captured Trump at one of his Mar-a-Lago parties (something common in the '80s and '90s).

MSNBC's Morning Joe and NBC's Today each dedicated at least 10 minute segments to an extraordinary achievement in investigative journalism: Trump was active in the wealthy New York/Florida party scene during his career as a real-estate mogul. This is neither new information, nor relevant to Epstein's case because many millionaires were friends with him at the time.

[...]

If NBC was serious about actually doing hard-hitting journalism about the Epstein case, they would focus less on videos of parties from 1992 and more on President Bill Clinton's sketchy relationship with Epstein. Not only did Clinton lie about the number of times he flew on Epstein's private jet according to flight logs, but investigative journalists also found that Clinton was on his plane at the same time as underage girls.

In another attempt to go after President Trump, NBC once again falls flat on its face.
But if the current president's link to a convicted pedophile is not newsworthy, why is a long-former president's link somehow totally newsworthy? Unsurprisingly, Price never explained the difference.
Posted by Terry K. at 7:29 PM EDT