MRC's Graham Doesn't Want The Ugly Truth Reported About A Republican
Topic: NewsBusters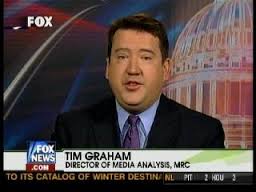 As we've amply documented, the Media Research Center's ongoing "Tell the Truth!" campaign doesn't apply to unflattering news about its favored conservatives.
Tim Graham demonstrates this hypocrisy yet again in a May 17 NewsBusters post in which he complains that Politico is reporting the facts about conservative Oregon Senate candidate Monica Wehby:
Politico's helping the Democrats wage war on women candidates right before the U.S. Senate primary in Oregon. First, John Bresnahan reported "GOP Senate candidate Monica Wehby was accused by her ex-boyfriend last year of 'stalking' him, entering his home without his permission and 'harassing' his employees, according to a Portland, Oregon police report."

Wehby (pronounced "Webby") led incumbent Sen. Jeff Merkley (D) in one poll, so perhaps the liberals want to defeat her in the primary. Then Politico obtained a 911 call from Miller so they could call it the "Wehby saga," in which he said he was going to get a restraining order:

[...]

Liberal media types love to pound tables and complain about how the Supreme Court has allowed wealthy donors to make politics more brutal with negative ads. But what does Politico say when it's the wealthy media outlet sliming a candidate and their personal life?
At no point does Graham counter any of Politico's reporting -- he's merely complaining that facts are being reported.All Graham can do is complain that Politico's "running around and obtaining police reports and 911 calls looks a little like the way the Chicago Tribune cleared the path for Barack Obama to get elected to the Senate in 2004." Graham noted nothing inaccurate in that reporting either.
Further, this seems to be a pattern with Wehby -- she has also been accused of harrassing her ex-husband as they were divorcing.
Perhaps Graham should be grateful that the truth is coming out now instead of closer to a general election.
Posted by Terry K. at 11:53 PM EDT