WND's Unruh Takes Up Colin Flaherty's Race-Baiting Baton
Topic: WorldNetDaily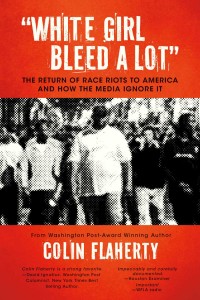 It seems that WorldNetDaily has dismissed race-baiter extraordinaire Colin Flaherty as a correspondent -- as we've noted, he has apparently taken his talents to Breitbart. WND appears to have decided it can handle its race-baiting needs in-house.
Taking up Flaherty's race-baiting baton at WND is Bob Unruh, who wrote a May 15 article about how "a black teenager is facing charges as an adult for what authorities are describing as the revenge arson of the home of a white woman and her two children." As Flaherty so often did, Unruh asserted there is a "racial factor" to the crime but does not prove it.
But Flaherty remains at WND in spirit -- WND did publish Flaherty's race-baiting book, "White Girl Bleed A Lot," after all, and thus Unruh must promote it: "A surging number of black mob attacks, mostly on white victims, has been in the news for several years, and specific incidents have been documented in author Colin Flaherty's book, 'White Girl Bleed A Lot: The Return of Racial Violence to America and How the Media Ignore It.'"
The race-baiter is dead at WND. Long live the race-baiter.
Posted by Terry K. at 9:57 PM EDT