It's another election year, which means it's time for another hollow media-bashing campaign from the Media Research Center.
As ConWebWatch has documented, previous "Tell the Truth!" campaigns have exempted the MRC itself from all that truth-telling stuff. The 2010 campaign was particularly lame, with lots of billboard trucks and a poorly planned protest outside the offices of the New York Times and NBC in New York.
This time around, the MRC is suggesting things will be different, with even more money thrown at this year's crusade. From a Jan. 26 press release:
Today, the Media Research Center announced the launch of a $5 million campaign to document and expose media bias and its role in the 2012 presidential election, including a $2.5 million advertising budget.

"Tell The Truth! 2012" is the largest effort the MRC has undertaken in its 25-year history. It will also be the largest social media effort ever undertaken by conservatives, via Facebook, Twitter, e-mail, the blogosphere and the MRC's own MRCTV.org.
Yes, there will be billboard trucks: "Billboards and mobile truck billboards planned for Charlotte, NC and Tampa, FL for the week of conventions; Washington DC for a month leading up to the November election."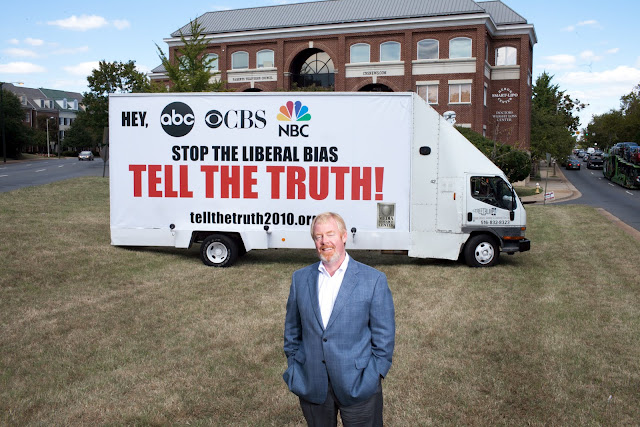 MRC president Brent Bozell poses in front of a billboard truck outside the MRC's Alexandria, Va., headquarters in 2010. (Source: MRC Action's Picasa account)
And no MRC press release would be complete without a Brent Bozell rant:
"It's time for Americans to take a stand, once and for all, against this leftist media," contends Brent Bozell, MRC President and Founder. "It's time for Americans to stand up and declare, once and for all, that the leftwing so-called 'news' media are no longer going to pick winners and losers. It's time for Americans to demand of our news media that they return to the business of reporting – accurately, fairly, honestly."

Bozell cited examples of recent bias against GOP candidates today (Thursday) in a tele-news conference with national media reporters from around the country.

"Who was Michelle Obama sleeping with before Barack Obama? If you think that's an outrageous question -- and I'd agree -- then why did reporters ask it about Mrs. Santorum?"
Huh? That's an odd thing for Bozell to say. As it turns out, "reporters" asking who Mrs. Santorum was "sleeping with" actually means one reporter at Newsweek, who found out that before she married Rick Santorum, Karen Santorum had a six-year relationship with an abortion provider 40 years older than she was. It appears to have been an accurate, fair and honest report; Bozell offers no evidence that it wasn't. It seems that Bozell simply doesn't want the question asked, no matter how interesting the answer is.
Bozell's conflating this with looking into Michelle Obama's background is silly -- unlike with Karen Santorum, nobody's ever credibly accused Michelle of sleeping with an abortion doctor old enough to be her father, and if she did, it would certainly be as newsworthy as Karen Santorum's six-year dalliance.
Bozell misled again in a Jan. 26 CNSNews.com article on the crusade, saying: "It happened with Herman Cain--a hundred stories on the networks about his alleged dalliances, before a single source came forward."
But it wasn't necessary for a source to "come forward" because we knew that Cain's then-employer, the National Restaurant Association, considered the accusations serious enough to pay settlements to two women -- which, again, neither Bozell nor Cain disputed.
These examples appear to indicate that when it comes to Republican and conservative candidates, the MRC doesn't actually want the truth to be told at all.
MRC vs. Marianne Gingrich
The most egregious example of this is when Newt Gingrich's past came back to haunt him in the form of second ex-wife Marianne, who revealed in an interview on ABC that Newt wanted an "open marriage" with her as he had been having an affair with the woman who eventually became his third wife, Callista.
Bozell issued a statement denouncing the ABC interview as an "October Surprise of the worst sort":
It is not necessarily inappropriate for a news outlet to interview a candidate's former wife. However, three conditions must be met: 1) is it newsworthy?; 2) is it fair and respectful to the families involved?; 3) is the timing appropriate?

On the timing issue alone it is clearly inappropriate for ABC to run this interview on the eve of the South Carolina primary. This smacks of an October Surprise of the worst sort, for which so many in the left wing press have become so infamous. There is no reason it couldn't run next week.

If it doesn't meet the conditions of newsworthiness or fairness and respect it should be killed altogether.
Of course, Gingrich's shabby treatment of his exes is hardly a "surprise," October or otherwise; Marianne previously told her story to Esquire in August 2010. And Bozell is clearly being disingenuous here -- delaying damaging information about a candidate until after an election is probably not the position Bozell took when the candidate was, say, Bill Clinton.
Bozell's MRC employees were quick to pile on. MRC research director Rich Noyes tweeted, "If a rival candidate did to Gingrich what ABC News is doing to him, the media would slap it down as a dirty trick." NewsBusters managing editor Ken Shepherd played the Clinton Equivocation card in a tweet claiming that Bill and Hillary Clinton "had a long-standing quasi-open one. Yet Left love Clintons, despise Newt."
When CNN's John King began the Jan. 19 Republican presidential debate by asking Gingrich about Marianne's allegations, NewsBusters' Noel Sheppard declared that King acted "despicably" and cheered at how "The former Speaker was having none of this."
A Jan. 20 NewsBusters post by the MRC's Scott Whitlock went into shoot-the-messenger mode by attacking ABC's Brian Ross, who conducted the interview with Gingrich. Ross is "smarmy," Whitlock asserted, declaring his interview to be "bereft of new information" because Ross interviewed Marianne for two hours but "ABC only used two and a half minutes of actual footage from that interview." Whitlock also played the equivocation card, complaining that "no Democratic examples of "two-timing politicians" were mentioned by the journalist."
Even the MRC's "news" division CNSNews.com got in on the act, with a Jan. 20 article touting how Gingrich's misdirection in "denounc[ing] a 'vicious' news media that is 'protecting Barack Obama by attacking Republicans.'"
Related articles on ConWebWatch:
Bozell then went the blame-the-victim route by suggesting that Marianne Gingrich was lying by claiming in a
radio interview
that her ABC interview has "that awful, awful taint of Rathergate to it." Bozell then clarified by saying that he was referring to how the interview was timed "to do the most amount of damage it possibly could to Newt Gingrich's career," and that Marianne may be "entirely honest" in her claim, though she is "lashing out at her ex-husband." Bozell then declares, "I think it was a mess of a story, I think it hurts the media."
Appearing on the Jan. 20 edition of CNBC's "Kudlow Report," Bozell questioned whether Marianne's allegations were "newsworthy" -- contradicting his earlier "October Surprise" accusation. Then, insisting he wasn't "passing any aspersions on the former Mrs. Gingrich," he said, "How do we know? ... This is one woman's opinion, and there's no quantifying evidence on this on the other end. How do we know that her statement is true?"
NewsBusters associate editor Noel Sheppard followed his boss' lead in a Jan. 23 NewsBusters post, dismissing Marianne's claims as "decades old charges by a bitter ex-wife."
This, of course, is the complete opposite of what the MRC did with Paula Jones, who accused Bill Clinton of sexual allegations. Unlike Marianne Gingrich, who made her comments from the point of view of an 18-year marriage, Jones was speaking about an alleged proposition. There was "no quantifying evidence on this on the other end," as Bozell demanded in the Gingrich story, and Jones was clearly acting as a front for enemies of Clinton.
Yet Bozell -- like Jones' backers, an enemy of Clinton -- insisted on vouching for Jones' veracity. In a 1997 column, Bozell complained that Jones was being discredited, and dismissed the idea that she was fronting for Clinton-haters:
What's most striking about the Paula Jones story is how uncomplicated it is for a reporter. ... So it's one of two things: either Jones and her six confederates hatched a massive conspiracy designed to get Clinton to apologize (and nothing else), or she's telling the truth. That the media would not explore and report this simple reality shows they were active participants in Clinton damage control.
Damage control is, of course, what Bozell is currently doing for Gingrich.
Similarly, the MRC teased Tim Graham's 1996 book "Pattern of Deception" as demonstrating "How the media campaigned to discredit Gennifer Flowers, Paula Jones, and Troopergate."
As with defending an adulterous candidate -- essentially condoning adultery in the process -- Bozell is engaged in a massive flip-flop, once again throwing away principles he once claimed to have in order to make a partisan political argument. He gave Paula Jones the benefit of the doubt; why not Marianne Gingrich? If she's "bitter" over her treatment by Newt, as Sheppard claims, doesn't she have a right to be?
MRC vs. Tom Brokaw
Bozell issued a petulant response to NBC's Tom Brokaw over NBC's request that Mitt Romney's campaign remove a clip of Brokaw from one of its ads:
Come on, Tell The Truth, Tom! What really irks you is not that you're part of a presidential ad; it's that you're part of a Republican candidate's ad. You used NBC and your anchor chair as a platform to promote Democratic agendas and delight in Republican setbacks for more than 20 years. And you stood behind that reporting as a fair exercise in journalistic ethics, even when it was far from the truth.

If Tom Brokaw really cared about this kind of bias, he would do something about his own network and especially its sister network MSNBC given their outrageous pro-Obama nightly commentary disguised as news.
Bozell's self-righteous statement would be less silly if he had said the same thing about Fox News when it made a similar request to a campaign -- which he didn't.
Thing is, Fox went a lot farther than NBC's simple request -- in 2010, it actually sued the campaign of Democratic Missouri Senate candidate Robin Carnahan over its use of Fox News footage in a campaign ad in which Chris Wallace interviewed Carnahan's opponent, Roy Blunt.
Bozell is too much of a coward to apply his NBC standard to Fox News -- that Fox's action against Carnahan means they're offended to be part of a Democratic candidate's ad, and that Fox serves as a platform to promote Republican agendas and delight in Democratic setbacks.
Another double standard: Kennedy affair
Following the revelation that President John Kennedy used then-19-year-old White House intern Mimi Alford as a mistress, the MRC enjoyed reporting on it:
As noted above, when it came to an affair involving a Republican politician, the MRC wanted to shut down all discussion of it. The MRC has no problem talking about politicians' affairs -- as long as that politician isn't a conservative.
* * *
Bozell concluded the MRC press release announcing his "Tell the Truth!" campaign by saying that "the demand to the press is simple: 'Tell the truth. Be fair, honest and honorable.'" He and his underlings should try that sometime before lecturing to others.