MRC Censors Facts About IRS Documents
Topic: Media Research Center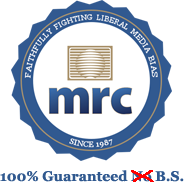 Geoffrey Dickens breathlessly writes in a May 15 Media Research Center item:
On Wednesday Judicial Watch released a new batch of IRS documents that showed "extensive pressure on the IRS by Senator Carl Levin (D-MI) to shut down conservative leaning organizations." The documents also revealed the IRS's handling of the Tea Party applications was directed out of the agency's DC headquarters, contrary to initial claims that blamed low-level officials in Cincinnati.

While the news led Wednesday's Special Report with Bret Baier on FNC, coverage by the Big Three (ABC, NBC, CBS) networks on their Wednesday evening and Thursday morning shows? 0 seconds.
But Dickens isn't telling the full truth about the IRS documents, choosing only to parrot what the right-wing Judicial Watch said about them.
As Media Matters points out, Levin did not tell the IRS to "shut down conservative leaning organizations"; rather, he urged the IRS to "remind all 501(c)(4) organizations about their obligation to observe that restriction on their activities if they want to retain their tax exempt status." Another Levin email on the subject added, "This is not a partisan issue."
Despite the lack of factual basis, MRC chief Brent Bozell regurgitated it in a Fox News appearance.
If all Dickens and Bozell can do is repeat right-wing talking points instead of actual facts, they're not very good media watchdogs, are they?
Posted by Terry K. at 3:28 PM EDT