Suddenly MRC Is A 'Religious' Organization, Sues To Exempt Itself From Obamacare Mandate
Topic: Media Research Center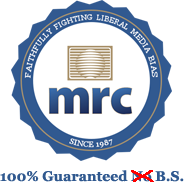 The Media Research Center has decided it's a religious organization. According to who? The Media Research Center.
The MRC announced May 15 that it has "self-certified as a religious organization" and its's suing the federal government to get exempted from Obamacare's contraception mandate:
Today the Media Research Center (MRC) announced that it has filed a motion in US District Court for a preliminary injunction seeking to block enforcement of the Affordable Care Act's (ACA) Health and Human Services (HHS) mandate, which forces people of faith to subsidize health insurance plans that include abortion inducing drugs, contraception, and sterilization. A hearing has been set for June 6.

"This lawsuit is about religious freedom and the conscience rights of individuals to operate their enterprises free from government coercion, reprisal, or punishment," MRC Founder and President Brent Bozell said. "The Obamacare mandate destroys the ability of free people to practice their faith in their everyday lives and forces them to either reject their faith or face crippling government imposed fines and punishment; in our case over $4.5 million dollars per year. We do not stop being religious, moral people the moment we walk out of our houses of worship."

The MRC contends that under ACA rules it has self-certified as a religious organization and is therefore exempt from the mandate. The MRC is the first organization that has asked the court to affirm its "self-certification."

For nearly three decades, the MRC has been the nation's premier defender of pro-life views and Judeo-Christian values from attacks by the liberal media. Bozell and other employees of the MRC practice and live by Judeo-Christian values, and believe abortion, whether through the actions of an abortionist or a drug, is the taking of innocent human life. Under the First Amendment, the MRC and its employees have the right to practice and abide by their faith in their everyday lives including in the operations of their mission-oriented non-profit organization.
The MRC starts things off with a lie -- morning-after pills are not "abortion inducing drugs."
Second, the MRC's mission statement says nothing about religion:
Since 1987, the Media Research Center has been the nation's premier media watchdog. We don't endorse politicians and we don't lobby for legislation. MRC's sole mission is to expose and neutralize the propaganda arm of the Left: the national news media. This makes the MRC's work unique within the conservative movement.

The Media Research Center's unwavering commitment to neutralizing left-wing bias in the news media and popular culture has influenced how millions of Americans perceive so-called objective reporting.

Integrating cutting-edge news monitoring capabilities with a sophisticated marketing operation, MRC reaches nearly 170 million Americans each week to educate them about left-wing bias in the media.

The Media Research Center is a research and education organization operating under Section 501(c)(3) of the Internal Revenue Code. Contributions are tax-deductible to the maximum extent of the law. The MRC receives no government grants or contracts nor do we have an endowment. We raise our funds each year from individuals, foundations, and corporations.
Only the MRC's Culture & Media Institute has a declared mission that involves religion, claiming it's "dedicated to correcting misconceptions in the media about social conservatism and religious faith."
Third, if living by "Judeo-Christian values" is a requirement for employment at the MRC -- as one might expect from a "religious organization" -- the MRC should have no problem releasing its employment records to demonstrate that Christianity, if not the Catholicism followed by many top MRC leaders, is an ironclad requirement for employment there. It should also be able to demonstrate that it has relieved people of employment, or not hired them at all, for being insufficiently Christian.
Oh, wait -- doesn't discrimination on the basis of religion violate federal civil rights laws? Yes, yes it does.
It seems the MRC has put itself in a bit of a pickle with this lawsuit. If it proves it's a religious organization, it has to fundamentally alter its mission -- and, thus further marginalize itself. Why should the larger conservative movement pay attention to a media-bias group that can only examine the issue from a religious viewpoint?
If the MRC is unable to prove it's the religious organization it's "self-certified" itself to be, it has to explain why it has engaged in hiring discrimination.
We'll be watching this.
Posted by Terry K. at 9:54 PM EDT
Updated: Friday, May 16, 2014 9:56 PM EDT