The ConWeb loved Walid Shoebat when he surfaced in right-wing circles a few years back.
WorldNetDaily's Joseph Farah featured him on his various radio show stints (more than once). In January 2004, Farah wrote a fawning profile of Shoebat, a story that dovetails nicely with the typical conservative view of the Middle East:
Walid Shoebat, born in Bethlehem, began attacking Israelis when he was 8 years old, throwing stones and Molotov cocktails.

He was, Shoebat says now, an Islamic terrorist in the making – a product of his environment, including schools, media and mosques that preached hatred of Jews.

"I never actually met any Jews," he said. "But in school we were taught from the Quran that they were pigs and monkeys.''

By 15, he had already served time in a Jerusalem prison for participating in an anti-Israel riot. While there, he was recruited into the Palestine Liberation Organization.

At 16, he was chosen to take a loaf of bread, packed with explosives, to blow up the Bethlehem Bank Leumi. His instructions were to place it in a garbage can near the door of the building. But seeing Arab children playing nearby, he decided to throw the bread on the roof where it did little damage.

He once blinded a man during a fight and was "so happy" to learn he was a Jew.

He was also involved in the near-lynching of an Israeli soldier. Though Shoebat and his friends took the soldier's gun and beat him, he managed to escape.

His motivation?

"I wanted to die as a martyr," said. "We were indoctrinated to look forward to heaven.''

[...]

Now Shoebat has turned his activism in a completely different direction. He calls himself a Christian Zionist, giving speeches around the country and in Canada, where he made an appearance this week. His ultimate dream, he says, is to go to Israeli prisons to teach Palestinian youngsters Jewish history – a dream he understands is fraught with danger from the people who think as he once did.
WND also spun Shoebat's travails with speaking events and getting into Canada his way. WND columnist Mychal Massie even cited him in an April 2007 column.
WND isn't the only ones in the ConWeb to have promoted Shoebat:
Newsmax, in a lengthy July 2006 profile, proclaimed him a "terror expert" and "a man with a tough message" -- "a former fundamentalist Islamic terrorist who, incredibly, reformed." It printed an interview with Glenn Beck touting that Shoebat would appear in a segment of his TV show called "Exposed: The Extremist Agenda."
An October 2006 CNSNews.com article touted a speech by Shoebat and another former terrorist; a CNS "Fact-O-Rama" repeated highlights from Shoebat's bio.
But WND has done the most to promote Shoebat. An April 29 WorldNetDaily article touting WND founder Joseph Farah's appearance at the Southern California Strategic Perspectives Conference also promoted the appearance of other speakers, including Shoebat, who it described as having "participated in acts of terror and violence against Israel" and led a "life of violence and rioting in Bethlehem and the Temple Mount" before "realiz[ing] that everything he had been taught about Jews was a lie."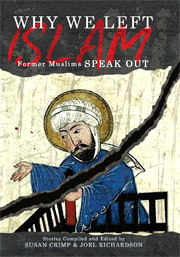 Most prominently, Shoebat is the star attraction in the new WND-published book "
Why We Left Islam
." the book, compiled and edited by Susan Crimp and Joel Richardson (a pseudonym "because of previous death threats from Islamic radicals," according to one WND
article
), purports to recount, according to the jacket copy, "brutally honest personal accounts written by former Muslims" relating "an urgent truth that the mainstream media and cowed politicians won't admit -- that far from being a 'religion of peace,' Islam is instead barbaric and repressive, a nightmare for those living under it and those seeking to confront it." As ConWebWatch has
noted
, WND is centering its promotion of the book around the fact that it claims to be "the first U.S. book ever to feature an image of Muhammad on the cover," even apparently rooting for riots over it similar to those that occurred in Europe and elsewhere over
cartoons
featuring images of Muhammad.
Shoebat is one of only three contributors out of "more than one hundred testimonies" collected who received his own bio at the end of the book, special recognition for those "who have received much attention for their writing and statements on radical Islam." (Most of the others offering "testimony" are listed with only a single name, in an apparent effort to keep them "necessarily anonymous.")
But numerous questions have been raised about the life story Shoebat has told -- specifically, whether he really as the badass terrorist he claims to have been.
In January, The New York Times wrote of Shoebat and two other purported ex-terrorists, Zak Anani and Kamal Saleem, with whom Shoebat made a speaking appearance at the Air Force Academy:
Academic professors and others who have heard the three men speak in the United States and Canada said some of their stories border on the fantastic, like Mr. Saleem's account of how, as a child, he infiltrated Israel to plant bombs via a network of tunnels underneath the Golan Heights. No such incidents have been reported, the academic experts said. They also question how three middle-aged men who claim they were recruited as teenagers or younger could have been steeped in the violent religious ideology that only became prevalent in the late 1980s.

[...]

Arab-American civil rights organizations question why, at a time when the United States government has vigorously moved to jail or at least deport anyone with a known terrorist connection, the three men, if they are telling the truth, are allowed to circulate freely. A spokesman for the F.B.I. said there were no warrants for their arrest.
The Times article also noted that the speeches by Shoebat and the others were little more than Muslim bashing and Christian proselytizing; according to one critic, "It was just an old time gospel hour -- 'Jesus can change your life, he changed mine.' ... That is mixed in with 'Watch out America, wake up America, the danger of Islam is here.' "
The Village Voice added:
In response, the men have spent significant time trying to prove that they actually did kill people, and that they used to hate Jews as much as the next Muslim extremist. "I planted a bomb in a bank!" insists Shoebat, whose handler, Keith Davies, has threatened a libel suit against The Times over the article that questioned his claims.
That's right: Shoebat is alleging libel against anyone who says he wasn't a terrorist -- as blogger Richard Bartholomew noted, the most absurd libel threat ever. Bartholomew added that Shoebat has issued a similar libel threat against one blogger, claiming to have talked to a relative of Shoebat who called his terrorist story "a manufactured fabrication" and that "The biggest act of 'terror' he ever committed was to glue Palestinian flags on street posts." The relative is also quoted as saying that Shoebat's family members "believe he is being paid big money to keep saying bad things about Muslims."
It should be no surprise that the controversy over Shoebat's veracity can be found nowhere on the ConWeb. It's not mentioned on the websites that have touted him -- WorldNetDaily, Newsmax or CNS -- even though the story first surfaced nearly four months ago.
A March 30 article in the Jerusalem Post offered more detail regarding questions about Shoebat's past:
Shoebat's Web site says his is an assumed name, used to protect him from reprisal attacks by his former terror chiefs, whom he says have put a $10 million price on his head.

[...]

However, Shoebat's claim to have bombed Bank Leumi in Bethlehem is rejected by members of his family who still live in the area, and Bank Leumi says it has no record of such an attack ever taking place.

His relatives, members of the Shoebat family, are mystified by the notion of "Walid Shoebat" being an assumed name.

[...]

Shoebat's claim to have been a terrorist rests on his account of the purported bombing of Bank Leumi. But after checking its files, the bank said it had no record of an attack on its Bethlehem branch anywhere in the relevant 1977-79 period.

Shoebat told The Jerusalem Post that this could be because the bank building was robustly protected with steel and that the attack may have caused little damage.

Asked whether word of the bombing made the news at the time, he said, "I don't know. I didn't read the papers because I was in hiding for the next three days." (In 2004, he had told Britain's Sunday Telegraph: "I was terribly relieved when I heard on the news later that evening that no one had been hurt or killed by my bomb.")

Shoebat could not immediately recall the year, or even the time of year, of the purported bombing when talking to the Post by phone from the US. After wavering, he finally settled for the summer of 1977.
The Post also raised questions about the foundation named for him:
And the Walid Shoebat Foundation's working process is less than transparent, with Shoebat's claim that it is registered as a charity in the state of Pennsylvania being denied by the Pennsylvania State Attorney's Office.

[...]

Visitors to Shoebat's Internet site are encouraged to make a donation to his foundation to enable him to disseminate his message. However, a notice on the page states that for "security reasons," the money will not be debited to his foundation, but rather to a company called Top Executive Media. The name Top Executive Media is used by a greetings card firm from Pennsylvania called Top Executive Greetings, a company with an annual turnover of $500,000. When one makes a donation through the Shoebat Internet site, the Web address changes to topexecutivegreetings.com/shoebat.

This seems to be the only active page for the company; its homepage is blank.

Asked by the Post whether the Walid Shoebat Foundation is a registered charity, Shoebat replied that it is registered in Pennsylvania.

The Pennsylvania State Attorney's office said it had no record of a charity registered under this name.

Questioned further, Shoebat said it was registered under a different name, but that he was not aware of the details, which are handled by his manager.

"I remain separate to the running of the charity so that I am not constrained by church rules," he explained, adding that the organization's connection to certain churches meant it would be difficult for him to speak to secular audiences if he became too involved in running it.

Dr. Joel Fishman, of the Allegany County Law Library in Pennsylvania, expressed doubts about this donation process. If the money were being given to a registered charity, the charity would have to make annual reports to the state and federal government on how it was being spent, he noted.

Shoebat insisted donations were not being misused, however. "I survive by being an author," he said. "I only get paid for being an author. All the money that is donated gets put back into events."

If the Bank Leumi bombing claim is unfounded, it is unclear why Shoebat would have wanted to manufacture a terrorist past. True or not, however, it has plainly brought him some prominence and provided him with a means to speak in favor of Israel and be paid for doing so.
While WorldNetDaily has yet to acknowledge these questions about Shoebat, Shoebat was given 12 pages in Crimp and Richardson's 179-page, WND-published book -- the second chapter of the book, pages 19-31, to be exact -- to tell his story.
Despite the fact that, as the Jerusalem Post put it, "Shoebat's claim to have been a terrorist rests on his account of the purported bombing of Bank Leumi" -- the same account Farah touted in his 2004 profile of Shoebat -- that story doesn't appear in the book. Introduced as telling a story that "poignantly shows us what will happen to our own neighborhoods if we don't stop Islamic terrorism," Shoebat does, however, spin other tales of his alleged terrorist past:
I vowed to fight my Jewish enemy, believing that in doing so, I was doing God's will on the earth. I remained true to those vows as I raged against the Israeli army in every riot I could. I used any means available to inflict maximum damage and harm. I rioted in school, on the streets, and even on the Temple Mount in Jerusalem. Throughout high school, I was one of the leading activists for the cause of Islam. I would prepare speeches, slogans and write anti-Israeli graffiti in an effort to provoke other students to throw rocks at the armed Israeli soldiers.

[...]

My dream was to die as a shaheed, a martyr for Islam. At demonstrations I would open my shirt hoping to be shot, but because the Israelis would never shoot at the body, I never succeeded.
Later in the chapter, Shoebat tells of "my first attempt to lynch a Jew."
Even though questions about Shoebat's veracity surfaced months before the book was released at the end of April, the book fails to address those questions, and -- in keeping with WND's silence on the issue -- Shoebat is not even mentioned in WND promotions for the book.
One of the authors may be too close to the issue to be objective. As Richardson revealed in an interview:
I also recently co-authored a very large volume with Walid Shoebat, a former Palestinian Terrorist turned peace-activist and pro-Israel speaeker. This book is geared toward a Christian audience and also discusses Biblical and Islamic apocalyptic beliefs and includes many of Walid's life experiences. It promises to be a very engaging and controversial work.
It seems that WND, and Richardson in particular, have a vested interest to not address the issue.
WND's refusal to address questions about Shoebat's veracity is even more puzzling given that Shoebat has vociferously defended himself. An entire section of his website is dedicated to "evidence of my credentials," and he responded to the Jerusalem Post in an April 9 column in which he played the victim, asserting: "The main culprit in aiding terrorists are the media. In my case here, sadly, it's The Jerusalem Post," and claiming the "witnesses" who have questioned his story "are linked to terror and are wanted by the United States for major fraud and contraband."
Who's telling the truth here? We don't know. But given that questions about Shoebat are being raised in major media outlets, one would think it would behoove WND, Crimp and Richardson, if only for the sake of their book, to address them forthrightly instead of downplaying his prominent role in it in the apparent hope that people will eventually forget about the controversy.