MRC Whiffs On Purported 'Radical Environmentalism' In 'Godzilla' Film
Topic: Media Research Center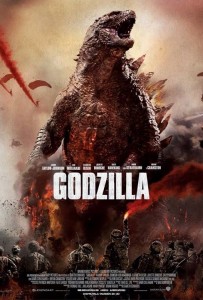 Sean Long writes in a May 16 Media Research Center Business & Media Institute item:
It is a sad day when the iconic Godzilla becomes a vessel for extreme environmentalism.

Gareth Edwards' remake of the classic "Godzilla" pushed a strong environmental message where three massive monsters serve as nature's brutal revenge against mankind's abuse of the earth. The film which opened on May 16, sent multiple messages including anti-nuclear power and the message that "humanity has abused" the world and "deserved" Godzilla's attack, according to the director.

[...]

Edwards also tried to exploit fear of global warming. While refraining from making this message explicit, The Daily Beast also reported Edwards saying that "stories have been used for a long time to smuggle the morals of the day inside them, and today, people are worried about global warming."

A few media outlets have noticed the radical environmental messages in the new "Godzilla," movie including the Latin Times's Phillip Martinez who called "Godzilla" a "life lesson on how man has 'tarnished' nature."
Long quotes only interviews about the film, and he gives no indication he has actually seen the film he's critiquing.
By contrast, another ConWeb writer did see the film before writing about it, and he couldn't find that supposedly radical message. Drew Zahn writes in his WorldNetDaily review:
What didn't finally arrive in the movie, however, was the purported environmentalist message I was expecting, based on other commentaries. The whole, "shove global warming down your throat" message never materialized.

True, there is a line in the film, "The arrogance of man is thinking nature is in our control and not the other way around," but, of course, that could be interpreted any number of ways. And there is a general sense of dread about nuclear weaponry (which was a significant theme in the original series of films, begun in 1954).

But a careful examination of Director Edwards' words reveals his ideas don't fit quite so neatly into hyperpartisan boxes.

[...]

As for the huge, environmentalist message? If Edwards was trying a preach a message about how evil humanity is and how we're in danger of disaster from our carbon footprint … he failed.

On the other hand, if he was trying to make an entertaining monster movie that honors the legend of Godzilla … he succeeded wonderfully.
Perhaps that should be a lesson to Long: See the movie before you bash it.
Posted by Terry K. at 7:37 PM EDT