Logrolling In Our Time, Jim Fletcher Edition
Topic: WorldNetDaily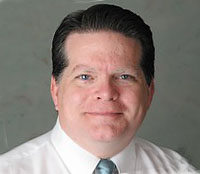 Jim Fletcher's moderately unethical habit of giving ridiculously positive reviews of books published by WorldNetDaily -- the company that just so happens to publish his column -- continues apace with a couple of recent columns.
Fletcher raves in a May 7 WND column:
James Rogan is nothing if not a skilled storyteller, and in the telling of his own story – a memorable memoir titled "Rough Edges" – the judge and former attorney and U.S. congressman hearkens back to a type of American that built this country and made it great. "Rough Edges" is a powerful tale of hardscrabble beginnings, a wobbly early adulthood and finally, a successful life making a difference in the lives of others.
Guess who published Rogan's book? WND, of course.
Fletcher follows with a May 13 column to sing the praises of WND's favorite race-baiter, Colin Flaherty:
Flaherty's book is the kind all Americans need to read. For one thing, it might save your life. We must face facts, and the fact is, racial violence against whites is reaching lethal levels. If the mainstream media masks that fact, the rest of us through word of mouth can alert our friends and family to be on guard.

In "White Girl Bleed A Lot," Flaherty pulls the ski mask off the face of racial violence, noting that "games" like "Beat Whitey Night," or the better-known "Knockout Game," are a scourge in more than 50 American cities. This violence has escalated sharply since 2010.

[...]

Flaherty, a very clever writer, also humorously coaches readers to counter the icy reception from liberal relatives: He encourages the book giver to shout out, "Read 17! 22!"

It's an effective strategy. Overall, readers should simply shout the title of this important book to as many in their circles as they can.
Needless to say, WND published Flaherty's book too. That important fact is missing from both of Fletcher's columns.
As far as we know, Fletcher has never panned a WND-published book. Nor should anyone expect him to -- that's not what he's being paid to do.
Posted by Terry K. at 1:10 AM EDT