MRC Touts Birther's Endorsement of MRC
Topic: Media Research Center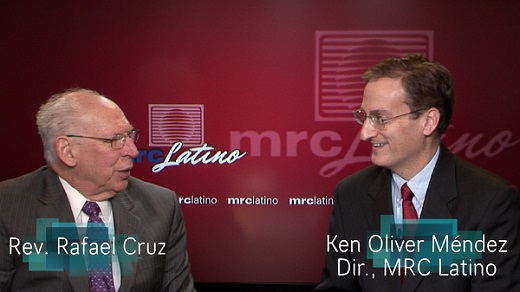 Ken Oliver-Mendez devotes a May 16 NewsBusters post to an interview with Sen. Ted Cruz's father, Rafael Cruz:
As a travelling pastor, Rev. Rafael Cruz, father of Sen. Ted Cruz, is in a unique position to sense where the political winds are blowing in this mid-term election year. During a visit to the Media Research Center, the elder Cruz said that with just over five months to go between now and Election Day, he sees major conservative gains ahead, including the retirement of Sen. Harry Reid as Majority Leader that would come with Republicans winning control of the United States Senate.
Oliver-Mendez also promotes the elder Cruz's endorsement of the MRC: "You are doing something that is absolutely necessary in this country when we have so much of the liberal media that they have ceased to be broadcasters, they have ceased to be really journalists and they have become mouthpieces for the administration. They have apparently no concern for truth – all they want to do is promote the talking points of the administration – so you are standing in the gap."
What Oliver-Mendez didn't do, however, is mention the elder Cruz's history of inflammatory statements, which include saying that President Obama is a Marxist who should go "back to Kenya," falsely claiming that "the first bill President Obama signed into law was to legalize third trimester abortions" (in fact, it was the Lilly Ledbetter Fair Pay Act, and he has never signed any law approving third-trimester abortions), and asserting that gay marriage is some kind of government conspiracy.
Oliver-Mendez runs MRC Latino, the MRC's Hispanic media-monitoring operation. Between this and the MRC's longtime hostility to Hispanics and their issues, the success of this venture seems rather dubious.
Posted by Terry K. at 1:26 PM EDT
Updated: Wednesday, May 21, 2014 9:48 PM EDT