WND's Farah Laughably Calls Corsi And Shoebat 'Credible'
Topic: WorldNetDaily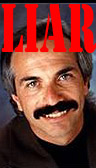 Joseph Farah writes in his Aug. 27 WorldNetDaily column:
There are no good guys in the conflict in which Obama is about to take sides. There are only bad guys and worse guys. And which side do you suppose Obama has chosen? That's right. The worse guys – the really, really bad guys, those actually allied with al-Qaida.

And now there is credible evidence to suggest it wasn't the authoritarian Syrian government that used chemical weapons against its own people, including its own soldiers. More likely, it was Obama's al-Qaida friends who are trying to topple Bashar Assad's regime.
Farah's "credible evidence" is an Aug. 26 WND article by Jerome Corsi, who cites Walid Shoebat for proof of his claim that Syrian rebels, and not the Syrian government, launched the chemical attack.
But as we pointed out, Corsi and Shoebat simply cannot be trusted. Both are Obama-haters known for making false and outlandish claims, and the veracity of Shoebat's own past as a self-proclaimed Palestinian terrorist has been credibly questioned.
Further, Corsi and Shoebat offer no independent verification of their claims, only a hodge-podge of cherry-picked videos that fit their pro-Assad agenda and assertions from the pro-Syrian propagandistic Russian media.
This is what Farah thinks constitutes "credible evidence." No wonder nobody believes WND.
Posted by Terry K. at 3:58 PM EDT
Updated: Thursday, August 29, 2013 4:10 PM EDT