Newsmax Touts Tim Scott's Non-Existent 'High Road'
Topic: Newsmax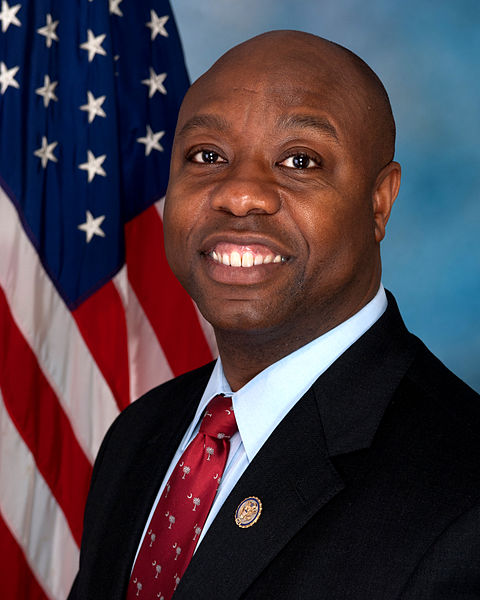 Courtney Coren writes in an Aug. 29 Newsmax article headlined "Tim Scott Takes High Road After MLK Anniversary Snub":
Republican Sen. Tim Scott of South Carolina has taken the high road after being left off the invitation list for the 50th anniversary celebration of Martin Luther King, Jr.'s march on Washington, despite being the only African American currently serving in the Senate.

"The senator believes today is a day to remember the extraordinary accomplishments and sacrifices of Dr. King, Congressman John Lewis, and an entire generation of black leaders," his spokesman Greg Blair said in a statement released to The Wall Street Journal confirming he had not been invited.

"Today's anniversary should simply serve as an opportunity to reflect upon how their actions moved our country forward in a remarkable way."
But Roll Call reports that Scott was invited to attend the ceremony but he turned it down:
March on Washington, because Tim Scott's office declined an invitation to attend the ceremony as a spectator, according to a source connected to the event.

"Much of the speaking program was created based on those who were able to confirm availability to attend the event, and thus were able to speak at the event," the source explained.

And based on an email exchange obtained by CQ Roll Call, the South Carolina Republican did receive an invitation to attend the festivities commemorating Martin Luther King Jr.'s delivery of the famous "I Have a Dream" speech.

The invitation, sent Aug. 8 from the Coalition for the 50th Anniversary of the March on Washington, appears to have been a form letter to all members of Congress, with invitees listed as "Representative" rather than by name.

Within a day, Rachel Shelbourne, a staff assistant to Scott, had replied to the email with the following message:

"Thank you for extending to Senator Tim Scott the invitation to the 50th Anniversary of the March on Washington on August 28th. Unfortunately, the Senator will be in South Carolina during this time, so he will be unable to attend the event. Please do, however, keep him in mind for future events you may be hosting."
That would seem to contradict what Scott's spokesman had to say. Will Newsmax note the contradiction?
Posted by Terry K. at 9:38 PM EDT