One Author's Deal With The WND Devil
Topic: WorldNetDaily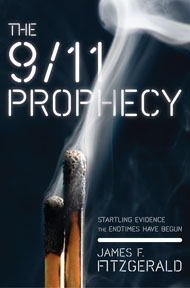 Michael Thompson writes in an Aug. 24 WorldNetDaily article:
Coincidence?

Maybe. Or maybe not…

It was on Tuesday when Al-Jazeera America, the latest enterprise of the Islamist-inspired, Middle East-based media empire, was launched.

And it was on Tuesday when "The 9/11 Prophecy" by James F. Fitzgerald, the creator of "The Watchword Bible," officially was launched.

"It just so happens Al Jazeera, the pro-Islamic TV news channel, is launching in America on the same day my book, 'The 9/11 Prophecy,' is being officially released by WND Books. I can't help but be struck by the irony of this timing," said Fitzgerald.
Or perhaps Thompson and Fitzgerald are so desperate to gin up sales for a WND-published book that they're simply glomming onto a random, unrelated event for maximum exploitation.
Meanwhile, Richard Bartholomew points out that Fitzgerald's book -- based on a self-published e-book he wrote a couple years earlier -- is notable for its "easy conflation of personal biography, historic events, and cosmology."
Bartholomew also notes that Fitzgerald made "a deal with the devil" by letting his "WatchWord Bible" be distributed by WND: "This means that a hitherto neutral Bible product with potentially quite a wide reach will be tied directly to WND's paranoid and shrill political agenda and fringe apocalypticism."
That may be another explanation of why Fitzgerald is so eager to glom onto unrelated events for self-promotion purposes.
Posted by Terry K. at 1:23 AM EDT