Cowardice: Bozell Waits Until After Limbaugh Apology To Issue Tepid Criticism (Then Launches Limbaugh Defense Site)
Topic: Media Research Center
It has taken five days, but Media Research Center president Brent Bozell has finally spoken out about Rush Limbaugh's sleazy remarks about contraception hearing witness Sandra Fluke. But it's lame, and he didn't originally publish it at his own website.
Bozell published a column at, of all places, Fox News' website. (It was published a couple hours later at NewsBusters.) Here is all the outrage he can muster over Limbaugh denigrating Fluke as a "slut" and a "prostitute":
Let's all agree Limbaugh crossed a line.

He agrees. He posted an apology to Fluke "for the insulting word choices."
That's it. Never mind that when MSNBC's Ed Schultz called Laura Ingraham a "right-wing slut," the MRC repeatedly denounced Schultz, as Bozell deemed his apology -- which was more sweeping than Limbaugh's who apologized only for using "slut" and "prostitute" while ignoring the dozens of other slurs he issued against Fluke -- to be insufficiently comprehensive.
Bozell's tepid remark is the first statement by anyone at the MRC regarding the propriety of Limbaugh's remarks. If we can "all agree Limbaugh crossed a line," why did it take five days for Bozell to decide if he agreed?
Having brusquely dismissed Limbaugh's sleaziness, Bozell then couldn't change the subject soon enough and politicize it on his own right-wing talking points:
The scandal-ette should be over.

So why are the Left and the media still pushing and publicizing a campaign for advertisers to dump the Limbaugh show and end his career?
This is followed by a long string of offenses committed by liberals, citing in particular remarks by Bill Maher about Sarah Palin. Bozell added:
Limbaugh has been singled out and condemned across the national media – ABC, CBS, NBC, CNBC, MSNBC, NPR, PBS, Associated Press, The New York Times, The Washington Post, the Los Angeles Times, and USA Today.

How many of these outlets have condemned Bill Maher with equal vigor for his attacks on Palin?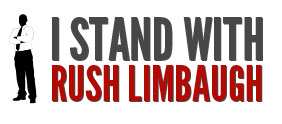 Bozell ignores the crucial difference between Palin and Fluke. Palin is a nationally known political figure, while Fluke's testimony was her very first appearance in a major political forum. Also, Maher made his "c-word" attack on Palin in a stand-up comedy appearance in Dallas; Limbaugh ranted for three days about Fluke's sex life on a nationally syndicated radio show.
Bozell also fails to mention that one of his employees, Craig Bannister, inspired Limbaugh to go on his three-day tirade of insults against Fluke by smearing Fluke as a "sex-crazed co-ed." Is Limbaugh proud of that? He has to be.
But Bozell isn't done. The MRC launched IStandWithRush.org, a petition site stating:
I stand with Rush Limbaugh and appreciate the massive contribution that he has made to the conservative movement and our nation over the last 25 years. Rush has apologized. But the radical left will never accept it because they despise him and want him off the air. I condemn attempts by radical left-wing organizations and the media to censor Rush and his commonsense conservative message.
Wow. If Sean Hannity or Mark Levin viciously insults someone, will the MRC build websites praising them, too?
In an accompanying video, Bozell repeats his tepid "let's all agree" comment, falsely asserts that Limbaugh has "profusely apologized," and reads from his column about liberal offenses. Bozell concluded: "It isn't about what Rush said last week. It's about roaring hypocrisy and about censorship."
Bozell is wrong. Claiming the controversy "isn't about what Rush said" is a lame copout made by someone who knows very well that it's precisely about what Rush said. But it is about roaring hypocrisy too -- Bozell's.
Bozell is not a stupid man. He knows what Limbaugh said was offensive. Yet this self-proclaimed moral arbiter couldn't be moved to criticize Limbaugh in public until five days had passed and Limbaugh himself had issued a so-called apology -- and even then, that criticism was so milquetoast as to be meaningless.
It's true that for Bozell, this "isn't about what Rush said," because he would rather talk about anything else. Bozell has an right-wing agenda to push, and it certainly doesn't involve explaining why three days of slut-shaming by Limbaugh received not only the most tepid criticism possible but earned Limbaugh a website to praise him, while a single instance of the word out of Ed Schultz's mouth drew howls of protest.
Bozell and the MRC has always protected Limbaugh, failing to hold him accountable for his words no matter how offensive. Bozell's selective outrage and situational morality is just one reason why nobody takes him or the MRC seriously.
Posted by Terry K. at 9:23 PM EST
Updated: Monday, March 5, 2012 9:27 PM EST