Noel Sheppard Thinks Pat Buchanan's Racial Remarks Are Shocking
Topic: NewsBusters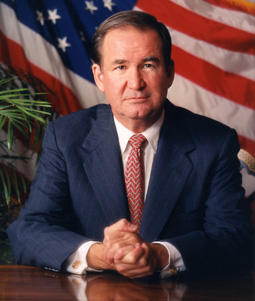 Noel Sheppard -- known for being shocked by things that aren't shocking -- does it again in an Aug. 24 NewsBusters post:
Syndicated columnist Pat Buchanan made a statement Friday guaranteed to make liberal media members' heads spin.

During a discussion about Affirmative Action on PBS's McLaughlin Group, Buchanan said, "Whites are the only group that you can discriminate against legally in America now" (video follows with transcript and commentary):

[...]

It may be a shocking thing to say on television, but is Buchanan right?
Actually, this isn't even the most shocking racial remark Buchanan has made this week. That honor goes to his Aug. 23 column, in which he praised segregated black schools for being "the transmission belts of patriotism and traditional values rooted in biblical truths and a Christian faith."
Sheppard is also overlooking the fact that Buchanan has a long history of bigoted remarks about anyone who's not white or straight.
Where does Sheppard spend his time that he thinks Buchanan suddenly became shocking and provocative about race?
Posted by Terry K. at 11:57 PM EDT