CNS Unemployment Numbers Distortion Watch
Topic: CNSNews.com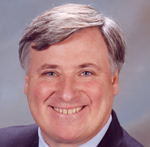 CNSNews.com just loves to cherry-pick and distort the monthly unemployment numbers while downplaying, if not ignoring entirely, any good news. It's a new month, so CNS is at it again.
In one Aug. 2 CNS article, Elizabeth Harrington plucked out the obscure number that "There were 988,000 discouraged workers in the United States in July, an increase of 136,000 from July 2012" and focused on that. He made no mention of the fact that 162,000 jobs were added in July.
Editor in chief Terry Jeffrey piled on with a cherry-picking article obsessing over the Hispanic unemployment rate.How much cherry-picking did Jeffrey do? He writes: "During President Obama's time in office, the number of American Hispanics who are unemployed has increased 161,000--rising from 2,205,000 in January 2009 to 2,366,000 in July 2013."
But Jeffrey fails to mention that, according to the numbers he's using, Hispanic unemployment peaked in November 2009 at 2,978,000. For Jeffrey to refuse to mention that Hispanic unemployment is down more than 600,000 -- or about 20 percent -- from the bottom of the 2009 recession is simply dishonest.
Posted by Terry K. at 9:58 PM EDT
Updated: Saturday, August 3, 2013 9:59 PM EDT