Jerome Corsi Bogus Document Watch
Topic: WorldNetDaily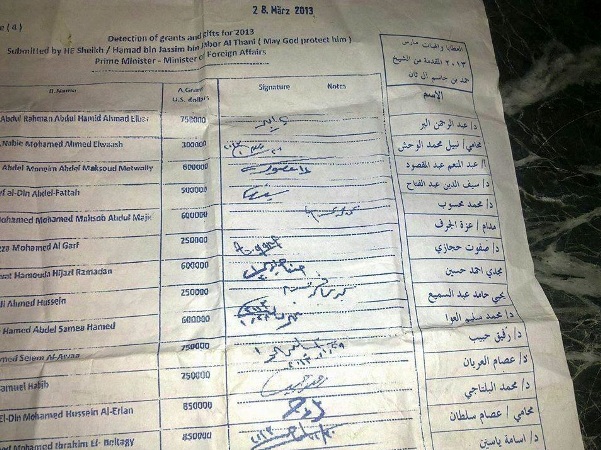 Uh-oh -- Jerome Corsi has another supposedly incriminating document.
Corsi declares in an Aug. 24 WorldNetDaily article:
A question apparently being raised in next week's trial in Cairo of Egyptian Muslim Brotherhood leaders facing criminal charges is this: Was the Obama administration paying bribes as large as $850,000 a year to the Morsi government that were distributed by top ministerial level officials to Muslim Brotherhood leaders, with the direct involvement of the U.S. Embassy in Cairo?

WND is in possession of an official document from inside the Morsi government that lends credibility to a report published in Arabic by an Egyptian newspaper in Cairo that lists the charges brought by the current military-controlled government against Egyptian Muslim Brotherhood leaders.

As seen above, WND has obtained official records from the deposed Morsi government in Egypt, with signatures, documenting monthly "gifts" paid to Muslim Brotherhood leaders in Egypt by the former prime minister and foreign minister of Qatar, Hamad bin Jassim bin Jabor Al Thani.

The document was seized from Egyptian government offices in Cairo when the Morsi government was deposed by the military July 3.
Corsi does not explain how he came "in possession" of this document, nor does he offer any evidence of its authenticity. He does, however, have suspected charlatan Walid Shoebat vouch for it.
Forgive us if we're a tad skeptical about this, but we remember the last time Corsi did something like this. In 2008, Corsi made a big show of traveling to Kenya to retrieve documents purporting to prove that Barack Obama "backed" the "ruthless, foreign thug" and Kenyan president Raila Odinga and that Obama donated "nearly $1 million" to Odinga's campaign. In fact, both documents were demonstrated to be fake or fraudulent.

Plus, something jumps right out at us regarding this document. At the top is the date "28.März 2013." "März" is the German word for the month of March. Why does a supposedly Egyptian Brotherhood document have a date in German?
Unless Corsi can offer up compelling evidence of the authenticity of his latest document -- not to mention the date in German -- there's absolutely no reason to believe anything he says.
Posted by Terry K. at 2:05 PM EDT
Updated: Monday, August 26, 2013 2:33 PM EDT