WND's Molotov Mitchell Is Just As Thin-Skinned As Joseph Farah
Topic: WorldNetDaily
It appears that Molotov Mitchell is as thin-skinned as has WorldNetDaily boss, Joseph Farah.
The overall theme of Mitchell's July 16 WND video is getting revenge on Glenn Beck for having "stole our show title" by naming one of the shows on his Blaze TV "For The Record" by pretending his hateful little video is now "The Blaze, Created by Molotov Mitchell." Here's a screenshot: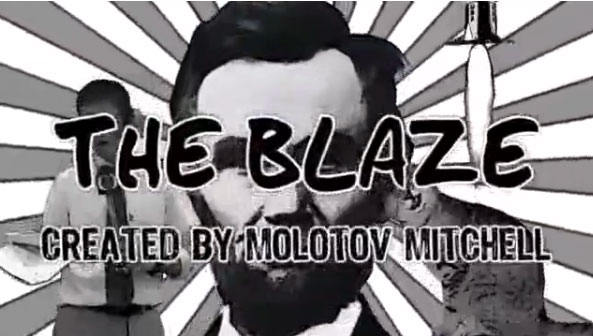 Perhaps if Mr. Mitchell had shown a little foresight and trademarked the name of his show for webcasting purposes, he wouldn't have this problem. Or perhaps he did try but was rejected because it was too common of a title to trademark.
For instance, a 2008 documentary on Britney Spears is titled "Britney: For the Record." Did Mitchell ask permission from Spears before cribbing her title? We suspect not.
By the way, this is at least Mitchell's second video on the subject. Back in January, he dedicated an entire video to an "open letter" to Beck begging him to change the show's name.
Uh, yeah. Farah and ol' Molotov deserve each other, don't they?
Posted by Terry K. at 1:54 AM EDT