WND's Farah: I Make Maddow 'Blush Like A Heterosexual Schoolgirl'
Topic: WorldNetDaily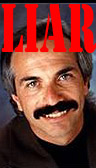 We've previously documented Joseph Farah's latest thin-skinned response to criticism, this time from MSNBC's Rachel Maddow. Farah has now followed up in his usual thin-skinned way by devoting a column to it.
Farah predicably rants that Maddow is engaging in "modern-day blacklisting" of him "because I published a book about Obama's provably illegitimate and fraudulent birth certificate." Farah then goes to a really weird place:
She calls me "the guy who's so handsome he makes you remember there is an O in mustachioed." I don't get that. But maybe this explains Maddow's abject fear of actual debate with me, a subject of so many of her televised tirades, even if MSNBC ratings make it more like closed-circuit TV. She might just blush like a heterosexual schoolgirl.
Yeah, he really said that.
And Farah complaining about "Maddow's abject fear of actual debate with me" is really rich, given that Farah and WND have systematically hidden from their readers any and all evidence that disproves his claim that Obama's birth certificate is "provably illegitimate and fraudulent."
But that's the birther way. Dr. Conspiracy notes that Carl Gallups -- the WND-published birther preacher who peddles his Obama-hate under the pseudonym PP Simmons -- challenged any "Obot" to call into his Internet radio show and prove that Obama is even a citizen. One did (around 65:00), and Gallups shouted him down and cut him off after a few seconds.
If Farah can't do something so simple and journalistically ethical as report on, say, John Woodman's birther-debunking book, why should Maddow treat Farah with respect he hasn't earned?
Posted by Terry K. at 1:57 AM EDT