PolitiFact Busts CNS on Food Stamp Claim
Topic: CNSNews.com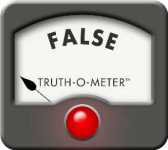 In a July 8 CNSNews.com article, Elizabeth Harrington reported that "The number of Americans receiving subsidized food assistance from the federal government has risen to 101 million, representing roughly a third of the U.S. population," adding, "That means the number of Americans receiving food assistance has surpassed the number of full-time private sector workers in the U.S."
It turns out that isn't quite true.
Examining Allen West's repeating a version of Harrington's claim, PolitiFact rated the claim "false," pointing out that there is likely overlap in participation in the food aid programs Harrington counted to achieve her total, meaning that the number of people in the programs is probably less than Harrington claimed.
Harrington also very narrowly defined her number of working Americans to "full-time private sector workers," which is misleading at best and dishonest at worst. PolitiFact states:
The universe of people who could potentially receive food aid is the entire U.S. population. But the universe of people who could potentially hold a private-sector job consists only of those 16 years old and over. And one could easily make that universe smaller by excluding those who are 16 or 17 (and who are supposed to be in school) or those older than 65 (who have reached retirement age).

If you adjust for the differences in the size of these universes, one could easily come to the opposite conclusion than the one West offered.

Using the 101 million figure for food aid, which as we noted is likely overstated, means that about 33 percent of the U.S. population receives food assistance.

By contrast, about 47 percent of people age 16 and up work in the private sector. If you restrict it to people age 18 to 64, the percentage working in the private sector rises to 59 percent.

So, the percentage of working-age people with private-sector jobs is at least twice as high as the percentage of Americans who receive food assistance -- the opposite conclusion to the one West drew.
PolitiFact concludes:
West tweeted that "more Americans receive food aid than work in (the) private sector."

However, the data West used appears to have undercounted the number of people with a private-sector job and overcounted the number of people receiving food aid. In addition, the comparison isn't really apples to apples. We rate the claim False.
Will Harrington correct the information in her article? Time will tell.
Posted by Terry K. at 12:53 PM EDT