WND Columnist Cites Pseudo-Historian While Fretting About History Being Wiped Out
Topic: WorldNetDaily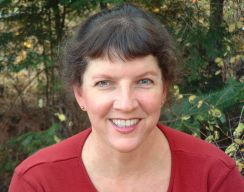 Patrice Lewis wrote in her Feb. 12 WorldNetDaily column:
Last summer I read an engrossing book entitled "1421: The Year China Discovered America" by Gavin Menzies, a retired British submarine lieutenant commander turned amateur archeologist. The book documented his efforts to demonstrate how a Chinese fleet of hundreds (perhaps thousands) of ships set sail in 1421 and circumnavigated the world, touching base everywhere from the Americas (North and South), Australia, Africa, Greenland, Europe, and all points between. The purpose of the expeditions, according to Menzies, was to chart the waters of the globe, impress and intimidate foreign rulers, and bring the entire world into China's "tribute system."

The book was riveting. While COVID lockdowns and subsequent unemployment soared around America, I was lost in the voyages of these Chinese explorers. While cities burned around the nation, causing billions of dollars in damages and killing dozens of people, I was absorbed by the evidence of the expeditions found in California and the Caribbean. While BLM and Antifa toppled statues, defaced monuments and demanded history be rewritten, I was captivated by the evidence presented of the Chinese discovery of Australia and even Antarctica. While Portland, Seattle and other blue cities were torn apart by constant violence and anarchy, I was immersed in the phenomenal accomplishments of those Imperial Chinese fleets.

Some sources dismiss Menzies as a "pseudo-historian" because he doesn't have academic credentials after his name (for the record, I'm not nearly as impressed by academic credentials as I used to be), but I found the book compelling and fascinating nonetheless. Whether or not Menzies' conclusions are accurate is not the focus of this column. Instead, ponder this question: If the premise of the book is true – if evidence points to China being world explorers long before Europeans – why doesn't history reflect this? Why aren't the accomplishments of Imperial China known throughout the world?

The proposed answer, according to Menzies, is because during the years the voyagers were at sea and out of touch with their mother country, Imperial China's tumultuous and controversial régime changed, and its leaders (who commissioned the fleet) were deposed. The new incoming régime was rigidly insular. All foreign goods, services and trade were forcibly suppressed and – here's the critical part – expunged from the records. As with many cultural revolutions, the leaders wanted their reign to be "Year Zero" for history. The accomplishments of the previous rulers were not just unwelcome, they were downright dangerous to acknowledge.
Turns out there's a good reason actual historians dismiss Menzies' conclusions: because he offers no proof to back them up. As one actual historian wrote:
Unfortunately for supporters of this theory, he offers no proof, only a great deal of circumstantial evidence marred by questionable scholarship.

Menzies has no "smoking gun" that proves his theory-- because the xenophobic Confucian officials who advised the later Ming emperors destroyed all records of these sea voyages.

[...]

Authors that aim to rewrite 500 years of accepted history should rely less on subjective claims and more on hard evidence. And this is where Menzies ultimately fails to persuade. First, he does not read Chinese and thus cites no primary sources--a problem even if one accepts that the records were all destroyed. Even more fatal to his argument, Menzies often fails to provide corroborating data for many of his claims. To cite just four examples, he: never provides the DNA evidence supposedly linking the American Indians and Chinese; fails to document the discovery of Chinese anchors off the coast of California; appeals to unspecified "local experts," as when arguing that remains of 15th century Chinese shipwrecks have been found in New Zealand; and says that a Taiwanese museum's copy of a Chinese map allegedly showing Australia and Tasmania "unfortunately...has been lost." Questionable speculative leaps are also Menzies's stock-in-trade, as when claiming that the inscription on a stone column in the Cape Verde Islands (off Africa's western coast) is in Maylayam, a language of South India, and that this proves the Chinese were there. Yet why would a Chinese fleet admiral order a message inscribed in a language other than Chinese?
But as Lewis already wrote, she doesn't care whether Menzies is accurate -- a strange stance for someone who has touted how she homeschooled her children. She thinks liberals are erasing history the way the alleged Chinese expedition to the U.S. was purportedly eradicated:
America, too, has experienced a régime change in which the Five Evils (Big Tech, Hollywood, public education, mainstream media, politicians) are engaging in a long-term scrubbing of history, both past and modern. In a remarkably short period of time, our history – the good, the bad and the ugly – is being expunged from the records, leaving behind a sterilized and factually false account. Our founding documents are being dismissed as racist, and the intellectual giants who shaped the groundwork for a nation of freedom are being rebranded as white supremacists whose legacy is not just unimportant, but downright dangerous to acknowledge. America's origins are being rewritten to fit the narrative of the extreme left agenda.

How long before the logs and records of our history are destroyed, and the memory of them expunged so completely over the succeeding decades that they might never have existed? Even now there are whole generations of children who have grown up completely ignorant of major world events, everything from the Holocaust to the democide (death by government) of hundreds of millions of people over the last 120 years due to socialism and communism. They are equally ignorant of American history except what reflects the extreme leftist narrative.

[...]

Even now, the left is trying to scrub President Trump from history. We're watching it happen in real time.

We are witnessing a purge unprecedented in America, but widely repeated through world history during tyrannical régimes. Dissenting voices are silenced, religious expression is suppressed, statues are toppled, history is rewritten, and – most importantly – the education of children is strictly regulated. As Hitler so accurately observed, "When an opponent declares, 'I will not come over to your side,' I calmly say, 'Your child belongs to us already. … What are you? You will pass on. Your descendants, however, now stand in the new camp. In a short time they will know nothing else but this new community."

And it's all happening in less time than you think.
Lewis seems to have missed how the Trump administration tried to eradicate all mention of the Affordable Care Act from government websites as a prelude to the administration's attempt to overturn the law and discourage people from using it.Maybe Lewis doesn't think that rewriting history is that big of a deal when right-wingers do it -- which, or course, makes her a hypocrite.
Lewis has been moving to the far-right fringe in recent months -- she previously pushed the false claim that Antifa was involved in the Capitol riot, declared that Trump was the victim of a "coup d'etat," and proclaimed that because ofthe pandemic, "we're in the throes of an orchestrated economic collapse. Orchestrated. Got that? Orchestrated." One could say she's fulfilling her potential as a WND columnist.
Posted by Terry K. at 12:26 AM EDT