Conspiratorial WND Columnnist: Pandemic Creating 'Orchestrated' Economic Collapse
Topic: WorldNetDaily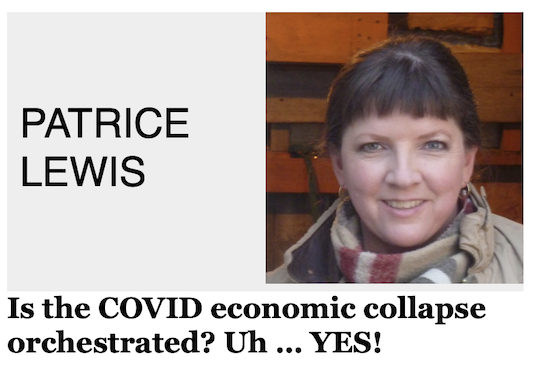 Patrice Lewis began her Dec. 11 WorldNetDaily column by stating, "I'm going to be quoting a lot of sources in this column rather than writing much original content. That's because there are so many others saying things better than I can." Unfortunately, most of those sources are fringe-right conspiracy websites ranting about the coronavirus pandemic and asserting that all the chaos surrounding it has been planned, because this is the conclusion she came to:
Make no mistake, we're in the throes of an orchestrated economic collapse. Orchestrated. Got that? Orchestrated. It's not about controlling a virus; it's about controlling people. Even Rush Limbaugh is calling this a "plandemic."

One person commented: "I remember thinking when the lockdowns started – don't they know this is going to destroy the economy? And then reality hit me, and I knew that this is their end game and that it's all been planned."

[...]

"Science," in other words, usually means whatever a political tyrant wants it to mean. We all know Trump rallies are "superspreader" events, but BLM or Antifa protests or Biden celebrations are fine, just fine.
Lewis then described the economic fallout for her business: "Our wholesale woodcraft business that has supported us for nearly 30 years absolutely tanked during 2020. Thirty years of building up a business, and now it's gone." After citing a few more fringe people, Lewis concluded: "OK, my rant is over. But the economic misery for millions of people continues. Folks, the pain isn't worth the cost."
Strangely, Lewis never identifies who specifically is behind this conspiracy beyond a shadowy "they."
Posted by Terry K. at 12:44 AM EST
Updated: Saturday, January 2, 2021 12:45 AM EST