Image Rehab: Newsmax Tries To Insert Dershowitz Into Impeachment Debate
Topic: Newsmax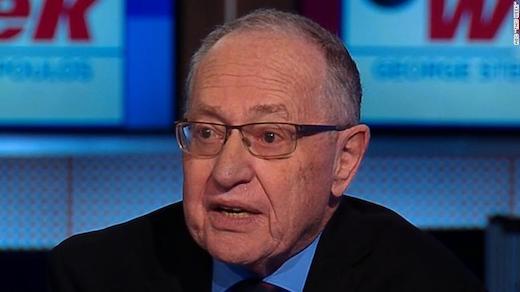 Newsmax is so dedicated to the rehabilitation of Alan Dershowitz's image in the wake of his links to Jeffrey Epstein that it's trying to insert him as a forgotten legal expert -- not to mention an aggressively pro-Trump voice -- in the Trump impeachment debate.
Newsmax chief Christopher Ruddy complained in a Dec. 5 column:
The House Judiciary Committee heard testimony all day Wednesday from four legal scholars who were called to explain to the members what acts would be considered impeachable offenses under the U.S. Constitution.

Three were called by Democratic committee members and just one, Prof. Jonathan Turley, was called by Republicans.

But noticeably missing was arguably the most famous constitutional lawyer and acclaimed civil libertarian in the nation: Alan Dershowitz.

In 1967, he became the youngest full professor in the history of Harvard Law School and has made waves, big ones, ever since.

Like Dershowitz, all four testifying were politically liberal to far-left Democrats, who did not vote for President Donald Trump in 2016.

Why was Dershowitz not invited then?

The simple answer is House Democrats do not like his views.
Ruddy did not mention the fact that Dershowitz is a former lawyer for notorious teen sex trafficker Epstein, or that he has been accused of having sex with one of Epstein's trafficking victims.
Newsmax also published a Dec. 11 article by Solange Reyner stating that "Rep. Mark Meadows, R-N.C., thinks President Donald Trump should add Harvard law professor Alan Dershowitz to his impeachment defense team." Reyner also failed to mention Dershowitz's ties to Epstein.
In between, Dershowitz was given a platform to complain about being excluded due to his Epstein links in a Dec. 8 article by Eric Mack:
Accusations emanating from the Jeffrey Epstein scandal railroaded civil liberties legal expert Alan Dershowitz from testifying before the House Judiciary Committee on the constitutional grounds for presidential impeachment.

"Just because there is an accusation out there, the decision was made not to use me," Dershowitz, who testified against former President Bill Clinton's impeachment before Congress, told Sunday's "The Cats Roundtable" on 970 AM-N.Y. "Also, because the Republicans are only given one witness. If they had been given two witnesses, probably I would've been used along with Turley. Jonathan Turley did a good job."
Weirdly, Mack did not detail what exactly those "accusations emanating from the Jeffrey Epstein scandal" were that have kept him from being involved.
Newsmax has also been publishing columns by Dershowitz himself. In a Nov. 15 column, he groused that "the 92nd Street Y would not allow me to speak this year because I had been accused of having sex with a woman associated with Jeffrey Epstein, who I represented 13 years ago," accusing the facility of "McCarthyism" in doing so.
In his Dec. 4 column, Dershowitz again attacked his accuser, Virginia Giuffre, who has also accused Prince Andrew of sexual improprieties, complaining that a BBC interview of the prince "does not focus on the credibility of his accuser — a woman with a long history of making up provably false stories about prominent men." He even attacked her claim to have been underage while involved with Epstein, claiming that "her own employment records prove that she was well over 17, which is the age of consent in most jurisdictions where she said she had sex."
The next day, Dershowitz offered up his impeachment goods, in which he sounds more like a pro-Trump partisan than a legal scholar in bashing the legal experts House Democrats selected to testify:"The three Democratic experts would place congress over the constitution. They would effectively "amend" the words of the Constitution to make them mean what these experts believe would be "better" criteria for impeachment. But the Constitution cannot be amended through stretched academic interpretation. ... All presidents are accused by the opposing party of abusing the office, and many have. The remedy for such perceived abuse is not impeachment. It is election."
Newsmax has touted Dershowitz's pro-Trump, anti-impeachment arguments in other articles as well.
That, it seems, is the real reason Ruddy and Newsmax are working so hard to rehab Dershowitz.
Posted by Terry K. at 8:57 PM EST
Updated: Monday, December 16, 2019 10:49 PM EST