WND Promotes Dubious Study Claiming COVID Virus Was Made In A Lab
Topic: WorldNetDaily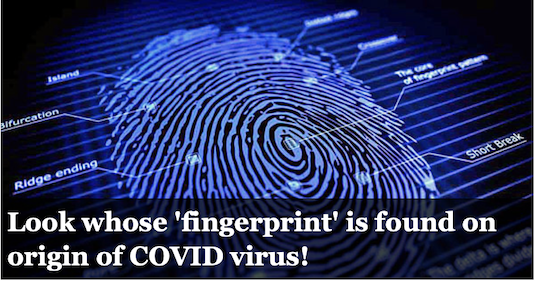 Art Moore wrote in an Oct. 24 article under the headline "Study finds Dr. Fauci's 'fingerprint' on origin of COVID virus":
A new pre-print study has concluded the virus that causes COVID-19 has a unique "fingerprint" indicating it originated in a laboratory rather than in nature.

Dr. Alex Washburne, a mathematical biologist, worked with researchers in the U.S. and Germany who studied the SARS-CoV-2 genome sequence and compared it to previously discovered coronaviruses.

They detected "peculiar patterns" they concluded were the hallmark of a manufactured virus, describing it having a "synthetic fingerprint."
Moore is being dishonest here -- in fact, contrary to his headline, the pre-print study does not mention Fauci at all. Moore continued:
Meanwhile, Jeffrey Sachs, chairman of The Lancet COVID-19 Commission, a task force that investigated the origins of COVID-19, has concluded after 22 months of study that SARS-CoV-2 probably was laboratory-generated and that the technology likely came from gain-of-function research funded by the U.S. National Institutes of Health.

The "synthetic fingerprint" discovered in the new study led by Washburne, says Sachs in an article published by Children's Health Defense, points to the work of Dr. Ralph Baric, a virologist at the University of North Carolina known for his NIH-funded gain-of-function research in cooperation with the Wuhan Institute of Virology.
Mopore didn't mention that Children's Health Defense is the group of famously anti-vaxxer conspiracy theorists headed by Robert Kennedy Jr., so the fact that Sach's paper was published there is immediately disqualifying.
In fact, it's not until the 19th paragraph that Moore finally gets around to referencing Fauci -- andit's devoted to whining that he largely discredited the notion that the COVID-19 virus originated in a lab:
Another critic, Kristian Andersen, a virologist at Scripps Research in California, famously joined with three other virologists in a January 2020 email to Fauci stating they saw strong evidence the virus that causes COVID-19 was engineered in a lab, as WND reported. But after a teleconference the next day with Fauci to discuss the virologists' conclusion, Andersen began dismissing the lab-leak possibility as among "crackpot theories" that "relate to this virus being somehow engineered with intent and that is demonstrably not the case."

In April 2020, Fauci was asked by a reporter during a White House briefing if the research at the Wuhan lab might be responsible for the pandemic. Fauci insisted a "group of highly qualified evolutionary virologists" had concluded the virus was "totally consistent with a jump of a species from an animal to a human."

The next day, Peter Daszak – the EcoHealth Alliance founder who received funding from Fauci's agency to conduct research engineering coronaviruses – sent a thank you email to Fauci. Daszak thanked the National Institutes of Health and Infectious Disease director for "publicly standing up and stating that the scientific evidence supports a natural origin for COVID-19 from a bat-to-human spillover, not a lab release from the Wuhan Institute of Virology."

"From my perspective, your comments are brave, and coming from your trusted voice, will help dispel the myths being spun around the virus's origins," Daszak wrote to Fauci on April 18, 2020.
At no point did Moore prove his headline claim that a lab-manufactured COVID virus was Fauci's "fingerprint" -- that derives from old anti-vaxxer attacks on Fauci accusing the NIH of funding gain-of-function research. Moore then whined that Andersen attacked Washburne's study:
he new study by Washburne, Andersen said, is "so deeply flawed that it wouldn't pass kindergarten molecular biology."

"The study is a clear example of motivated reasoning with a heavy dose of technobabble to make it sound legitimate – but it's nothing more than poppycock dressed up as science," said Andersen.

"In plain language — this is uninformed nonsense and it's simply not worth engaging with."
Moore also quoted Washburne pre-emptively attacking criticism of his study:
In a post on Substack, Washburne reacted to criticism that his study was "very poorly controlled" and "cherry-picked."
"The topic is personally relevant to every person capable of being infected by a virus or impacted by pandemic policies," he wrote. "I invite people to prove us wrong and, if they do so, even if there are flaws in their work, I will not call them names or attack their credentials.

"I will celebrate their ingenuity and commitment to the Truth, and if I am proven wrong I will change my mind," he promised.

Washburne said science "can save lives and revolutionize our civilization, but only if scientists and our broader society remain honest, curious, and open-minded."
Meanwhile, Washburne's study is not holding up to scrutiny. In an article at Vox, Kelsey Piper argued that the study "doesn't help resolve the question of how SARS-CoV-2 originated" and is based on "statistical inferences from the idea that a particular cloning strategy was used to modify the virus." Piper added:
Even scientists who think a synthetic origin for Covid-19 is a very real possibility — such as Alina Chan, a molecular biologist at the Broad Institute of MIT and Harvard who has made the case we need a full investigation to determine whether Covid was naturally or synthetically occurring — told me they thought this paper couldn't prove the strong claim it was making.
Needless to say, Moore never followed up his stenography by doing actual reporting on what other experts think.That would have interfered with thenarrative he's paid (sporadically, given WND's financial issues) to promote, that there's some secret conspiracy that created and unleashed the COVID virus on the world.
Posted by Terry K. at 8:59 PM EST